Treatment
Approach Considerations
Conservative treatment of tarsal coalition includes soft shoe inserts and walking-cast immobilization. Surgical treatment is indicated in cases where conservative treatment has failed and symptoms persist. [44] Surgical treatment includes resection of the coalition before onset of degenerative changes and subtalar fusion in the case of talocalcaneal coalitions. Arthroscopic approaches to tarsal coalition resection have been developed and appear to be feasible and effective. [45]
Coalition resection is contraindicated when significant degenerative change is present in the joints adjacent to the coalition. Arthrodesis is preferable in such cases. Subtalar arthrodesis alone is contraindicated in cases of talocalcaneal coalitions in which midfoot joints show signs of degenerative change. Triple arthrodesis is indicated instead. Finally, in patients with multiple anomalies, individual resections are unlikely to establish a normal-appearing and normal-functioning foot and should therefore not be pursued.
Currently, it is not clear what should control the use of talocalcaneal coalition resection; the limiting factors of heel position and percentage of involvement do not consistently segregate good and bad outcomes. However, once global degenerative changes have begun, triple arthrodesis almost always is indicated.
Medical Therapy
Calcaneonavicular coalition
Initial conservative treatment of calcaneonavicular coalitions may include soft shoe inserts or a trial of walking-cast immobilization. These treatments have been described in the literature to extend from 3 to 6 weeks each. Cast immobilization trials have been repeated once prior to surgery if the first attempt did not relieve symptoms. Immobilization must be with the hindfoot in neutral and away from valgus. In most symptomatic calcaneonavicular coalitions, conservative treatment yielded poor results.
Talocalcaneal coalition
For talocalcaneal coalitions, in contrast to calcaneonavicular coalitions, conservative treatment decreasing subtalar motion or stress has been found to have good results in cases of first presentation with no evidence of arthritic changes.
Surgical Therapy
Calcaneonavicular coalition
Given the ease and relatively good results of surgical treatment of calcaneonavicular coalitions (see the image below), coalition resection prior to onset of arthritic changes has become more commonly indicated. [46]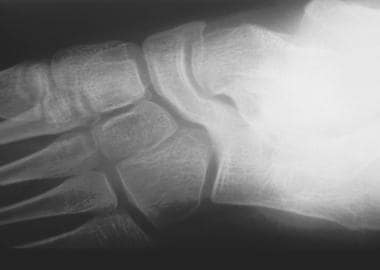 Plain radiograph (Slomann view) showing typical appearance of calcaneonavicular coalition.
The procedure, as described by Badgley [4] and Cowell [40] and others, includes the following:
Anterolateral approach over the coalition

Resection of at least 1 cm of the coalition

Resection of a block rather than wedge section

Interposition of the head of the extensor digitorum brevis

Avoidance of the talonavicular joint to prevent theoretical subluxation of the navicular over the talar head
Some modifications of the original technique include use of bone wax [47] or electrocautery to treat the remaining surfaces after bar resection and tying the interposition sutures over the plantar fascia and under the skin rather than securing them with a button over the skin.
Various long-term studies of this technique have shown excellent or good results in 77-100% of patients.
Talonavicular and talocalcaneal coalition
Surgical treatment for symptomatic talonavicular coalition traditionally has consisted of triple arthrodesis. Before the advent of computed tomography (CT), resection of the middle-facet coalition was not very successful, because of poor visualization of the coalition. Since then, such resections have become more popular and are indicated in cases in which conservative treatment has failed, visualization of the middle-facet coalition is good, and no evidence of arthritic changes is present. [48, 49] Many authors no longer consider talar beaking to be evidence of degenerative change.
Comfort and Johnson found that there was an 80% success rate when the coalition involved one third or less of the total surface area of the subtalar joint on CT. [50] Wilde et al found that a valgus greater than 16º and a coalition surface area greater than 50% of the posterior facet on CT were predictors of poor results after resection. [51]
Luhmann and Shoenecker found that although an association existed between poor results and a heel valgus of 21º or a coalition greater than 50% of the posterior facet, some patients still had good postoperative results. [52] They therefore recommended that resection be tried as a first procedure and that patients be informed that they could still have a good result in cases where the poor predictive factors are present. Various long-term studies have shown excellent, good, or improved rates of 80-100%.
The resection is approached medially, distal to the medial malleolus. The middle facet is exposed by retraction of the flexor hallucis longus tendon. The prominent joint is resected with a rongeur, and fat is interposed.
In cases where a resection is not possible or desired, Mann and Baumgarten proposed fusion of the subtalar joint only, instead of the traditional triple arthrodesis, reasoning that any motion saved in the midtarsal joints would maintain force transfer during motion, decreasing or slowing degenerative changes in adjacent joints. [53] However, in cases where degenerative changes are apparent, triple arthrodesis is indicated, in that isolated subtalar fusion would only accelerate the changes in the midtarsal joints. In cases where skeletal immaturity is present, a Grice-Green extra-articular arthrodesis may be indicated as an intermediate procedure.
De Wouters et al reported on the use of a patient-specific, made-to-measure surgical guide for tarsal coalition resections in nine consecutive patients. [54] The guide was created by means of three-dimensional (3D) modeling from a CT scan of the foot. After being placed on the bone surface, the guide was used to orient the saw blade to resect the bone bridge at the appropriate depth. A fascia lata allograft was interposed.
Complete resection and absence of recurrence were checked on postoperative CT for patients with talocalcaneal coalitions and on radiography for those with calcaneonavicular coalitions. [54] In all cases, resection was complete, and there were no recurrences at the final follow-up. The results suggested that use of such a guide can make tarsal coalition resection easier and more reliable and improve precision.
Aibinder et al described an approach to resection of talocalcaneal coalitions that combined intraoperative CT with the use of a navigated instrument system. [55] The use of the navigated probe and burr were employed to help define the most anterior, posterior, and medial extents of the coalition, with the aim of minimizing residual coalition. The authors found that this technique reduced morbidity, with less bone removed and intact subtalar articulations preserved, and allowed an efficient, thorough, and controlled resection.
Postoperative Care
Postoperative treatment includes immobilization for 3 weeks in a nonweightbearing cast followed by 3 weeks of partial immobilization with a nonweightbearing ankle cast and range-of-motion (ROM) exercises out of the cast. This is then followed by gradual advance to full weightbearing and ROM exercises with physiotherapy. Bilateral procedures are staged so as to allow full recovery of the first foot before surgery of the second foot.
Complications
Infections and wound complications are possible with surgical resection. As previously stated, in the event of a failure to resolve symptoms in cases treated with resection of the coalition, various arthrodeses are appropriate as salvage or next-step treatment.
In the case of calcaneal navicular bar resection, violation of the talonavicular capsule may result in subluxation of the navicular on the talus, which may lead to abnormal motion of the midfoot and risk of pain and degenerative changes.
In the case of talocalcaneal coalition resections, it was found that coalitions 50% or greater in surface area than the posterior facet had a tendency to yield a poor result. This would imply that accidental resection of the middle facet 50% or greater than the posterior facet may yield a poor result.
What would you like to print?