Workup
Imaging Studies
Plain radiographs of the distal leg and ankle in three planes are recommended, including anteroposterior (AP), lateral, and oblique views. [11] (See the image below.) Frequently, it is difficult to diagnose this injury on AP and lateral views alone, especially when the fragment is only minimally displaced. An oblique view is most helpful for excluding triplane fractures. A mortise view can help to demonstrate widening of the syndesmosis. Note any soft-tissue swelling seen on radiographs.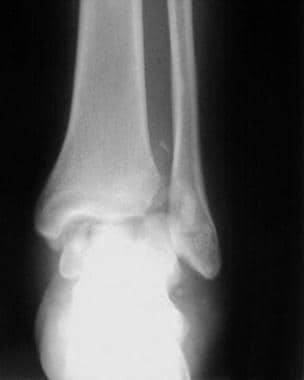 Radiograph showing avulsion fracture of anterolateral tibia with widening of ankle mortise; fractured fragment appears radiopaque over distal fibula. Also note fracture of talus in this case.
The triplane fracture appears as a Salter-Harris type III fracture on AP radiographs and as a Salter-Harris type II fracture on lateral radiographs, whereas the juvenile Tillaux fracture appears as a Salter-Harris III on both AP and lateral radiographs. Radiographs of the entire tibia and fibula are recommended to exclude high fibular fractures.
Computed tomography (CT) with three-dimensional (3D) reconstruction (3D-CT) is far more accurate than plain radiography in estimating the degree of joint displacement and fracture separation [12] ; accordingly, it must always be performed in this setting, with a high index of suspicion for these injuries. Tomography was used in the past but now has largely been replaced by CT.
Notably, a 2012 study by Liporace et al found that interobserver and intraobserver agreements regarding primary treatment plans did not differ significantly between radiography alone and radiography plus CT. [13] That is, the addition of CT did not significantly change the impression of the amount of displacement per case. In fact, by considering CT, more patients who were assigned nonoperative management initially were reassigned to operative treatment. These findings suggested that CT, though it may influence the decision whether to operate on Tillaux and triplane fractures, may not be as useful as previously thought.
A subsequent study by Szymański et al, however, found that a high percentage (~40%) of malleolar fractures were missed when evaluated with radiography alone and that Tillaux fractures were among the injuries most commonly overlooked in this setting. [14]
Fluoroscopy performed while the foot is rotated internally also is helpful in the assessment of reduction.
Procedures
Examination under anesthesia is invaluable for ruling out rotatory instability. However, it is seldom necessary if the fracture is already known to be displaced.
What would you like to print?