Workup
Laboratory Studies
Essential tests
The white blood cell (WBC) count with differential often is ordered to help distinguish between Charcot arthropathy and osteomyelitis. The WBC count is elevated when infection is present, and often, a left shift is revealed with infection. However, the WBC count is a nonspecific marker for inflammation, and the results may be elevated in patients with Charcot arthropathy.
The erythrocyte sedimentation rate (ESR) is used to help distinguish between Charcot arthropathy and osteomyelitis and is often elevated in infection; however, it is a nonspecific marker for inflammation.
The basic metabolic profile (Chem 7) is ordered to identify the underlying etiology. Elevated levels of creatine and of blood urea nitrogen (BUN) could suggest renal disease, whereas an elevated glucose level could suggest diabetes.
Other tests
Additional tests may be ordered, depending on the patient's history, physical examination results, and risk factors.
Glycosylated hemoglobin (HbA1c) indicates the level of hyperglycemic control in diabetes. Elevated HbA1c indicates poor hyperglycemic control. Hyperglycemia can cause nonenzymatic collagen glycosylation, which can lead to laxity in ligaments and unstable joints.
Levels of alkaline phosphatase, calcium, phosphorus, and parathyroid hormone (PTH) can help the physician to identify bone diseases, such as Paget disease. Hypercalcemia may be indicative of cancer or metastases.
Vitamn B12/folate deficiency could suggest an etiology of peripheral neuropathy. This deficiency also could suggest chronic alcoholism.
Findings of liver function tests/coagulation studies may suggest chronic alcoholism.
Rapid plasma reagin (RPR)/fluorescent treponemal antibody–absorption (FTA-ABS) tests aid in the diagnosis of syphilis.
Imaging Studies
Plain radiographs (see the image below) are used for the following purposes:
To help stage disease (see

Anatomy

)

To help determine if active disease is present or if the joint is stable (monitor serial radiographs)

To help identify osteopenia, periarticular fragmentation of bone, subluxations, dislocations, fractures, and generalized destruction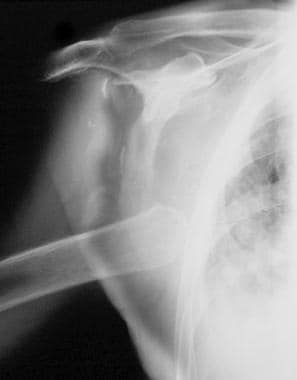 Neuropathic arthropathy (Charcot joint). Neuropathic arthropathy of shoulder in patient with syringomyelia. Note destruction of articular surface, dislocation, and debris, which are pathognomonic for neuropathic joint.
Whenever possible, radiographs should be obtained with the patient bearing weight.
In a study of 35 patients who had midfoot Charcot neuroarthropathy (CN) with either lateral- or medial-column deformities, Lopez-Moral evaluated radiographic predictors of foot ulceration. [13] They found that in patients with medial deformities, a lateral talar–first metatarsal angle more negative than –27.5º was the greatest predictor of midfoot ulceration, whereas in those with lateral deformities, a calcaneal pitch more negative than –5º and a cuboid height more negative than –1.5º were the greatest predictors of midfoot ulceration.
Bone scanning (not always ordered) may help differentiate between Charcot arthropathy and osteomyelitis. An indium-111 WBC scan often is used because it is more specific than the technetium-99m scan.
Magnetic resonance imaging (MRI) [14] allows anatomic imaging of the area and may help distinguish between osteomyelitis and Charcot arthropathy.
Doppler ultrasonography is used to rule out deep vein thrombosis.
Diagnostic Procedures
Lumbar puncture is used if the RPR test is positive. An FTA-ABS test is ordered if tertiary syphilis/tabes dorsalis is suggested.
Bone probing is done with a blunt, sterile surgical probe. If the probe can be passed down to bone or if the underlying bone is exposed at the base of an ulcer or sinus, the bone is infected; this establishes the diagnosis of osteomyelitis.
Portable infrared dermal thermometry is used for skin temperature assessment. It can be used to monitor active inflammation. A 3-5° difference is generally seen in the acute stage.
Joint aspiration is used to help rule out a septic joint.
Synovial biopsy can be helpful. Small fragments of bone and cartilage debris are embedded in the synovium because of joint destruction. Some state that this is pathognomonic, whereas others state that it is highly suggestive of Charcot arthropathy.
What would you like to print?