Workup
Imaging Studies
Radiography is indicated in the workup of Köhler disease (see the first image below). The lateral view shows a flat tarsal scaphoid (see the second image below). The space between the talus and the cuneiforms is not decreased. Frequently, there is an irregular ossification of the tarsal navicular bone or radiologic changes that resemble Köhler disease, but the diagnosis must not be made in the absence of clinical signs. [10, 11]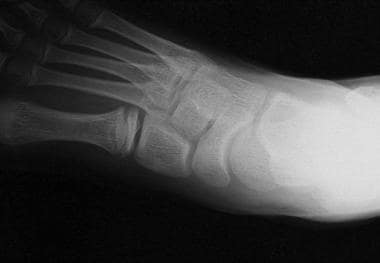 Radiograph from 16-year-old patient who had Köhler disease. Normal x-rays at adulthood are the rule for Köhler disease.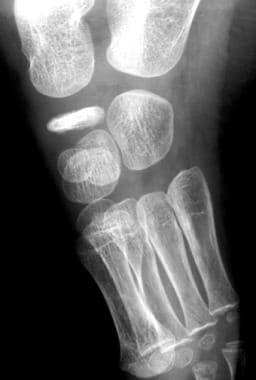 Radiograph from patient with Köhler disease. Image is typical for this disease. Note flat aspect of tarsal scaphoid.
Bone scanning reveals decreased uptake of radionuclide in the right midtarsal area. [12] This study is not necessary for the diagnosis. In view of the radiation dose involved in nuclear medicine imaging, coupled with the limited diagnostic and prognostic benefit, bone scans should be considered contraindicated for the evaluation of this condition. [13]
If pain persists for 6 months after appropriate treatment (to include casting), magnetic resonance imaging (MRI) or computed tomography (CT) should be considered for the purpose of excluding a tarsal coalition. [14]
What would you like to print?