Workup
Laboratory Studies
If inflammatory arthropathy is suspected, serologic evaluation should be considered. Tests include evaluation of rheumatoid factor (RF), antinuclear antibody (ANA), human leukocyte antigen (HLA) B27, and Lyme titers.
Imaging Studies
Radiographic evaluation of hammertoe is not necessary for clinical diagnosis; however, it can be helpful for ruling out alternative diagnoses and can aid in surgical planning. Imaging considerations in the evaluation of hammertoe deformity include the following:
Weightbearing anteroposterior and lateral radiographs of the involved foot are useful (see the images below)

Enlargement of the metatarsal head and osteophytes suggests a previous Freiberg infraction

Varus angulation and/or dorsal subluxation or widening of the joint space of the metatarsophalangeal (MTP) joint suggests MTP instability

The presence of other deformities should be noted, especially

hallux valgus

(see the images below), which is associated with the "crossover" toe deformity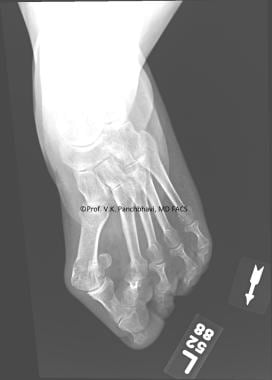 Anteroposterior radiograph showing hammertoe deformity in second toe and associated hallux valgus deformity in forefoot.
Lateral radiograph showing hammertoe deformity.
Histologic Findings
Histologic evaluation is typically not available or necessary before hammertoe treatment. Skin ulceration and osteomyelitis may occur in neuropathic patients with hammertoe deformity. Histologic confirmation of osteomyelitis precludes most hammertoe reconstruction procedures.
What would you like to print?