Workup
Laboratory Studies
In general, specific laboratory studies are unnecessary. However, it behooves the surgeon to be aware of subtleties. For example, if small, punched-out lesions are noted around the articular surfaces, a uric acid level may help rule out gout. If symmetric narrowing is appreciated in the metatarsophalangeal (MTP) joints, a rheumatoid factor (RF) level may be helpful in ruling out rheumatoid arthritis.
Finally, if there is any appearance, either clinically or radiographically, of infection, laboratory work, including complete blood count (CBC), erythrocyte sedimentation rate (ESR), and C-reactive protein (CRP), can be ordered to rule out infection. [26] Arthrocentesis is most valuable in helping to evaluate for infection. [26]
Imaging Studies
A standing foot radiograph in the anteroposterior (AP) and lateral planes is mandatory in determining the type of surgery needed for bunion correction. [27] In additional, an oblique nonstanding film can be obtained to gain a different perspective of the metatarsal (MT) head and hindfoot. A sesamoid view, though seldom necessary, also should be obtained if a special problem with the sesamoids (eg, fracture or avascular necrosis) appears to be present. This information is then combined with the clinical picture to help determine the optimal surgical approach. (See the images below.)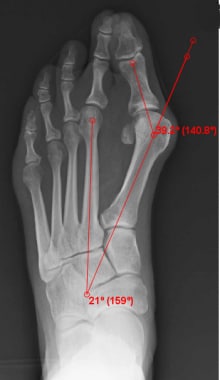 Severe bunion deformity.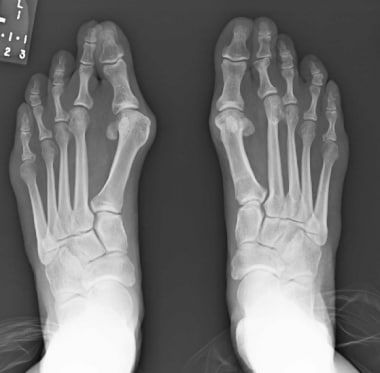 50-year-old woman with bilateral severe hallux valgus deformity.
Although it is generally accepted that treatment decisions for hallux valgus (HV) are based on plain weightbearing radiographs, a study by Burg et al suggested that treatment strategies can also be confidently determined on the basis of nonweightbearing radiographs. [28] In this study, 21 expert and ankle surgeons evaluated 10 random clinic patients with HV by measuring the HV angle (HVA), the intermetatarsal angle (IMA), and the distal metatarsal articular angle (DMAA); they then used that information to make an intervention recommendation.
No statistically significant difference was detected in the angles measured. [28] In terms of surgical procedures chosen, the distal osteotomy was chosen 10.8 times in the weightbearing group and 11.2 times in the nonweightbearing group. No differences were observed in the preferred surgical treatments chosen by the surgeons. A relative weakness of the study was the lack of clinical evaluation of the patient's foot before the choice of an intervention.
A coronal malalignment is present in 87% of patients with HV—mainly metatarsal rotation/pronation. [29] Addressing the pronation deformity has been recognized as an important step in achieving a lasting correction of the HV deformity. [30] There is growing interest in the use of cone-beam weightbearing computed tomography (WBCT) in the assessment of HV; this modality can reliably provide traditional measurements such as HVA and IMA in a three-dimensional (3D) setting. [31] This technique allows measurement that takes into account metatarsal plantar and dorsal cortices to estimate bone rotation. [30] The angle is measured between a line through the sesamoids and the floor line. [29]
Similarly, another pronation measurement is based on the shape of the metatarsal head, which shows very good performance regarding the diagnostic accuracy of radiographs for predicting the WBCT measurement. [32] Therefore, it is recommended to look at the head shape at the sesamoids location when operating and to assume that any metatarsal head that appears round on its lateral aspect has a pronation deformity until proved otherwise. [32]
What would you like to print?