Workup
Laboratory Studies
Standard preoperative hematology tests should be ordered. Investigation of arthropathy or diabetes also may be necessary. Cultures may be obtained for infected lesions. More accurate bacteriologic diagnoses of infected lesions are obtained from operative specimens.
Imaging Studies
Standing weightbearing views of both feet should be obtained. These films should be recent, especially in rheumatoid and arthropathic cases. Deformities can be classified into three types on the basis of their appearance on plain films, as follows:
A type 1 lesion has an enlarged head as an isolated lesion (see the first image below)

A type 2 lesion has an abnormal lateral bowing of the fifth metatarsal (MT; see the second image below)

A type 3 lesion has a 4-5 intermetatarsal angle (IMA) in excess of the normal 6-8° (see the third image below)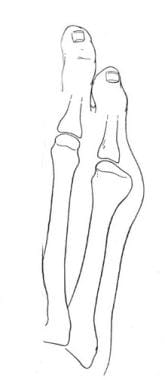 Type 1 bunionette. Note enlarged head without marked angulation.

Type 2 bunionette. Note abnormal bowing of metatarsal and secondary angulation of metatarsophalangeal joint.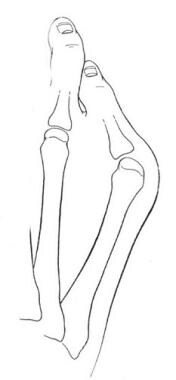 Type 3 bunionette. Note increased angle between fourth and fifth metatarsals. Angulation at metatarsophalangeal joint is secondary to medial pressure on phalanx.
Attenuation of the intermetatarsal ligament between the fourth and fifth MT shafts usually is found in type 2 and 3 lesions. Type 1 bunionettes with an enlarged head may not have significant capsular attenuation, and they do not necessarily have increased IMAs or even angulation at the metatarsophalangeal (MTP) joint.
In a retrospective comparative study of 112 feet with symptomatic deformity and 123 asymptomatic control feet, Shimobayashi et al described the use of a radiographic image-mapping system to analyze the morphologic characteristics of the entire foot, including forefoot width and splaying of all MTs, rather than focusing solely on the fourth and fifth MTs. [9] They suggested that this broader analytic approach would be useful in planning surgery.
Vascular studies are prudent in patients with questionable vascularity.
Staging
Aside from the pathoanatomic classification (see Imaging Studies), no specific staging classifications for the lesion exist. Some authors have categorized the deformity as either mild or severe, but no indication is given to define the limits used.
What would you like to print?