Presentation
History and Physical Examination
Patients with Lisfranc injuries can present with obvious anatomic deformities or with variable amounts of pain with weightbearing. Lisfranc injury should be excluded in any patient with midfoot pain on either the dorsal or the plantar aspect of the foot during weightbearing.
Clinical signs of Lisfranc injury are the following:
Swelling out of proportion with a normal radiograph

Plantar midfoot ecchymosis (see the image below)

Pain along the tarsometatarsal (TMT) joints with palpation, motion, or weightbearing

Midfoot instability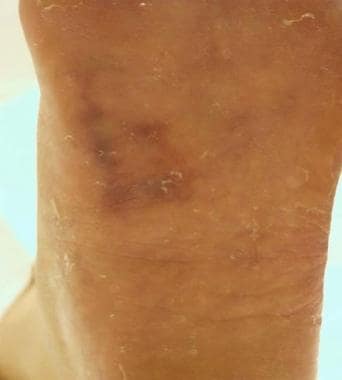 Clinical identification of typical plantar ecchymosis pattern observed in Lisfranc injuries.
For all suspected injuries, a careful workup is warranted. Even significant injuries can reduce spontaneously, thereby hiding the initial deformity. The exaggerated swelling is the key in the differential diagnosis of subtle injuries.
Special attention should be paid to patients with decreased sensation in the feet (eg, those with diabetes) because they may be at greater risk for progressive neuropathic changes. Likewise, trauma patients who are nonweightbearing because of other injuries should be carefully screened and examined in the presence of midfoot pain or characteristic ecchymosis.
Athletes
Lisfranc injury is seen more commonly in football players, gymnasts, ballet dancers, and track-and-field athletes; it has also been reported in a professional hockey player. [15] The Lisfranc injury can potentially be a career-ending injury, particularly for elite gymnasts, as noted by Chilvers et al. [16] The mechanism of injury for most athletes is axial loading on a hyperplantarflexed midfoot. For ballet dancers, the pointe shoe design has been shown to stabilize the Lisfranc joint in the en-pointe position. [17]
Lisfranc injuries in athletes have been classified according to the American Medical Association's Standard Nomenclature of Athletic Injuries. First- and second-degree sprains have been classified as partial ligament tears with swelling, focal pain, no instability, and normal radiographs. Instability and diastasis greater than 2 mm between the first and second metatarsals (MTs), as seen on anteroposterior (AP) radiographs, is consistent with a third-degree sprain. [8, 9]
What would you like to print?