Workup
Imaging Studies
Weightbearing radiography of the feet and ankles is essential (see the images below). Radiographs should be inspected for evidence of degenerative arthritis, the positioning of the calcaneus, and forefoot alignment. Forefoot-driven deformity can be assessed by using the Meary angle. [23] The calcaneal pitch angle can be measured by drawing a line along the plantar aspect of the calcaneus and the ground. An angle greater than 30° is significant for hindfoot varus. The positioning of the first ray compared to the axis of the talus viewed on lateral radiographs determines if the first ray is plantarflexed.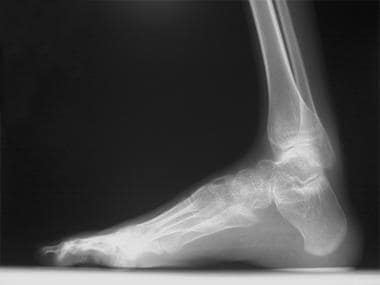 Pes cavus with severe hindfoot involvement.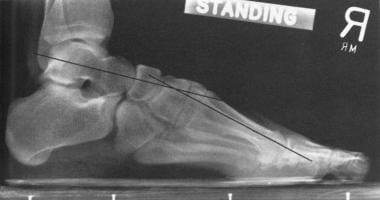 Pes cavus with plantarflexion of first ray.
Computed tomography (CT) and magnetic resonance imaging (MRI) can assess for tarsal coalitions and soft-tissue pathologies, respectively. [23] MRI of the spine should be performed if unilateral progressive cavus is present in a patient without a history of trauma.
In the cavus foot, the fibula is often seen to be posterior on lateral radiographs. Peden et al used three-dimensional imaging (CT and MRI) in 36 patients with cavus (compared with 36 control subjects) to determine whether the fibula was truly posterior or this appearance was just an artifact. [24] They found the average cavus fibula to be 72% more posterior than the average fibula in the control group, and there was a significant difference in the axial malleolar index between the two groups.
Other Tests
After the initial evaluation, a neurologic consultation is recommended in order to determine the etiology. Electromyography (EMG) and nerve conduction studies are performed to evaluate for Charcot-Marie-Tooth (CMT) disease, polio, and other abnormalities that can cause muscle imbalances that lead to cavus deformities.
What would you like to print?