Workup
Imaging Studies
Plain radiographs, including weightbearing anteroposterior (AP), lateral, and sesamoid axial views, are mandatory. Sesamoid impaction, avulsion, or diastasis may be observed on plain images. [24, 25] Favinger et al, in a review of 671 foot radiograph series, concluded that in the appropriate clinical setting, sesamoid diastasis should be considered when the sesamoid interval in the bi- or multipartite sesamoid of the hallux exceeds 2 mm on a routine AP radiograph. [26]
Contralateral views are highly recommended. These allow comparison of the sesamoid-to-joint distances on each side. The distal sesamoid-to-joint distance should be no greater than 3 mm (tibial) and 2.7 mm (fibular) when compared with those on the contralateral side. A separation of 10.4 mm or more on the tibial side or 13.3 mm on the fibular side is 99% predictive of rupture of the plantar plate.
A dorsiflexion stress view may provide additional clues in characterizing the injury. (See the image below.) Joint subluxation, sesamoid migration, separation of a bipartite sesamoid bone, or disruption of the medial or lateral capsuloligamentous complex is better depicted on a dorsiflexion stress radiograph.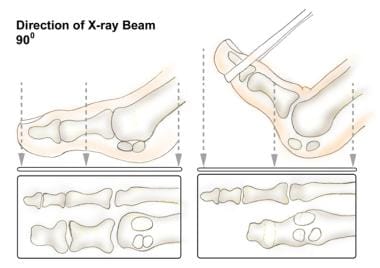 Typical method for obtaining stress radiograph.
Magnetic resonance imaging (MRI) [27, 28, 29, 30] is most often indicated in grade 2 and 3 injuries. T2-weighted sequences in particular can be of use in identifying soft-tissue injuries (eg, plantar plate disruption), as well as disruption of the articular surface.
Other Tests
Range-of-motion (ROM) testing is used to assess for instability, mechanical blockage, or hypermobility that may suggest tearing of the plantar plate.
Instability is assessed by performing a varus or valgus stress test and the dorsoplantar drawer test of the metatarsophalangeal (MTP) joint. Positive findings with the former suggest collateral ligament damage, whereas positive results with the latter suggest a plantar capsuloligamentous tear.
What would you like to print?