Workup
Imaging Studies
Radiographic findings in calcaneal apophysitis (Sever disease) include increased sclerosis and fragmentation of the calcaneal apophysis. However, it should be stressed that these findings are nonspecific and also are observed in asymptomatic feet (see the image below).

Sever disease. Lateral radiograph of foot in symptomatic 9-year-old male soccer player. Sclerosis is not diagnostic of Sever disease but is a characteristic radiographic finding.
Radiographic evaluation is beneficial for excluding fracture or rare tumor. It is vital to remember that radiographic changes on plain films are neither diagnostic nor prognostic; their primary value in this setting is for exclusion of other causes of heel pain. This point should be clearly explained to patients and parents. [21]
It must be kept in mind that if pain continues, becomes significant at rest, awakens the patient from sleep, or is associated with significant swelling, tests should be performed to look for other causes. Tarsal coalition is another hindfoot disorder that must be distinguished from Sever disease. Thus, if reduction of subtalar motion is found on physical examination, computed tomography (CT) can be helpful in differentiating this disease from failure of the bones of the hindfoot to separate.
In cases of high suspicion, magnetic resonance imaging (MRI) may be of use for ruling out osteomyelitis (see the image below).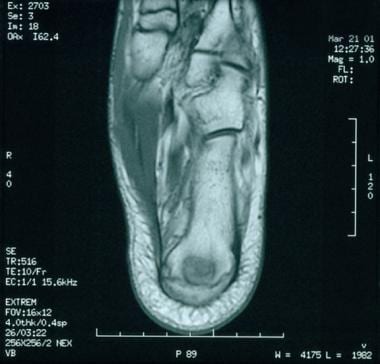 Transverse MRI of foot in symptomatic 11-year-old girl with heel pain showing osteomyelitis. Pain was increased with activity but more constant and with more associated night pain than expected with Sever disease. Treatment included surgical debridement and antibiotic therapy.
Histologic Findings
Sever disease is characterized by disorder of the normal process of enchondral ossification.
What would you like to print?