Presentation
History
Patients who have Morton neuroma (also referred to as interdigital neuroma or interdigital neuritis) typically present with pain and paresthesia localized to one interspace of the forefoot with radiation to the involved toes. The symptoms may wax and wane over many years and are exacerbated with compressive shoewear. Relief is common when the shoes are removed and the area is massaged. [15]
Physical Examination
A provocative examination (see the image below) involves manually compressing the forefoot and simultaneously palpating the affected web space between the fingers of the other hand. The compression may result in the Mulder sign, which is a painful and palpable click that reproduces the symptoms. [16]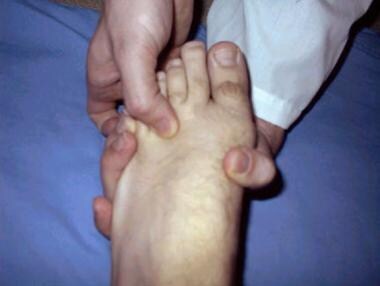 Image demonstrates key provocative physical examination maneuver: simultaneous forefoot compression coupled with intermetatarsal space compression.
What would you like to print?