Workup
Imaging Studies
A boutonnière (buttonhole) deformity (BD) can be assessed by means of plain radiography (see the image below). The lateral radiograph of the affected digit can define the degree of hyperextension at the distal interphalangeal (DIP) joint. Furthermore, radiographs may identify any osseous abnormality.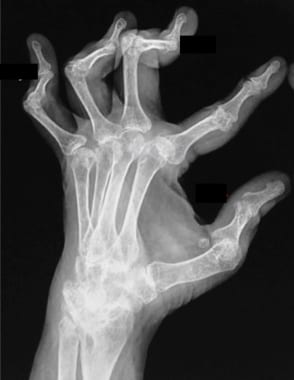 Radiographic evidence of boutonnière deformities. Image courtesy of Radiopaedia.org; case by Dr Aditya Shetty (http://radiopaedia.org/cases/rheumatoid-arthritis-13).
What would you like to print?