Workup
Imaging Studies
The diagnosis of a Galeazzi fracture is confirmed on radiographic examination. Standard anteroposterior (AP) and true lateral forearm views are obtained, which must include an AP or a posteroanterior (PA) view, as well as a lateral view, of the wrist, along with AP and lateral views of the elbow. (See the image below.) Radiographs of the contralateral extremity can be obtained for comparison.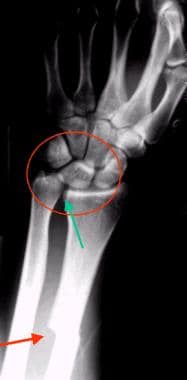 Anteroposterior radiograph demonstrates classic Galeazzi fracture: short oblique or transverse fracture of radius with associated dislocation of distal ulna. Dislocation results from disruption of distal radioulnar joint (DRUJ). Note prominence of distal ulna (ulna positive variance).
Plain radiographic findings suggestive of injury to the distal radioulnar joint (DRUJ) are as follows:
Fracture at the ulnar styloid base

Widening of the DRUJ space on an AP radiograph

Dislocation of the radius relative to the ulna on a true lateral radiograph, which is obtained with the shoulder abducted 90°

Shortening of the radius by more than 5 mm relative to the distal ulna
Assessment of DRUJ integrity is often difficult with plain radiography alone. Bilateral axial computed tomography (CT) of the forearm is the preferred imaging study for diagnosing DRUJ disruption.
A study by Tsismenakis et al found that the radiographic guidelines in general use were only moderately accurate in predicting DRUJ instability and that treatment was best determined on the basis of intraoperative assessment of the DRUJ after radial fixation. [11]
What would you like to print?