Workup
Imaging Studies
Most radial head injuries can be assessed adequately with standard plain radiography of the elbow. Normal radiographic examination findings demonstrate that the radial head is aligned with the capitellum on all views. A dislocation of the radial head can be easily missed if all radiographs are not carefully examined for this relation. For the normal elbow, a line drawn through the radial head and shaft should always line up with the capitellum, and with a supinated lateral view, lines drawn tangential to the head anteriorly and posteriorly should enclose the capitellum.
With a radial head dislocation, these radiographic findings are disrupted. The images below are examples of an injury that appears to be a simple ulna fracture when only the anteroposterior (AP) view is evaluated but that clearly has a dislocated radial head on the lateral view. As with any fracture assessment, two views perpendicular to each other are always required.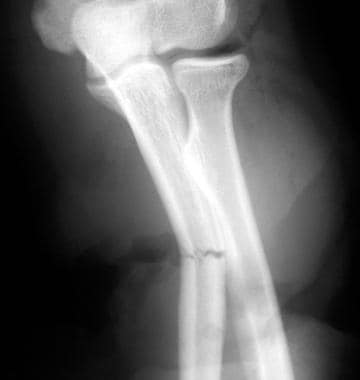 The radial head must be aligned with the capitellum on all views. Simple ulna fracture on anteroposterior view; radial head appears in place but see Image below.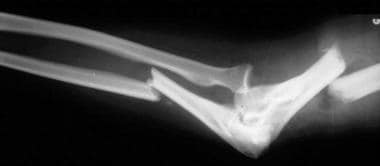 The radial head must be aligned with the capitellum on all views. Dislocated radial head is observed on the lateral radiograph.
In rare circumstances, computed tomography (CT) of the elbow is useful to define fracture patterns.
Joint Aspiration and Injection
Most radial head fractures and dislocations are well defined by the findings on clinical examination and imaging studies. If a high index of suspicion exists for an occult fracture, the joint can be aspirated. Fat globules in the fluid imply a fracture. If suspicious wounds are present and an open fracture or dislocation is suspected, the joint can be injected. If fluid comes out of the wound, then the wound is communicating with the joint.
What would you like to print?