Workup
Radiography
Posteroanterior (PA) and lateral radiographs centered at the distal interphalangeal (DIP) joint of the affected finger are required. These radiographs are used to differentiate between a bony mallet injury (see the first image below) and a tendinous one. They also reveal any associated metaphyseal, shaft, or tuft fractures of the distal phalanx. Perhaps most important, lateral radiographs reveal the presence of volar subluxation of the distal phalanx (see the second image below). In addition, these radiographic views reveal rare condylar fractures of the middle phalanx.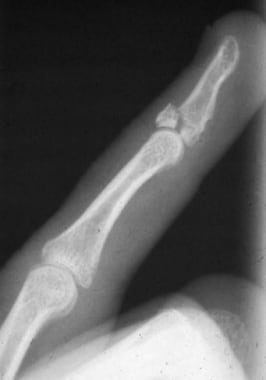 This radiograph depicts a large, dorsal-lip avulsion fracture from the distal phalanx, a bony mallet injury.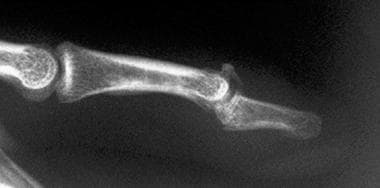 Mallet fracture with volar subluxation of the distal phalanx.
Radiographs of the whole hand do not suffice in the evaluation of mallet finger, because parallax of the x-ray beams creates an uninterpretable oblique view of the DIP joint. No imaging studies other than radiography are indicated in mallet finger.
What would you like to print?