Presentation
History and Physical Examination
The hallmarks of the Sprengel deformity (congenital elevation of the scapula) are shoulder asymmetry and restriction of shoulder abduction. Clinically, the affected scapula usually is elevated 2-10 cm and is adducted, and its inferior pole is rotated medially. Because of this rotation, the glenoid faces inferiorly.
A prominence in the suprascapular region is characteristic because of the upwardly rotated superomedial angle of the scapula, which causes the ipsilateral side of the neck to appear fuller and its normal contour to be lost. The scapula is hypoplastic, and the length of the vertebral border is decreased. Occasionally, some anterior bending of the supraspinous portion is present.
Passive movement of the glenohumeral joint, including abduction and external and internal rotation, may be normal. However, scapulothoracic movements may be severely limited. In 40% of patients with a Sprengel deformity, combined abduction is limited to less than 100º. The omovertebral bone may also limit abduction by affecting scapular mobility, and it can also limit neck movement if it is attached high in the cervical spine. Other causes of limited abduction include abnormal and weakened scapular muscles.
The left side is more commonly affected than the right side is. The condition may sometimes be bilateral, in which case it is functionally more disabling, albeit much more cosmetically acceptable.
Problems that may be associated with Sprengel deformity include syndromes such as the following:
These syndromes are extremely rare, with the possible exception of the Klippel-Feil syndrome (see the image below).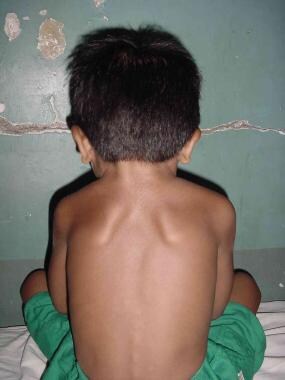 Clinical photograph of a child with Sprengel deformity and Klippel-Feil syndrome.
Classification
A Sprengel deformity can be classified by severity according to the Cavendish grading system, as follows [4] :
Grade 1 (very mild) - The shoulders are almost level, and the deformity cannot be noticed with the clothes on

Grade 2 (mild) - The shoulders are almost level, but the superomedial portion of the high scapula is visible as a lump

Grade 3 (moderate) - The deformity is visible, and the affected shoulder is elevated 2-5 cm higher than the opposite shoulder

Grade 4 (severe) - The scapula is very high, with the superomedial angle at the occiput, with neck webbing and brevicollis
This classification, however, is difficult to apply in bilateral cases.
What would you like to print?