Presentation
History and Physical Examination
Ganglion cysts can occur at any joint or tendon sheath, but they most often present in the dorsum of the wrist at the scapholunate joint, followed by the volar wrist. (See the images below.) They can also occur in the flexor tendon sheaths, and when located at the distal interphalangeal (DIP) joints, they are termed mucous cysts [2, 5] Of the dorsal wrist ganglia, 75% connect with the dorsal scapholunate interosseous ligament. [2] Many patients who have had asymptomatic cysts for months or even years can present with newly developed pain or limitation of activity.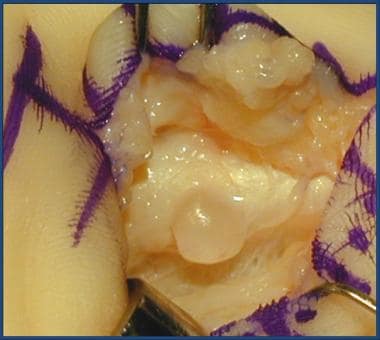 Retinacular ganglion.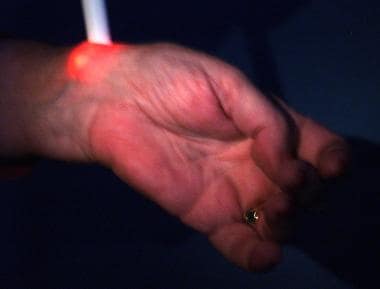 Transillumination of recurrent multilobulated left volar ganglion cyst.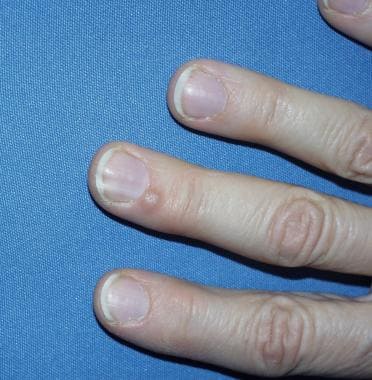 Mucous cyst on the radial side of the right long finger.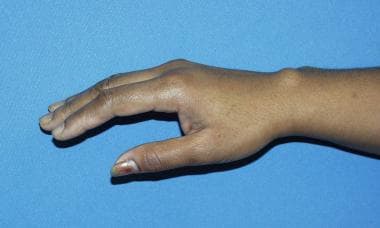 Typical appearance of dorsal ganglion cyst.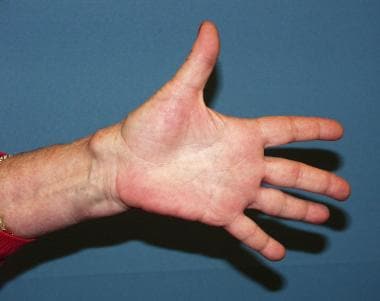 Recurrent multilobulated left volar ganglion cyst.
The skin above the cyst is unchanged, but the mass itself is compressible and movable and transilluminates. Compression of the median nerve cutaneous branches may elicit a sensory or motor nerve palsy when a volar carpal ganglion is present [13] ; this is an indication for surgical removal.
A mucous cyst, at the DIP joint on the dorsum of the hand, will frequently be associated with osteoarthritis and may place pressure on the germinal matrix and cause malformation of the nail. Unlike with the ganglia of the wrist, mucous cysts can cause the overlying skin to become thinned and may even lead to skin rupture. [2] Patients presenting with mucous cysts may complain of pain; however, the cause of the pain is often the associated osteoarthritis rather than the cyst itself. [2]
Ganglion cysts can also be associated with a tendon and may be adherent to the tenosynovium; however, the presence of an extensor digitorum brevis manus muscle must be excluded. Ganglion cysts within bone, termed interosseous cysts, most often affect the scaphoid and lunate and require open surgery for removal; therefore, it is important to determine whether the cyst is the cause of the pain. [2]
What would you like to print?