Presentation
History
Malunited hand fractures are not usually difficult to diagnose. Most patients provide a history of injury associated with the deformity. The form of treatment the patient received should be noted. Such treatment may include both nonoperative measures (eg, splinting, immobilization, or physiotherapy) and operative measures (eg, internal or external fixation).
The patient history must include the following:
Age

Occupation

Hand dominance

Function and restriction of hand function after the fracture

Effect of the malunion on his or her activities
Physical Examination
Commence the hand examination by comparing the affected hand with the uninjured hand. Note any obvious swelling or deformity. Look for the anatomic bony landmarks and their relations with each other, and compare them with those of the healthy hand. Abnormal positioning may indicate a malunited fracture or tendon rupture or adherence. The deformity should be categorized in each plane, including the ulnar-radial plane and the volar-dorsal plane. Also important is the rotational alignment. (See the image below.)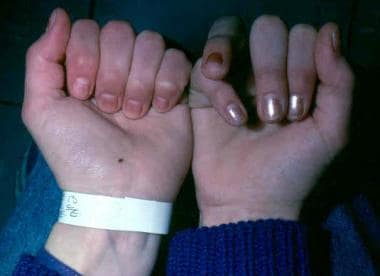 Examination of the patient's hand with the fingers flexed may clearly reveal a rotational deformity.
The most important aspect of the examination is the functional assessment of the hand. Because the fingers converge with flexion and diverge with extension, certain deformities can be appreciated with the fingers in flexion. The ability to make a complete fist must be assessed. Because the flexor digitorum profundus tendons of the fingers work in unison, any restriction in the movement or decrease in the length of one finger may seriously affect the power of the patient's hand grip. Hence, it may notably interfere with normal function of the hand.
Grip strength should be measured by using a dynamometer, and the results can be compared with those of the healthy hand. Normal maximum grip strength is 52 kPa in men and 31 kPa in women. The pinch-grip strength can be measured by using a manual pinch meter. However, a pinch-grip analyzer can be used to measure both pinch and grip strengths, and it may be a useful tool for objectively assessing hand function.
The examination must include neurologic and vascular assessments. Any previous scar due to surgery or injury should be assessed to facilitate the planning of incisions if surgery is contemplated.
What would you like to print?