Presentation
History and Physical Examination
Clinical presentation of radial clubhand varies with the degree of radial deficiency (see Classification) and the presence of associated anomalies. Radial deficiency is the classic anomaly that is associated with systemic conditions. [6] All forms, regardless of the degree of expression, warrant systemic evaluation. The prominent syndromes are as follows:
Holt-Oram syndrome

TAR (thrombocytopenia-absent radius) syndrome

VACTERL (vertebral, anal, cardiac, tracheal, esophageal, renal, and limb) syndrome
The principal organ systems involved in these are the cardiac, renal, and hematology cell lines (see Table 1 below). Children with VACTERL syndrome can also have vertebral, tracheoesophageal, and anal problems. Isolated radial deficiency is estimated to account for only 8-30% of the cases. [25]
Table 1: Syndromes or Associations With Radial Deficiency (Open Table in a new window)
| | |
| --- | --- |
| Syndrome or Association | Characteristics |
| Holt-Oram | Heart defects, most commonly cardiac septal defects |
| Thrombocytopenia-absent radius (TAR) syndrome | Thrombocytopenia present at birth (may require transfusions), but improves over time |
| VACTERL association | Vertebral abnormalities, anal atresia, cardiac abnormalities, tracheoesophageal fistula, esophageal atresia, renal defects, radial dysplasia, lower-limb abnormalities |
| Fanconi anemia | Aplastic anemia not present at birth, develops about 6 years of life |
| CHARGE syndrome | Coloboma of the eye, heart defects, atresia of the nasal choanae, retardation of growth or development, genital or urinary abnormalities, and ear abnormalities and deafness |
Limb evaluation often occurs prior to the diagnosis of Fanconi anemia. The diagnosis can be confirmed with the chromosomal breakage test. The precise indication for a chromosomal breakage test for this condition in children with limb anomalies is still evolving. Testing every child with isolated thumb or hand abnormalities should be consid­ered. I recommend a chromosomal breakage test on all children with deficiencies of the thumb and radial border of the forearm. Additional findings, such as abnormal skin pigmentation (café-au-lait spots), kidney abnormalities, growth retardation, and microcephaly, add to the suspicion of Fanconi anemia.
Careful clinical examination is used to assess the degree of involvement. The shoulder, elbow, wrist, and digital range of movement are evaluated for active and passive motion. This establishes a baseline for assessing treatment outcome. The ability to flex the elbow for hand-to-mouth function is examined; this influences the treatment algorithm. The position of the wrist with respect to the ulna and the ability to correct the radial deviation passively are also measured.
The thumb is examined for hypoplasia and graded accordingly. [26] Thumb deficiency contributes to functional impairment. Stiffness of the fingers is assessed, and the ability to grasp and release is determined via functional tasks. Compensatory movements are noted to prevent inadvertent disruption of these adaptive mannerisms with surgical intervention.
Classification
Radial clubhand is classified into the following four types according to the amount of radius present:
Type I deficiency - The mildest type, this is characterized by mild radial shortening of the radius without considerable bowing; minor radial deviation of the hand is apparent, though considerable thumb hypoplasia may be evident

Type II deficiency - This is characterized by a miniature radius with distal and proximal physeal abnormalities and moderate deviation of the wrist

Type III deficiency - This is characterized by a partial absence of the radius (most commonly the distal portion) and severe wrist radial deviation

Type IV deficiency - The most common variant (see the image below), this is characterized by a complete absence of the radius; the hand tends to develop a perpendicular relation to the forearm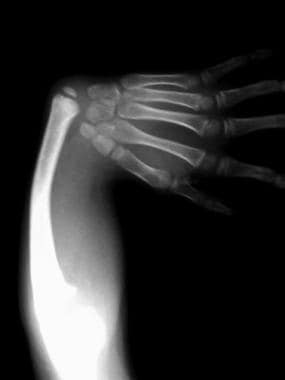 Radiograph of type IV deficiency with complete absence of radius.
A modified classification of radial longitudinal deficiency has been developed to combine thumb, carpal anomalies, and forearm into a single scheme (see Table 2 below). [27] This scheme grades both thumb and radius deficiencies on the basis of radiographic findings. The delayed ossification of the radius and carpus in preaxial deficiency must be considered during application of this scheme. Radial-side carpal bones appear even later than the ulna, which delays definitive determination of carpal anomalies.
Table 2: Global Classification of Radial Longitudinal Deficiency (Open Table in a new window)
Type

Thumb Anomaly

Carpal Anomaly*

Distal Radius

Proximal Radius

N

Absence or hypoplasia

Normal

Normal

Normal

O

Absence or hypoplasia

Absence, hypoplasia, or coalition

Normal

Normal, radioulnar synostosis, or radial head dislocation

1

Absence or hypoplasia

Absence, hypoplasia, or coalition

>2 mm shorter than ulna

Normal, radioulnar synostosis, or radial head dislocation

2

Absence or hypoplasia

Absence, hypoplasia, or coalition

Hypoplasia

Hypoplasia

3

Absence or hypoplasia

Absence, hypoplasia, or coalition

Physis absent

Variable hypoplasia

4

Absence or hypoplasia

Absence, hypoplasia, or coalition

Absence

Absence

*Carpal anomaly implies hypoplasia, coalition, absence or bipartite carpal bones. Hypoplasia and absence are more common on the radial side of the carpus, and coalitions are more frequent on the ulnar side.
Radiographs must be taken after the age of 8 years to allow for ossification of the carpal bones.
What would you like to print?