Workup
Imaging Studies
Plain wrist radiographs (posteroanterior [PA], lateral, and oblique) are usually sufficient to make the diagnosis of scapholunate advanced collapse (SLAC) and permit staging. [14] (See the images below.) They can reveal joint narrowing, sclerosis, osteophytes, cysts, scapholunate dislocation, and carpal collapse.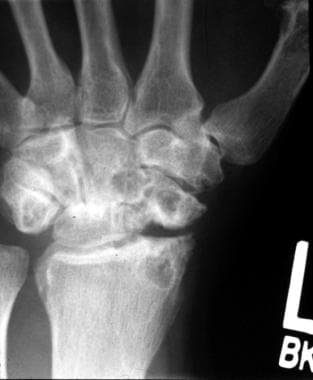 Stage 2 scapholunate advanced collapse (SLAC) wrist.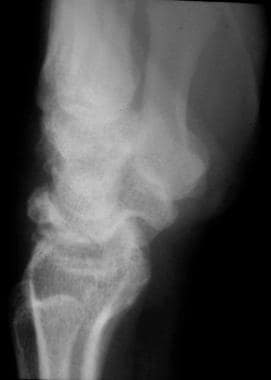 Scapholunate advanced collapse (SLAC) wrist from Kienböck disease.
Early changes at the radioscaphoid articulation can appear as an elongated radial styloid process. The scaphoid may assume a vertical position with a cortical ring sign. In SLAC secondary to scapholunate dissociation, increased distance between the scaphoid and lunate, as well as lunate ulnar translocation, will be obvious. A lateral view can show an increase in the scapholunate angle with a dorsiflexion of the lunate (dorsal intercalated segment instability [DISI] deformity).
As the disease progresses, the whole radioscaphoid joint becomes narrowed. In subtle cases, PA and lateral wrist computed tomography (CT) can reveal these joint changes.
For imaging of the skeletal morphology or occult fracture, CT (particularly multidetector CT [MDCT]) is most useful. [14] CT arthrography can help identify ligament tears.
Magnetic resonance imaging (MRI) and MR arthrography provide excellent imaging of osseous and soft tissues. [14] If avascularity is a concern, then MRI is the best imaging modality.
Arthroscopy
Nagle recommended staging wrist arthroscopy for articular surface evaluation on the grounds that lunate fossa changes may be present in advanced cases of SLAC wrist but may not be appreciated on plain radiography. [15] Because scaphoid resection and ulnar column fusion are contraindicated in the presence of lunate fossa degenerative changes, accurate assessment of the radiolunate joint is critical for correct surgical planning. When necessary, staging arthroscopy is performed as part of the definitive procedure.
What would you like to print?