Presentation
History
In most cases of proximal femoral fractures, there is a history of high-energy trauma, such as that caused by a fall from a height or a motor vehicle accident. These injuries are often associated with serious injuries to other organ systems and unconsciousness; convulsions; bleeding from the ear, nose, or throat; or breathlessness. A conscious patient complains of pain in the groin or buttock and an inability to walk after the injury.
Patients with a femoral shaft fracture usually have a history of a fall or a motor vehicle accident, with pain in the thigh and an inability to walk. The history, however, may be inadequate in patients with mental retardation, nonambulatory patients, patients with polytrauma, and patients with head injury. In pathologic fractures, there may be a history of pain in the thigh and a recent increase in the pain.
In the presence of traumatic brain injury, child abuse may be suggested in children younger than 4 years who have a history of injury discordant with fracture and multiple fractures in different stages of healing (see the image below). [12]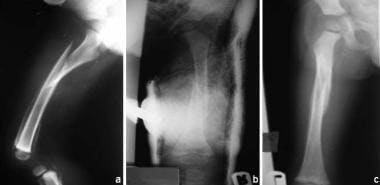 Spiral fracture of femoral shaft, with hypertrophic callus due to previous multiple fractures (a) in 2-year-old abused child treated with spica cast (b), showing union (c).
Physical Examination
The examination must be extensive, with care taken to rule out associated injuries to the head, chest, abdomen, and other skeletal sites. In proximal femoral injuries, the injured limb is short and lies slightly adducted and externally rotated. Tenderness can be elicited over the Scarpa triangle and, more commonly, posteriorly over the femoral neck region. Detailed examination of the peripheral pulses and the motor and sensory systems must be performed to rule out neurovascular injuries.
Femoral shaft fractures are hard to miss on examination; deformity, swelling, shortening, tenderness, abnormal mobility, and crepitus suggest the diagnosis. Nevertheless, a complete physical examination must still be performed to rule out associated injuries, especially in the setting of hypotension, which is rarely due to isolated femoral shaft fractures.
Rang described the Waddel triad of femoral shaft fracture, head injury, and intra-abdominal or thoracic injury caused by automobile-pedestrian collisions. [13] Common musculoskeletal injuries associated with femoral shaft fracture that are often missed include femoral neck fracture, hip dislocation, and ligamentous injuries of the knee.
Distal femoral fractures usually involve a relatively violent injury with resulting severe pain and inability to bear weight on the injured leg. Malalignment, swelling, and ecchymosis are frequently present. Salter-Harris type III and type IV fractures present as hemarthrosis of the knee.
The displacement of the epiphysis occurs most often in the coronal plane, and the protruding metaphyseal end can be palpated. With anterior displacement, the patella becomes prominent, and the metaphyseal end is felt as fullness in the popliteal fossa. A posterior displacement causes fullness in the lower thigh, caused by the protruding metaphyseal end. The patella and condyles are always in line with the tibia, ruling out knee dislocation.
A thorough neurovascular examination is warranted in all cases of distal femoral fracture.
What would you like to print?