Treatment
Proximal Femoral Fractures
For most proximal femoral fractures in children, treatment consists of closed reduction followed by a spica cast or open or closed reduction followed by internal fixation and a spica cast (see Table 1 below).
Table 1. Recommended Treatments for Pediatric Proximal Femoral Fractures (Open Table in a new window)
Delbet Fracture Type

Recommended Treatment

Remarks

I (transepiphyseal)

Gentle closed reduction and fixation with 2 or 3 smooth pins, followed by spica cast in abduction and internal rotation for 6-12 wk

Repeated attempts at reduction should be avoided

Irreducible fractures and fracture dislocations may require open reduction

These fractures have highest rate of complications and worst prognosis

Loss of reduction with varus deformity is frequent

Premature physis closure and limb length discrepancy may occur

AVN of femoral head is reported in 20-100% of cases

II (transcervical)

Gentle closed reduction and fixation with 2 or 3 threaded pins (young children) and 2 or 3 parallel screws (older children), followed by spica cast for 6 wk

Implants must stop short of physis

Hip decompression by needle aspiration may be added

Loss of reduction and varus malunion are common if fracture is stabilized by external immobilization alone

Decompression is reported to reduce risk of AVN in these cases; AVN is reported in as many as 50% of cases

Nonunion is reported in 15% of cases

III (cervicotrochanteric)

Closed reduction and internal fixation with Kirschner wires or cannulated screws in all displaced fractures and undisplaced fractures in children >6 y

Undisplaced fractures in children < 6 y can be treated with closed reduction and spica cast

Conservative treatment in older children is associated with high rates of varus nonunion in some series

Overall, these fractures have better outcome than type II fractures

Reported incidence of AVN is 15-20%

IV (pertrochanteric or intertrochanteric)

Closed reduction and internal fixation with Kirschner wires or cannulated screws in all displaced fractures and undisplaced fractures in children >6 y

Undisplaced fractures in children < 6 y can be treated with closed reduction and spica cast

Conservative treatment in older children is associated with high rates of varus nonunion in some series

These fractures have best prognosis

These are extracapsular fractures and therefore less likely to cause direct vascular insult; reported incidence of AVN is 5%

AVN = avascular necrosis.
Closed reduction and spica cast immobilization are used to treat small children (who have good remodeling potential) and children with minimally displaced type III and IV fractures.
All type I and II fractures and displaced type III and IV fractures are best treated by means of closed or open reduction and internal fixation (ORIF) with smooth pins or Kirschner wires (K-wires) (in children < 4 y), threaded Knowles pins (in children 4-7 y), or cannulated screws (in older children). Internal fixation in these cases prevents loss of reduction and malunion, delayed union, and nonunion. Transphyseal fixation using a combination of cannulated cancellous screws and K-wires has been described for femoral neck fracture in adolescents. [14]
Although early fixation (≤ 24 hr) is commonly recommended for reducing the risk of complications with traumatic femoral neck fractures in children, so-called near-early fixation (24-72 hr) may be a worthwhile option when early fixation is not feasible (eg, in developing countries, where referrals may be delayed or awareness low). [15]
Prolonged spica cast immobilization is required in most cases until solid union of the fracture occurs. Capsulotomy is advocated to evacuate the fracture hematoma and thereby prevent its deleterious effect on femoral head blood flow, [16, 17] though it is not completely clear whether the hematoma plays a major role in the occurrence of posttraumatic avascular necrosis (AVN) in children.
Femoral Shaft Fractures
Femoral shaft fractures can be treated nonoperatively or surgically with excellent results, provided that patients are appropriately selected. [18] The choice of treatment modality depends on the age of the child, the severity of the injury, and whether the femur fracture is an isolated injury or part of multiple trauma (see Table 2 below).
Table 2. Age-Appropriate Treatments for Pediatric Femoral Shaft Fractures (Open Table in a new window)
Age

Fracture Treatment

Treatment

Remarks

Infants

Stable/undisplaced

Splint

Suspect abuse or osteogenesis imperfecta

Remarkable remodeling potential

Unstable/angulated

Pavlik harness, gallows traction, spica cast

1-6 y

Stable fracture

Immediate spica cast

Telescope test to determine stability

Skeletal traction in older, heavier patients

Unstable fracture/unacceptable reduction

Traction followed by spica cast

Multiple trauma

Flexible intramedullary nails/external fixator

6-11 y

Low-energy stable fractures

Early spica

Remodeling potential lesser than for younger children

Operative stabilization indicated if early mobilization required

Flexible intramedullary nailing preferred

High-energy unstable fracture

Traction followed by spica/plating/external fixator/flexible nailing

≥ 11 y

Internal or external fixation; external fixator for comminuted, unstable, and compound fractures

Operative stabilization preferred

Limited remodeling potential

Accurate restoration of length and alignment mandatory

Rigid nailing through piriformis fossa should be avoided to reduce risk of avascular necrosis
General considerations
The following generalizations can be made about the treatment of femoral shaft fractures in children.
Because infants have the greatest remodeling potential, a greater degree of deformity can be accepted: up to 30° of angulation in both the coronal and the sagittal planes and 2-3 cm of shortening. In older children, acceptable degrees of deformity are less: not more than 15° in the coronal plane and 20° in the sagittal plane. Shortening of more than 1 cm is not acceptable in adolescents nearing skeletal maturity.
Limb-length discrepancy is the most common complication of pediatric femoral shaft fractures, occurring as a result of either malunion (and shortening) or overgrowth of the injured limb. Overgrowth of the femur occurs because of the stimulation of growth commonly seen in children 3-10 years of age. It is most prominent in fractures with greater overriding. The increased growth rate is usually seen in the first 18 months after the fracture and may continue for 5 years after the injury. The average growth stimulation is 1 cm (range, 0.5-2.5).
Unstable fractures and fractures caused by high-energy trauma with severe displacement, comminution, or shortening of more than 3 cm are more suitable for operative intervention. A telescope test is described, wherein the patients are examined with fluoroscopy while gentle axial compression is applied. If shortening of more than 3 cm is demonstrated, conservative treatment is expected to result in a higher incidence of malunion and unacceptable results. [19, 20]
In patients with associated head injury, femoral shaft fractures are difficult to treat conservatively, because muscle spasm and seizures tend to displace fracture fragments. As a rule, it is better to treat these patients with surgical stabilization.
Patients with multiple trauma should be treated by means of operative skeletal stabilization to facilitate nursing and mobilization.
Stabilization of femoral fractures with rigid interlocking nails is reserved for adolescents and is associated with a higher risk of AVN of the femoral head.
The American Academy of Orthopaedic Surgeons (AAOS) has published a clinical practice guideline on the treatment of pediatric diaphyseal femur fractures (see Guidelines). [21]
Nonoperative treatment
Nonoperative treatment of femoral shaft fractures consists of a Pavlik harness, gallows traction, and a spica cast, with or without preceding skin or skeletal traction.
Pavlik harness
The Pavlik harness is the treatment of choice for newborns with unstable proximal or midshaft fracture sustained as a result of birth trauma. These patients have a thick periosteum, and the fracture hematoma consolidates rapidly. The Pavlik harness is applied with the hip in moderate flexion and abduction. A wrap around the thigh can aid reduction. The harness is well tolerated, is easy to adjust, holds the femur in reduced position, and prevents skin complications. An understanding and compliant attendant is mandatory for Pavlik harness treatment. [22]
Gallows traction
Gallows traction (overhead Bryant skin traction) is useful for children younger than 2 years who weigh 10-12 kg. The traction should be enough to just lift the buttocks of the child off the bed. Careful examination of the neurovascular status of the extremity is mandatory in the early period after application of Bryant traction. Older children have a risk of vascular insufficiency, compartment syndrome, peroneal nerve palsy, and skin breakdown when treated with this method.
Spica cast
Immediate spica casting is ideally suited for treatment of isolated low-energy fractures with less than 2 cm shortening in a child younger than 10 years. [23, 24] Contraindications for immediate spica cast treatment include the following:
Shortening of more than 2 cm

Poor skin condition

Massive swelling of the thigh

Presence of other injuries
Also, in an obese patient with a short thigh, it may be difficult to control the femur with a cast despite the patient's young age.
Ideally, a spica cast should be applied with the patient under general anesthesia. A 90-90 plaster cast or a sitting spica cast, which allows the child to be placed in a sitting position in the chair, may be applied.
The plaster is applied with 90° of flexion, 30° of abduction, and 15° of external rotation at the hip and with 90° flexion at the knee. The plaster is molded anteriorly and laterally to prevent anterior and varus bowing. Acceptable reduction comprises less than 15° of angulation and less than 2 cm of shortening. If reduction is not acceptable, the spica cast should be reapplied after remanipulation; wedging a 90-90 cast may cause peroneal nerve palsy.
The spica cast is kept in place for 4-8 weeks, depending on the age of the patient. Excessive shortening is the most common early complication of spica casting. Limb-length discrepancy greater than 2 cm has been reported in 43% of cases and unacceptable angular deformity in 10-30%. [25]
The incidence of malunion is even higher in children older than 6 years. Therefore, those patients who are selected for this form of treatment must be followed up radiographically. Patients who have high-energy trauma and instability on the telescope test (as described above) should not be treated by immediate spica cast treatment.
Skin and skeletal traction
Skin traction can be used to align the fracture fragments and maintain reduction. It can be used as a prelude to spica cast treatment in cases where massive swelling or poor skin condition does not allow immediate spica application. It can also be used when an unstable high-energy fracture must be treated nonoperatively and early spica casting is likely to lead to malunion. In these cases, traction is employed until the fracture site has become nontender and callus is palpable locally, at which time a spica cast may be applied.
Skin traction can be used as definitive treatment for femoral shaft fractures in children between the ages of 2 and 4 years who weigh no more than 20 kg. Russell or split Russell skin traction is applied. The position of the fragments is checked radiographically, and treatment is continued until complete healing is achieved. To prevent skin complications such as blistering and sloughing, skin traction should not be used when more than 2.25 kg of traction is required.
Skeletal traction can be used as a definitive treatment or can be switched for a spica cast when sufficient stability is detected at the fracture site clinically and callus is demonstrable on radiographs. Indications for skeletal traction include the following:
Unstable fracture with more than 2-3 cm of shortening in an older child

Inability to achieve or maintain reduction in a spica cast

Comminuted proximal femoral fracture where there are limited choices for internal fixation

Patient with multiple injuries who is unfit for surgical intervention
The skeletal traction is applied through a Steinmann pin placed through the distal femur 2 cm proximal to the distal femoral physis. An upper tibial pin is not preferred, because it can lead to proximal tibial epiphyseal injury with resultant recurvatum deformity and can aggravate an unrecognized coexistent injury to the knee ligaments.
For proximal femur fractures and in young children, 90-90 traction is applied. In children older than 12 years in whom prolonged positioning of the knee in 90° of flexion can cause stiffness of the knee, balanced traction with the hip flexed 20-60° and a knee support to allow up to 45° of knee flexion are used. Radiographs are obtained weekly to check the alignment of the fracture fragments. Traction may be continued until healing occurs, or it may be removed and a spica cast applied after 2-3 weeks when the callus is apparent.
Operative treatment
Operative treatment of femoral shaft fractures in children is frequently undertaken for patients who have sustained unstable high-energy fractures with disruption of the periosteal sleeve, breach of the skin, or severe soft-tissue trauma, as well as for patients in whom reduction cannot be achieved or maintained by means of a closed approach.
Operative treatment of femoral shaft fractures in adolescents is undertaken when nonoperative treatment would mean prolonged hospitalization or immobilization in traction or a spica cast or when the patient has multiple injuries, such as floating knee and pathologic fractures. Psychosocial factors may influence operative treatment of adolescents in whom prolonged immobilization may adversely affect self-image and interrupt social and educational development.
The surgical modalities used for fixation of these fractures include the following:
External fixation

Plating

Intramedullary nailing
External fixation
External fixation is indicated in patients who have fractures with severe soft-tissue injury (eg, open fractures, fractures with burns, and fractures with severe comminution) and in patients with head injury or multiple trauma for rapid skeletal stabilization as a damage control measure.
This procedure is minimally invasive and can be performed in critically ill patients, even with only local anesthesia. Two pins are inserted above the fracture and two below it, far enough away to avoid the fracture hematoma. The pins are then attached to a unilateral frame. The advantages of external fixation include maintenance of reduction with minimal overgrowth or malunion. The fixator provides excellent stability at the fracture site and allows mobilization, acting as a kind of portable traction.
Removal of the hardware is not an issue. However, the complications of external fixation include pin tract infection, fracture through the pinholes, delayed union, pin site scarring that causes cosmetic concerns, and refracture. Delayed union and refracture due to stress shielding are more likely when the fracture site is not dynamized [26] ; dynamization should be done at 4-6 weeks after the fracture.
The fixator is removed when at least three out of the four cortices on anteroposterior (AP) and lateral radiographs show bony continuity across the fracture site. Joint stiffness, frequently seen with this form of treatment in adults, is uncommon in children.
Plating
For many years, plating was not a popular method for the treatment of femoral fractures in children, because of the long incision and soft-tissue stripping required for the insertion, the need for protected weightbearing, the risk of plate breakage, the need for hardware removal, and the risk of fracture after plate removal. Although high rates of complications were reported after plate osteosynthesis of femoral shaft fractures in children, subsequent series showed excellent results with minimal complications.
Plating is currently an acceptable method of treating children younger than 11 or 12 years who have a femoral fracture that requires surgical intervention. Plating has the advantage of allowing anatomic reduction and early mobilization. It allows quick fixation of a fracture in a multiply injured patient. It is particularly useful for the fixation of fractures that are difficult to fix with intramedullary nailing or external fixation (eg, subtrochanteric/supracondylar fractures). Plating and bone grafting can adequately treat pathologic fractures accompanied by bone loss.
Advances in plating—such as indirect reduction, biologic fixation, and the availability of locked plates [27] —have offset several of the disadvantages previously associated with this method.
Kanlic et al reported good or better results in 51 patients (average age, 10 y) who were treated with submuscular bridge plating, [28] a technique that is easy to perform, is applicable in a wide variety of fractures, simplifies postoperative care, and preserves the biology of the fracture site (see the image below). The authors observed no symptomatic malalignment or limb-length discrepancies, and they found that the complications—plate failure and refracture—could generally be avoided by using better technique.
(a) Comminuted fracture shaft of femur in adolescent. (b) Insertion of submuscular bridge plate through small distal incision. (c) Screw insertion through tiny stab incisions under imaging guidance. (d) Postoperative check film. (e) Tiny scars 3 months after surgery.
Other authors have also recommended percutaneous plating for the management of all complex and unstable pediatric femoral diaphyseal fractures. [29]
A systematic review and meta-analysis by Strait et al compared submuscular plating with elastic intramedullary nailing for femoral shaft fractures in children. [30] Patients who underwent plating had significantly more blood loss, a significantly lower risk of postoperative adverse surgical events, and a significantly longer hospital stay. The two procedures did not differ significantly with respect to mean operating time, limb-length discrepancy, or mean time to union.
Intramedullary nailing
Intramedullary nailing with rigid interlocked nails or multiple flexible nails has been used to treat femoral shaft fractures in children, with good results.
Rigid nails, with or without reaming, are used in older patients (usually >12 y). These nails are introduced in an antegrade manner through the tip of the greater trochanter and are locked in cases of rotationally unstable or comminuted fractures prone to shortening.
The complications associated with these nails include AVN, arrest of trochanteric apophysis leading to coxa valga, and heterotopic ossification. To reduce the risk of AVN, introduction of the nail through the piriformis fossa should be avoided. A survey of 286 pediatric orthopedists reported 14 specific instances of AVN after rigid intramedullary nailing of femoral shaft fractures. [31]
Flexible intramedullary nailing is suitable for transverse and short oblique fractures of the femoral shaft in children. Comminuted fractures prone to shortening and rotationally unstable fractures may be difficult to fix when these devices are used alone. The procedure uses the three-point fixation principle and can be accomplished with Ender nails, Rush pins, or titanium elastic nails (see the image below). The first report of the use of titanium elastic nails came from a hospital in Nancy, France; since then, these nails have often been referred to as Nancy nails.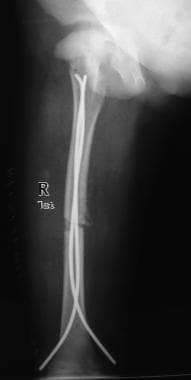 Immediate postoperative x-ray of titanium elastic nailing performed on male child. Image courtesy of Dr. Bhavuk Garg, Senior Resident of Orthopedics, All India Institute of Medical Sciences, Delhi.
The flexible nails can be introduced in either a retrograde or an antegrade manner. Antegrade introduction can be performed through the greater trochanter or through a cortical window distal to it; two nails, one C-shaped and the other S-shaped, are used for fixation of midshaft or distal-third fractures. Retrograde nailing is done through the supracondylar region; two C-shaped rods, one from the medial side and the other from the lateral side, are introduced into the medullary canal for midshaft or proximal-third fractures.
The nail diameter should be 40% of the canal diameter. The two nails should be of the largest size possible. A symmetric construct is made with the maximum curve at the fracture site and with the nails crossing above and below. The advantages of flexible nailing include relatively rapid fracture stabilization, early patient mobilization, a small incision, minimal blood loss, and avoidance of the proximal blood supply.
In several series, flexible nailing has yielded excellent results. [32, 33, 34, 35] The technique is especially useful in young children and typically does not lead to AVN or trochanteric arrest. However, nail migration and irritation of the skin by the ends of the nail are frequently seen and sometimes troublesome. Loss of reduction and malunion may be noted with unstable comminuted fractures. The need for hardware removal and the risk of refracture are the other problems associated with this technique.
In a study of 350 fractures treated with titanium elastic nails, 8% were associated with a coronal plane malunion between 5° and 10°, 5% with a leg length discrepancy of more than 2 cm, and 12% with irritation at the insertion site. [36] There was one case of osteomyelitis 3 months after nail removal, and there were two refractures 3 months after nail removal as a result of severe trauma. No cases of AVN or nonunion were reported.
There has been some controversy as to whether titanium or stainless-steel elastic nails are superior for treating femoral shaft fractures in children. A systematic review by Mohamed et al did not find conclusive evidence for the superiority of either type but noted a trend favoring stainless-steel nails, particularly in view of their lower cost. [37]
The IOLE (Intramedullary titanium nail Osteosynthesis Linked External fixator) technique, developed by Bisaccia and Meccariello, involves the hybridization of titanium intramedullary nails with a modular external fixator. In a study of 58 pediatric patients with femoral shaft fractures, Bisaccia et al compared the IOLE technique (n = 14) with placement of endomedullary titanium nails (n = 22) and use of external axial or modular external fixators (n = 16). [38] At final follow-up, no significant differences among the three groups were noted with respect to significant rotation defects, angulation, growth, or nonunion; however, the IOLE group had an advantage with regard to early weightbearing.
Distal Femoral Epiphyseal Fractures
Undisplaced fractures
For undisplaced fractures, nothing more than cast immobilization for a period of 6 weeks may be needed. If displacement is uncertain, it can be ruled out by means of computed tomography (CT). A high cast is preferred to prevent large movements of the arm at the fracture. Hip spica casting is advisable in short and obese children. If a fracture appears highly likely but cannot be seen, the child is placed in a cylinder cast or knee immobilizer, and repeat radiographs are taken after 10-14 days to look for callus formation.
Fractures that are reduced and immobilized without fixation have a high likelihood of displacement; accordingly, the surgeon should have a low threshold for surgical intervention in such cases.
Displaced fractures
Treatment of these injuries depends on the fracture type (see the image below).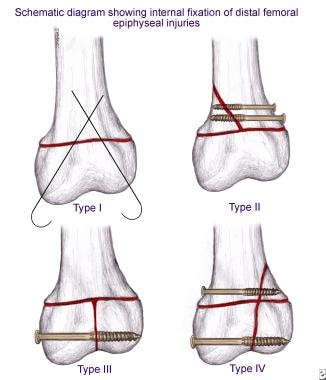 Schematic diagram showing various methods of operative fixation of distal femoral epiphyseal injuries.
Type I
Type I displaced fractures are treated with closed reduction under anesthesia and percutaneous pin fixation. Smooth pins 2.9-3.2 mm in size are inserted in a crossed fashion in such a way that the pins are maximally separated at the fracture site and cross just proximal to the physis. The pins are bent to prevent migration. Infection is a concern at the pin site, and septic arthritis may develop. The pins can be removed early (3-6 wk).
Type II
For type II displaced fractures, if the metaphyseal fragment is large enough, cannulated screw fixation proximal and parallel to the physis is performed. Two different-sized screws may be used if necessary. If the fragment is small, crossed pinning can be done (see the image below). The presence of the periosteal sleeve in between the fracture ends itself is not an indication for open reduction. It has been observed that with fracture healing, the periosteum is degraded.

Type II distal femoral epiphyseal injury fixed with 2 smooth crossed pins.
Type III and type IV
For all displaced type III and type IV fractures, open anatomic reduction and internal fixation are preferred because of the high probability of growth arrest, bony bar formation, and angulation in these fractures. Preoperative CT is helpful in planning.
Cannulated screw fixation is done after anatomic reduction in type III fractures. Large osteochondral fragments can be fixed with Herbert screws. Titanium screws are preferable because they would not interfere with the follow-up magnetic resonance imaging (MRI) obtained to evaluate the growth plate if physeal bar formation is suspected.
Type IV fractures are fixed with cannulated screws proximal and distal to the physis and, if necessary, smooth pins crossing the physis.
Postoperative Care
Postoperative immobilization in the form of a spica cast is necessary for most pediatric patients with surgically stabilized hip fractures. Supplemental immobilization is necessary for patients with unstable femoral shaft fractures that were treated with titanium elastic nails.
After distal femoral fracture fixation, all patients are given a long leg fiberglass cast with the knee in 5-10° of flexion. Ambulation with crutches may be initiated in a few days. At 1 week and, if necessary, at 2 and 3 weeks, repeat radiographs are taken to check for displacement. With Salter type I and II injuries, partial weightbearing can be started by 2-3 weeks. If infection is a concern, pins may be removed by 3-4 weeks through a window in the cast. Casts may be discontinued after clinical and radiologic evidence of union has been obtained.
Complications
Proximal femoral fracture
Complications associated with proximal femoral fractures in children are frequent and serious. Moon and Mehlman reported an overall complication rate of 46%, with some patients experiencing more than one complication. [7] The incidence of complications has decreased with the use of aggressive treatment protocols comprising early reduction, stable internal fixation, decompression of the joint hematoma, and prolonged external immobilization until sound union.
Older children with type I and II injuries are at the highest risk for complications. Adolescents and older children possess a precarious blood supply and limited ability to revascularize and remodel the femoral head.
Serious complications associated with these fractures include AVN, premature closure of the epiphysis, nonunion, and coxa vara.
Avascular necrosis
AVN is the most common and most disabling complication associated with proximal femoral fractures (see the image below). It occurs after pediatric hip fracture as a consequence of the following:
Insult to the vascular supply at the time of the initial injury

Vascular insult caused by reduction maneuvers or the insertion of fixation devices

Increased intracapsular pressure (tamponade effect) due to fracture hematoma; this explains the occurrence of AVN in undisplaced fractures

(a) Delbet type I proximal femoral epiphyseal injury. (b) Reduction and fixation with smooth pins. (c) Avascular necrosis 1 year after surgery. (d) Bone scan showing decreased vascularity of femoral head on affected side. (e) Radiograph after pin removal showing avascular necrosis (L) of hip.
Risk factors cited for the development of AVN include type I or II fracture, greater degree of fracture displacement, [39] older age, and poorer quality of reduction. [40] Aggressive surgical treatment with decompressive hip arthrotomy is increasingly believed to reduce the incidence of AVN in patients with these fractures.
A retrospective review by Spence et al found fracture displacement, fracture location, and time to treatment—but not patient age, type of fixation, mechanism of injury, capsular decompression, postoperative alignment, or performance of reduction—to be predictive of osteonecrosis after femoral neck fracture in children and adolescents. [41]
AVN occurs within a few months of injury in children, and all cases develop within 1 year. [16] As a rule, patients initially present with pain in the groin and later exhibit limitation of range of motion and proximal femoral deformities. Radiographs reveal areas of lucency and sclerosis in the femoral head, followed by fragmentation and collapse of the femoral head.
MRI is the most sensitive investigation for the early diagnosis of AVN. However, in cases where stainless-steel implants have been used and MRI cannot be performed, a technetium (Tc)-99m methylene diphosphonate bone scan can be useful for diagnosing AVN.
In 1962, Ratliff described the following three patterns of AVN after proximal femoral fractures in children [42] (see the image below):
Type I – Diffuse necrosis of the entire femoral head and neck proximal to the fracture, occurring in about 50% of cases; this denotes total necrosis, is the most serious type, and has the worst prognosis

Type II – Necrosis of the neck with sparing of the epiphysis, occurring in 25% of cases; this is essentially metaphyseal necrosis with little functional significance and is associated with the best outcome

Type III – Necrosis confined to the epiphysis, occurring in 25% of cases; this represents partial epiphyseal necrosis and has a better prognosis than type I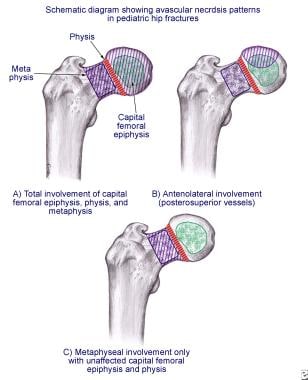 Patterns of avascular necrosis in hip fractures in children.
No effective treatment of posttraumatic AVN is recognized. At the onset of pain, partial weightbearing or refraining from weightbearing is recommended until the pain resolves. Acetabular and femoral osteotomies to contain the femoral head or to place the viable head in the area of weightbearing have been recommended but have failed to improve outcomes. More than three fourths of these patients require additional surgery to improve function.
It should be noted, however, that AVN is less disabling in younger children (ie, < 6 y) because of the biologic plasticity of the bone and the greater potential for regeneration.
Premature physeal closure
Premature physeal closure mostly occurs in conjunction with AVN of the femoral head. Internal fixation that crosses the physis predisposes to this complication. In addition, severe displacement at the time of injury or forceful attempts at closed reduction may injure the physis and cause fusion. Premature closure of the physis has little impact on function when it is not associated with AVN, because the shortening in such cases rarely exceeds 1.5 cm. However, when it occurs in association with AVN in a young child, significant limb-length discrepancy develops.
Physeal arrest can be diagnosed on radiographs by comparing the injured side with the normal side. Scanograms and growth charts can help predict the final limb-length discrepancy and determine the optimal timing for contralateral distal femoral epiphysiodesis.
Nonunion
Nonunion has been reported in 6-12% cases, particularly after nonoperative treatment. Inadequate reduction and distraction at the fracture site at the time of internal fixation are other contributory factors. Nonunion leads to coxa vara and a poor functional outcome. If nonunion is associated with coxa vara, it can usually be effectively treated by means of a subtrochanteric valgus osteotomy and internal fixation across the nonunion.
If the normal neck shaft angle is maintained, autogenous bone grafting with rigid internal fixation to gain compression across the fracture site can help achieve union.
In a small study (N = 12), Elgeidi et al found the use of fibular strut grafts to be effective for fixation of nonunited femoral neck fractures in children with or without subtrochanteric valgus osteotomy. [43]
Risk factors for nonunion include severe initial displacement, poor reduction quality, and the presence of comminuted medial or posterior cortex on AP or lateral radiographs. [44]
Coxa vara
Coxa vara is defined as a neck shaft angle of less than 130°. Like nonunion, it is related to the method of treatment and is more commonly seen with nonoperative therapy. Malreduction, loss of reduction, nonunion, and premature physeal closure are predisposing causes.
Coxa vara is best prevented by maintenance of high standards for initial reduction of type III and IV fractures, rigid internal fixation, and postoperative spica cast immobilization. Coxa vara of functional consequence (ie, coxa vara associated with nonunion) is best treated by a subtrochanteric or intertrochanteric valgus osteotomy and internal fixation.
Femoral shaft fracture
The most common complication associated with femoral shaft fractures in children is malunion, with or without limb-length discrepancy. This may resolve with time as remodeling occurs. Because overgrowth is often seen after femoral fractures, an adequate period of observation is mandatory before a decision is made to perform epiphysiodesis of the contralateral normal extremity. Osteotomy can be performed to correct persistent angular deformity in older children. Care should be taken to watch for possible postoperative femoral malrotation. [45]
Neurovascular injuries may accompany femoral shaft fractures in children. Vascular injuries are most commonly associated with distal femoral fractures. They are treated with vascular repair following arteriography. Stabilization of the femoral fracture with internal or external fixation should be undertaken at the time of vascular repair.
Compartment syndrome affecting the thigh muscles may occur after the femoral shaft fracture, after intramedullary nailing, or as a result of gallows traction or skin traction. Permanent disability can be prevented by maintaining a high index of suspicion and providing early decompression.
In general, delayed union and nonunion are rare in children; they are seen mainly in children who are older, those with high-energy injuries, those with infections, and those in whom external fixators were used.
Infection is seen with the use of external fixators and, rarely, as a consequence of hematogenous seeding of the fracture hematoma. Surgical debridement is the mainstay of treatment. When infection is absent, bone grafting with a locked nail or compression plate is the treatment of choice. Control of infection with repeated debridements followed by external fixation and bone grafting can help achieve union.
Distal femoral epiphyseal fracture
Complications of distal femoral fractures include injuries to nearby structures (eg, ligaments, blood vessels, and the peroneal nerve) and various growth disturbances.
Injuries to ligaments, blood vessels, or nerves
Associated meniscal and cruciate ligament tears may occur that can cause residual instability after fracture healing. One study reported symptomatic ligamentous laxity in 8% of patients with distal femoral epiphyseal injuries. [46] Most such injuries occur in patients nearing maturity. Ligament reconstruction is done along with meniscal repair, depending on the patient's age. If there is no reparable meniscal lesion, the child is put on a rehabilitation program.
Vascular injuries occur in 2% of distal femoral fractures. [47] Arterial spasm or mechanical obstruction caused by the metaphyseal fragment may resolve with reduction, and if vascularity does not return after reduction, arteriography and a vascular consultation are warranted. In the case of open fractures, vessel repair is done after bone fixation.
Most peroneal nerve injuries are neurapraxias that resolve with time, sometimes lasting up to 6 months.
Growth disturbances
Because the physis is undulating (see Anatomy), the germinal layer may be traversed in any type of fracture. Consequently, growth disturbances are commonplace. Most patients with more than 1 year of growth remaining demonstrate some type of growth disturbance, either a focal arrest or a slowdown of longitudinal growth.
Physeal injury can be seen on plain films as the convergence or absence of Park-Harris growth arrest lines as early as 6 months after the fracture. MRI is used to demonstrate the bony bar earlier, and CT is used to map the physis if a bar resection is planned.
Physeal offset and bony bar formation are the mechanisms of growth arrest in type III and type IV fractures. The physis distal to the metaphyseal fragment continues to grow in type II injury and leads to angular deformity.
If the localized area of premature arrest constitutes less than 50% of the total area of the physis and if at least 2 years of growth remains, excision of the bony bridge is recommended. [48, 49] A corrective osteotomy should be performed at the same time if there is significant angulation. The results of bar resection have not been encouraging; accordingly, in older children, an epiphysiodesis should be considered. An alternative method of correcting angular deformity is the use of the Ilizarov fixator.
Leg-length discrepancy occurs as a result of premature physeal closure. [50] If patients have more than 2 years of growth remaining, leg-length discrepancy is expected to proceed at a rate of 1 cm/y. Although it is frequently reported, most cases are not clinically significant. The treatment of leg-length discrepancy in these fracture patients proceeds along the usual lines.
Long-Term Monitoring
The need for prolonged follow-up is thoroughly explained to the patient's parents at the initiation of treatment. Children with femoral head and neck fractures are to be followed for the occurrence of AVN. Children with distal femoral fractures are usually followed for as long as 24 months to evaluate for evidence of growth disturbances in the form of angulation and limb-length discrepancy.
What would you like to print?