Workup
Plain Radiography
Whenever a proximal femoral injury is suspected, an anteroposterior (AP) radiograph of the pelvis with both hips and a cross-table lateral radiograph should be obtained. The radiographs must be carefully examined with a view to determining the presence of fracture, the Delbet type, and the degree of displacement.
Careful examination of the contralateral side on radiographs (or magnetic resonance imaging [MRI] scans) helps detect undisplaced fractures. In patients younger than 18 months with suspected proximal femoral epiphyseal separation, arthrography has been suggested as a diagnostic aid.
For the diagnosis of femoral shaft fractures, plain radiographs are generally adequate (see the image below). The radiographs must be carefully examined for the presence and location of the fracture, its configuration, the degree of displacement, and the degree of comminution. Radiographic examination must include the entire femur, along with the hip and knee, to rule out associated injuries. Appropriate additional studies should be undertaken in patients with multiple trauma, head injuries, and other visceral injuries.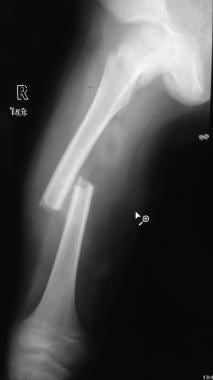 X-ray of adolescent who sustained sporting injury and fractured his right femur. Image courtesy of Dr. Bhavuk Garg, Senior Resident of Orthopedics, All India Institute of Medical Sciences, Delhi.
For the diagnosis of distal femoral physeal injuries, plain AP and lateral radiographs are usually adequate. The radiographs show displacement, widening, or adjacent bony disruption in cases of physeal injury.
Other Imaging Modalities
Type I and type III undisplaced fractures are often overlooked on plain radiography. Stress views were previously recommended for diagnosis, but MRI has become the preferred imaging modality. Computed tomography (CT) is used to determine the degree of displacement and is useful for preoperative planning. In infants, MRI, ultrasonography (US), or arthrography of the knee may be required to make the diagnosis of separation of a relatively unossified femoral epiphysis.
What would you like to print?