Treatment
Approach Considerations
Indications for surgical treatment of developmental dysplasia of the hip (DDH) are met if the results of such treatment would be better than the results of the natural progression of the disease. [49] The natural history of DDH depends, in part, on the severity of the disease, bilaterality, and whether or not a false acetabulum is formed. [10, 50, 51]
Unilateral dislocations result in significant leg-length inequality, with a gait disturbance and possibly associated hip and knee pain. In addition, hip pain commonly manifests as knee or anterior thigh pain as a consequence of the innervation of the hip joint (obturator and femoral nerve distribution). Typically, true hip pain is identified as groin pain.
The development of a false acetabulum is associated with a poor outcome in approximately 75% of patients. Bilateral hip dislocation in a patient without false acetabula has a better overall prognosis. In fact, a case was reported of a 74-year-old man with no history of hip or thigh pain whose dislocated hips were only discovered shortly before his death. [52]
Indications for treatment depend on the patient's age and the success of previous techniques. Children younger than 6 months with instability upon examination are treated with a form of bracing, usually a Pavlik harness. If this is not effective or if the hip instability or dislocation is noted when the child is older than 6 months, closed reduction is typically recommended, with or without the administration of traction before the reduction.
When the child is older than 2 years or with failure of the previous treatment, open reduction is considered. If the patient is older than 3 years, femoral shortening is performed instead of traction, with additional varus applied to the femur, if necessary. A patient with residual acetabular dysplasia who is older than 4 years should be treated with an acetabular procedure.
Treatment of DDH diagnosed when the patient is a young adult can be considered for residual DDH. Unfortunately, radiographic characterization of DDH that is severe enough to lead to early osteoarthrosis is difficult. A center-edge angle smaller than 16º often has been used to predict early osteoarthrosis, [53] but other authors have found this measurement to be less reliable. [54, 55] Subluxation, defined as a break in the Shenton line (see Workup), has been shown to be associated with osteoarthrosis and decreased function. [54]
Relative contraindications for surgery include older age (>8 years for a unilateral hip dislocation or >4-6 years for bilateral hip dislocation, especially if a false acetabulum is not present). Other contraindications for surgery include a neuromuscular disorder, such as a high myelomeningocele or spinal cord injury, or cerebral palsy in a patient who has had a hip dislocation for longer than 1 year.
Medical Therapy
Treatment of DDH begins with careful examination of the newborn. If evidence of instability is present, a Pavlik harness should be considered and, if used, fitted appropriately. [56, 57, 58, 59, 60]
The Pavlik harness should be placed so that the chest strap is at the nipple line, with 2 fingerbreadths of space between chest and strap. The anterior strap is at the midaxillary line and should be set so that the hips are flexed to 100-110º; excessive flexion can lead to femoral nerve compression and inferior dislocations. Quadriceps function should be determined at all clinic visits.
The posterior abduction strap should be at the level of the child's scapula and adjusted to allow comfortable abduction. This should prevent the hips from adducting to the point where the hips dislocate. Excessive abduction should be avoided out of concern regarding the potential development of avascular necrosis (AVN). The fitting of the harness should then be checked clinically within the first week and then at regular intervals thereafter. The patient must be carefully monitored to ensure that the harness fits and the hips are reduced.
Ultrasonography (US) is an excellent means of documenting the reduction of the hip in the Pavlik harness and should be performed early in the course of treatment. [61] If the hip is posteriorly subluxated, then the Pavlik harness therapy should be discontinued. [62]
Using the Pavlik harness for guided reduction, which occurs when the hip does not completely reduce initially but is pointed toward the triradiate cartilage, is controversial. When a Pavlik harness is used for guided reduction, the physician should obtain a radiograph after the harness is placed to determine if the femoral heads are pointing toward the triradiate cartilage. An ultrasonogram should be obtained to determine the success, or lack thereof, of the guided reduction.
Several authors have expressed concern that use of the Pavlik harness in patients with bilateral involvement has an increased likelihood of failure. [58, 63] One group compared the success rates of Pavlik harness treatment for unilateral and bilateral frankly dislocated hips in otherwise normal children and found no significant difference. [64]
There is no consensus on the optimal overall duration of Pavlik harness therapy. [65, 66] If the hip is reduced satisfactorily in the harness, the author's practice is to maintain this treatment at least until the hip is considered to be stable both on clinical grounds and on the basis of US findings with the patient out of the brace. Abduction splinting is maintained thereafter if radiographic evidence of residual dysplasia is present.
The use of an abduction brace after a failure of the Pavlik harness has been suggested. In one study, 13 of 15 patients were treated successfully in this manner, and the remaining two patients had a successful closed reduction. [67]
In patients older than 6 months, the success rate with a Pavlik harness is less than 50%; therefore, this therapy should not be used in these patients. [6] If the child is diagnosed when older than 6 months or if the Pavlik harness is determined to be unsuccessful, a closed reduction is attempted.
Historically, traction was performed for a 2- to 3-week period before closed reduction was attempted. [68] Traction (usually skin traction) was performed either at home or in the hospital. This required careful monitoring to ensure the integrity of the skin. Although there remains considerable controversy regarding the overall benefit of traction, reports of long-term follow-up have shown satisfactory outcomes in a majority of patients. [69, 70]
Closed reduction is typically performed with the aid of arthrography, which is used to determine the adequacy of the reduction. A medial dye pool and an interposing limbus are both associated with a poor prognosis. If, on the other hand, a sharp or even a blunted limbus and no medial dye pooling are present, the prognosis is good. [71] In addition, the safe zone of Ramsey (ie, the angle between the maximum abduction and minimum abduction in which the hip remains reduced) should be at least 25º and can be increased with release of the adductor longus.
The cone of stability—a cone that involves hip flexion, abduction, and internal or external rotation—has also been defined. If this cone measures greater than 30º, it is considered satisfactory. [71]
A spica cast is placed, with care taken in molding over the posterior aspect of the greater trochanter of the ipsilateral limb. After this is done, computed tomography (CT) or magnetic resonance imaging (MRI) is performed to ensure that no evidence of posterior subluxation is present. The cast is typically worn for 6-12 weeks, at which time the hip is reexamined. If the hip is found to be stable, the patient is placed in an abduction brace. If the hip remains unstable, the patient is again placed in a spica cast.
Surgical Therapy
Open reduction is the treatment of choice for DDH in children who are older than 2 years at the time of the initial diagnosis or in whom attempts at closed reduction have failed. In children with teratologic hips, with failure at a much younger age, open reduction can be performed via a medial approach. The medial approach has a number of advantages, as follows:
Both hips can be reduced at the same time (in a patient with bilateral DDH)

Obstacles to reduction (eg, psoas tendon) are easily identified

The adductor longus can be sectioned through the same incision

Because the hip abductor muscles are not at risk for injury, residual weakness is unlikely to occur

The iliac apophysis is not at risk for injury

The incision has a very good cosmetic result
Problems with this approach include the following:
Potentially increased rates of AVN

The possibility that the surgeon may be unfamiliar with this approach

The inability to perform capsular plication (capsulorrhaphy) or a pelvic procedure through this incision
With the use of a medial approach, the cast plays a much more important role.
Most often, especially in older children, the standard anterolateral or Smith-Petersen approach is used. This can be combined with a capsule plication, if needed, with an acetabular procedure, or with both. In a child older than 3 years, femoral shortening osteotomy has been found to be safer and more effective than traction (see the image below). [72] At that time, if proximal femoral dysplasia is present, such as that observed with significant anteversion or coxa valga, this can also be corrected.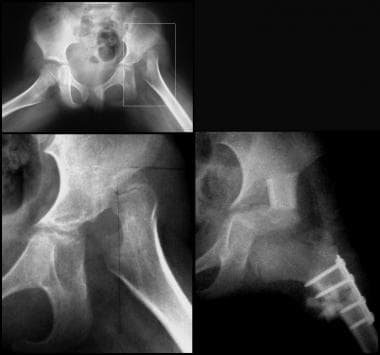 Radiographs from 6-year-old child who underwent open reduction with capsular plication, femoral shortening, and pelvic (Pemberton) osteotomy.
Even in children younger than 2 years, the derotational shortening femoral osteotomy has been safely performed with open reduction of the hip in selected hip dislocation patients. [73] Furthermore, a study of walking children with idiopathic hip dislocations suggested that performing an open reduction of the hip without concurrent femoral osteotomy strongly predicts the need for a secondary procedure. [74]
Pelvic osteotomy may be needed for residual hip dysplasia. [49, 75, 76, 77] The recommended timing for the pelvic osteotomy varies among surgeons. Some authors suggest pelvic osteotomy in children as young as 18-24 months, whereas others suggest waiting until the children are at least 4 years old.
If open reduction is performed in a child older than 4 years with significant hip dysplasia, an acetabular procedure should be considered at the time of open reduction. If a closed reduction is performed earlier, at least 12-18 months of acetabular remodeling should be allowed before an acetabular procedure is undertaken. At that time, if no evidence of acetabular modeling is noted, a pelvic osteotomy should be considered.
When open reduction is performed, the patient wears a hip spica cast for 6-12 weeks, then is placed in an abduction orthosis. The length of time for which a child remains in a hip orthosis is quite controversial and depends on the treating physician's experience and on the individual patient.
What would you like to print?