Workup
Laboratory Studies
Recommended studies include a complete blood count (CBC) with differential and measurement of the erythrocyte sedimentation rate (ESR); however, findings may be normal.
Imaging Studies
Obtain hip radiographs, including anteroposterior and frog-leg lateral views of the pelvis, to establish the diagnosis. [6, 7] (See the images below.)
Image from 8-year-old boy with Herring type C Legg-Calvé-Perthes disease shows evidence of lateral extrusion. Symptoms began 18 months before this view was obtained. Image courtesy of Dennis P Grogan, MD.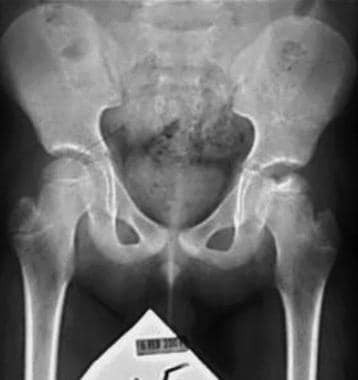 Anteroposterior radiograph from 9-year-old boy with Legg-Calvé-Perthes disease. Image courtesy of Dennis P Grogan, MD.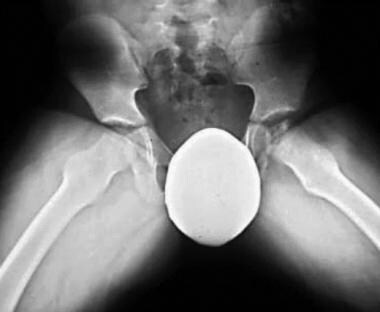 Frog-leg lateral radiograph of same 9-year-old boy with Legg-Calvé-Perthes disease as in previous radiograph. Image courtesy of Dennis P Grogan, MD.
Initial radiographs can be normal, but radiographic changes can be divided into five distinct stages representing a continuum of the disease process, as follows:
Stage 1 - Cessation of femoral epiphyseal growth

Stage 2 - Subchondral fracture

Stage 3 - Resorption

Stage 4 - Reossification

Stage 5 - Healed or residual stage
Early radiographic changes may reveal only a nonspecific effusion of the joint associated with slight widening of the joint space, metaphyseal demineralization (decreased bone density around the joint), and periarticular swelling (bulging capsule). This is the acute phase, and it may last 1-2 weeks. Decreasing bone density in and around the joint is noted after a few weeks.
With advancing disease, the joint space between the ossified head and acetabulum widens as the necrotic ossification center appears denser than the surrounding structures. Narrowing or collapse of the femoral head causes it to appear widened and flattened (coxa plana). A varus deformity of the femoral neck may occur as a result of damage to the femoral head growth center and overgrowth of the greater trochanteric apophysis.
Eventually, the disease may progress to collapse of the femoral head, increase in the width of the neck, and demineralization of the femoral head. The final shape of this area depends on the extent of necrosis and the degree of collapse. All of the findings are correlated with disease progression and the extent of necrosis. This is the active phase, and it can last 12-40 months.
A bone scan can be used to evaluate the site for avascular necrosis (AVN).
What would you like to print?