Treatment
Approach Considerations
Treatment of slipped capital femoral epiphysis (SCFE) is essentially surgical. [67] The main principles of treatment are as follows:
Stabilization of the slip to prevent progression

Promotion of closure of the upper femoral physis
Although surgery should be performed promptly, it is elective; therefore, any severe underlying medical conditions (eg, renal failure or endocrinopathies) that would significantly increase surgical risk should be addressed.
Current treatment methods for a patient with an SCFE include the following:
Treatment of unstable SCFE is controversial. Whether to use one or two pins for stabilization is debated, and some authors advocate open reduction maneuvers. Parsch et al treated 64 consecutive cases of unstable SCFE (20 mild, 24 moderate, and 20 severe) with capsulotomy, evacuation of intra-articular effusion or hematoma, gentle reduction, and fixation with unthreaded Kirschner wires (K-wires). [63] Reduction was successful in 61 cases, without development of avascular necrosis (AVN). Three patients did develop AVN (two with moderate slips and one with a severe slip).
Prophylactic pinning of the contralateral hip, which has long been the practice in some countries, is now being considered more frequently in North America.
Hip Spica Casting
The duration of hip spica casting is usually approximately 12 weeks. Advantages are as follows:
It avoids the complications of anesthesia and surgery
Disadvantages are as follows:
It is cumbersome, especially if the patient is obese, and restricts the mobility of the patient; it can also cause cast sores
For all of these reasons, the authors do not recommend a hip spica cast for treatment of SCFE. Routine use of a hip spica cast in the treatment of SCFE is no longer recommended.
In-Situ Stabilization With Pins or Screws
For this procedure, the patient lies supine on a fracture table or a radiolucent-top table. Excellent intraoperative imaging is absolutely essential. In acute slips, positioning of the patient's affected limb in slight flexion and internal rotation may result in an incidental reduction. An aggressive reduction maneuver should be avoided.
A screw or screws are inserted percutaneously under fluoroscopic guidance as described previously by other authors. [72, 80] Use of 7.3-mm cannulated screws is recommended. For a stable slip, a single screw is preferred; for an unstable slip, the question of whether to use one or two screws is controversial. Use of more than two screws is not recommended, because it increases the risk of iatrogenic damage to the vascularity of the femoral head.
The entry point must be at or above the level of the lesser trochanter to avoid subtrochanteric fracture. It also should be anterolateral, as opposed to the lateral entry point used in fixation of fractures around the hip. Screws are directed from anterolateral to posteromedial.
Care is taken to remain in the center of the capital epiphysis and perpendicular to the physis on AP and lateral views. [80] Posterosuperior placement in the epiphysis is to be avoided at all costs so as to prevent damage to the lateral epiphyseal vessels. [42, 81] At least 2.5 threads should engage the epiphysis for a good hold. (See the images below.)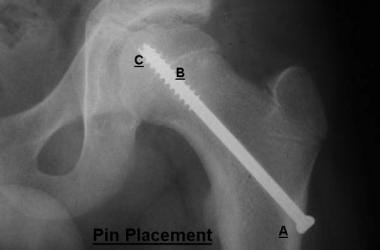 Pin placement (anteroposterior view). A: The entry point must be at or above the level of the lesser trochanter to avoid the risk of subtrochanteric fracture. B: The pin (screw) should be in the center of the epiphysis. C: At least 2.5 threads engaging the epiphysis should be used for a secure hold.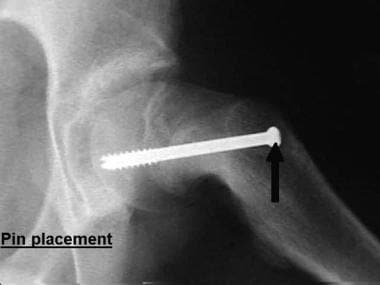 Pin placement (lateral view). Arrow shows entry point in the anterolateral cortex.
Screw position must be confirmed. Although temporary penetration of guide pins into the joint has not been shown to be associated with chondrolysis, hardware that remains in the joint must be avoided to decrease the risk of chondrolysis and joint degeneration.
Advantages to pinning are as follows:
It is a simple, short procedure

Blood loss is minimal
Disadvantages are as follows:
It may be technically difficult in patients with severe slips

It is associated with a risk of pin penetration into the joint, especially if multiple pins are used
Single-screw fixation in patients with SCFE has yielded gratifying results. Aronson and Carlson reported excellent or good results in 36 (95%) of 38 mild slips, 10 of 11 moderate slips, and eight of nine severe slips. AVN developed in only one patient (2%) with an unstable SCFE, and chondrolysis developed in no patients. [54]
Ward et al reported on 42 patients (53 hips) with an SCFE treated with single-screw fixation. [56] After a mean duration of follow-up of 32 months, 92% of the patients demonstrated physeal fusion and were able to participate in full activities. Neither chondrolysis nor AVN developed in any patient.
Samuelson and Olney, using a similar percutaneous technique, reported excellent results in seven patients treated with two Knowles pins and in 17 patients treated with a single Knowles pin. [29]
Castaneda et al studied 105 patients with a slip greater than 60º who were treated with in-situ pinning with a single cannulated screw to determine functional outcome. There were excellent results in 52 patients, good results in 28, fair results in 16, and bad results in nine (resulting from inadequate pin placement). Better results were found to have occurred in patients younger than 12 years. [83]
Remodeling or adaptation may occur after pinning, and the loss of internal rotation often improves. Pinning is currently the method of choice for stabilization of all slips.
Controversies include the following:
Single pins are preferred for stable slips, but there is no consensus on the number of pins to use for unstable slips

Prophylactic pinning of the contralateral hip is recommended in noncompliant patients and when follow-up is not ensured, as well as in patients with endocrinopathy or renal disease in whom the risk of contralateral slip is very high,

[86, 87]

but the indications in other patients are less well defined; the modified Oxford bone scoring system may help determine who should be treated prophylactically

[46]
Open Epiphysiodesis With Allograft or Autograft
This procedure was first reported by Ferguson and Howorth in 1931. [88] The hip is exposed via the iliofemoral approach. A rectangular window of bone is removed from the anterior aspect of the femoral neck. A cylindrical tunnel is created across the physis, and multiple corticocancellous strips of iliac crest bone graft are driven into the tunnel as bone pegs across the proximal femoral physis in an attempt to promote early closure of the physis. A cortical strut allograft, for structural support, also may be used. [73]
Advantages include the following:
The risk of damaging the vascularity of the femoral head is reduced because the graft usually is inserted at a proper angle

The risk of the graft being inserted too deeply and causing joint penetration is also reduced

The complications of internal fixation, including unrecognized pin penetration and hardware failure, are avoided

Rapid, reliable closure of the physis is achieved
Disadvantages include the following:
The curettage may make the slip even more unstable, and the fixation afforded by bone graft is not as solid as that provided by pins; a risk of additional slippage remains

The operating time and the duration of anesthesia are longer

Blood loss is increased

The incision is larger

A spica cast is needed
Weiner et al reported on their 30-year experience with this technique, which they used to treat 159 patients (185 hips) who had an SCFE. Additional slipping developed in four hips (2%), AVN developed in one (1%), and chondrolysis developed in none. [72]
Rao et al reported on evaluations of 43 patients (64 hips) treated by open bone-peg epiphysiodesis. At the time of healing, 27 hips (42%) had additional slipping. AVN developed in four hips (6%), chondrolysis developed in three (5%), and additional complications developed in 14 (22%). [71]
Schmidt et al reported on evaluations of 31 patients (38 hips; mean follow-up, 3.5 years) and stated that the Harris hip rating was excellent for 35 hips, good for one, and fair for two. Six patients (19%) had a major complication: AVN, chondrolysis, femoral neck fracture, subtrochanteric hip fracture, bilateral coxa vara deformity, and unilateral coxa vara deformity occurred in one patient each. [73] Despite these complications, the authors still recommended this technique, particularly for a patient with a severe SCFE.
Osteotomies
Osteotomies for patients with SCFE are recommended most commonly as secondary procedures after clinically significant residual deformity develops. They are aimed at altering the arc of motion and at attempting to retard the onset of osteoarthrosis.
The osteotomies can be performed through the physis, neck, or subtrochanteric regions. As the osteotomies move from proximal to distal, the correction moves further from the point of deformity, but the risk of AVN decreases. (See the image below.)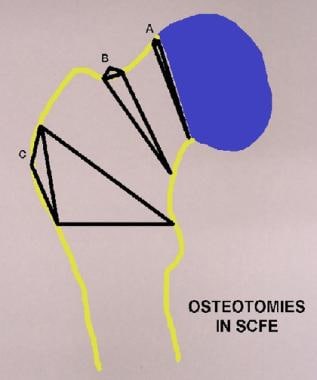 Osteotomies in slipped capital femoral epiphysis (SCFE). A: Subcapital osteotomy. B: Base of the neck compensatory osteotomy. C: Intertrochanteric compensatory osteotomy. Note that the amount of correction increases from subcapital to intertrochanteric osteotomies.
Open reduction with corrective osteotomy through physis and internal fixation with multiple pins
In this procedure, as described by Fish [89] and by Dunn and Angel [90] (see the image below), the hip is exposed via the anterior Smith-Petersen or anterolateral approach. [74, 75] A wedge of bone is removed from the metaphysis of the femoral neck, allowing the epiphysis to be repositioned anatomically on the metaphysis without creating tension on the epiphyseal vasculature. After the femoral neck is shortened sufficiently, the epiphysis is reduced and internally fixed with three pins.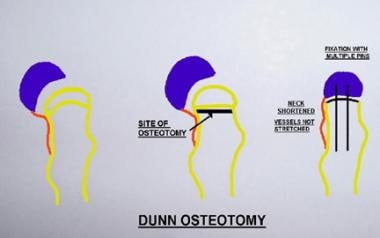 Principle of the Dunn osteotomy. Reduction of the slip after shortening the neck to avoid stretch on the vessels and decrease the risk of avascular necrosis.
The advantage of this procedure is that correction is performed at the site of deformity. The disadvantage is that the procedure is associated with a high risk of AVN.
Fish reported on cuneiform osteotomy in 61 patients (66 hips) and stated that 55 hips (83%) had an excellent result, six (9%) had a good result, two (3%) had a fair result, and three (5%) had a poor result. [89]
DeRosa et al evaluated 23 patients (27 hips) with severe SCFE treated by cuneiform osteotomy. [74] After a mean follow-up of 8 years 5 months, no hip had an excellent result, 19 (70%) had a good result, four (15%) had a fair result, and four had a poor result. AVN developed in four (15%) and chondrolysis in eight (30%). In addition, two patients (7%) lost fixation and required additional surgery, one developed a skin erosion over a pin and required pin removal, and another had a buttock pressure sore. Despite the 15% AVN rate, the authors would still recommend this osteotomy for patients with severe SCFE.
Velasco et al evaluated 65 patients (66 hips) treated with open reduction for SCFE. [75] In 60 hips, open reduction of the slip was combined with a cuneiform subcapital wedge resection of the femoral neck according to the Dunn-Angel technique. At a mean of 16 years, chondrolysis had developed in eight hips (12%) and AVN in seven (11%). Of the 48 hips followed for at least 10 years (mean, 20.6), 22 (46%) had a good result, 16 (33%) a moderate result, and 10 (21%) a poor result. Degenerative arthritis was seen in 19 (40%) of the 48 hips.
In a study of 30 children with severe stable SCFE who were treated with either the modified Dunn procedure (n = 15) or in-situ pinning (n = 15), Novais et al found that at a mean follow-up of 2.5 years, the former procedure was superior with respect to proximal femoral radiographic deformity, Heyman and Herndon clinical outcome, complication rate, and number of reoperations after the initial operation. [91]
In a multicenter study of 20 SFCE patients (21 hips) with an average Harris hip score of 76.3 (range, 40-100) who were treated with the modified Dunn procedure, Javier et al found that 65% of patients had good or excellent functional results but that the rate of complications (eg, osteonecrosis and infection) was high. [92]
Compensatory basilar neck osteotomy with in-situ stabilization with multiple-pin fixation
This technique was described by Barmada et al, [76] Crawford, [93] and Kramer et al. [77] The anterosuperior-based wedge osteotomy was described by Kramer et al, and the extracapsular basilar neck osteotomy was described by Barmada et al. [76]
The main advantage is that the prevalence of AVN associated with basilar neck osteotomy is less than that associated with cuneiform osteotomy.
Disadvantages are as follows:
It shortens the femoral neck, which may result in impingement of the greater trochanter against the lateral aspect of the acetabulum during hip abduction

If the proximal femoral physis closes prematurely, as is often seen in patients with an SCFE, shortening of the femoral neck may aggravate a limb-length discrepancy

Only 35-55° of correction is possible with this technique
Kramer et al described an anterosuperior-based wedge osteotomy of the femoral neck in 55 SCFE patients (56 hips) who all had a positive preoperative Trendelenburg test result and had walked with a lurching gait. [77] They stabilized both the osteotomy site and the SCFE with multiple pins. After the osteotomy, 48 patients (87%) had a negative Trendelenburg test result. Nine hips (16%) had a poor result because of pain, a limp, or a decreased range of motion (ROM). AVN developed in two patients (4%) and chondrolysis in one (2%).
Intertrochanteric osteotomy with internal fixation
This technique was described by Crawford, [81] Schai et al, [94] and Southwick [78] and was initially proposed by Southwick as the primary treatment for severe slips. It is now used primarily if restricted ROM persists even after remodeling of the slip. The procedure consists of an intertrochanteric osteotomy at the level of the lesser trochanter with flexion, abduction, and internal rotation of the distal fragment. The osteotomy site is fixed with a compression hip screw, blade plate, or other fixation device.
Advantages are as follows:
It improves hip motion

It is rarely associated with AVN
Disadvantages are as follows:
It results in shortening and limb-length discrepancy

The correction is limited to 45° on the anteroposterior (AP) radiograph and to 60° on the lateral radiograph, as measured by the Southwick method

[95]
Schai et al evaluated 51 patients who had an SCFE of 30-60° that was treated with an intertrochanteric osteotomy and followed for a mean of 24 years. [94] Moderate osteoarthritis developed in 14 patients (27%) and severe osteoarthritis in nine (18%). Thirty-five patients (69%) had a shorter limb on the affected side, and two (4%) had a limb-length equalization procedure. AVN developed in only one patient (2%).
Postoperative Care
In stable slips, partial weightbearing with axillary crutches can be started as soon as the patient is comfortable after pinning, with progression to full weightbearing as tolerated. In unstable slips, toe-touch weightbearing with axillary crutch protection is used for 6 weeks after pinning. The patient may be discharged on the day after pinning and after 3-5 days for uncomplicated osteotomies.
In patients with unilateral slips, the patient must return for an evaluation if any pain develops on the contralateral side.
Complications
Avascular necrosis
AVN is the most devastating complication of SCFE. [96] Factors responsible for the development of AVN include the following [3, 42, 74, 81, 89, 97, 63] :
Acute, unstable SCFE

Overreduction of an acute SCFE

Attempted reduction of the chronic component of an acute-on-chronic SCFE

Placement of pins in the superolateral quadrant of the femoral head

Femoral neck osteotomy, especially if performed before physeal closure
Clinical features include pain in the groin or knee. On physical examination, loss of motion of the hip, particularly internal rotation, is evident, and the hip is irritable upon passive internal and external rotation.
Plain radiographs are unremarkable early in the course of the disorder, but changes diagnostic of AVN (collapse of the femoral head with cyst formation and sclerosis) develop after a few months. All cases of AVN after SCFE are radiographically apparent within 1 year. Early bone scanning or magnetic resonance imaging (MRI) often reveals asymmetry between the femoral heads, predicting the eventual development of AVN. [98]
Symptomatic treatment includes nonweightbearing walking with crutches, ROM exercises, traction, and anti-inflammatory medication. The radiographic evaluation should reassess the position of the hardware, which can protrude into the hip joint with femoral head collapse. Clearly, this should be backed out of the joint or removed if the physis is closed. In severe cases, a hip arthrodesis or joint arthroplasty may be needed.
A multicenter study by Kohno et al suggested that the timing of surgery in the setting of unstable SFCE may be related to the risk of AVN; they found that AVN rates were highest when the time to surgery was between 24 hours and 7 days. [99]
Chondrolysis
The factors responsible for chondrolysis are unknown. The possible role of an autoimmune phenomenon or some factor interfering with cartilage nutrition is yet to be defined. Risk factors for developing chondrolysis include the following:
Immobilization in a cast

Unrecognized permanent pin penetration

Severe SCFE
The prevalence of chondrolysis is 5-7%. [20] It is not increased in the black population, as has previously been reported. [20, 47, 65, 69] Clinical features include pain in the groin or knee and a loss of hip motion, particularly internal rotation.
Radiographs demonstrate a greater than 50% decrease in the width of the joint space as compared with the uninvolved side or, in patients who have bilateral involvement, a joint space of less than 3 mm. Hips that demonstrate increased uptake with premature closure of the greater trochanter on an early bone scan have been associated with an increased risk for the development of chondrolysis. [98]
Symptomatic treatment is similar to that of AVN. Early and aggressive physical therapy may help regain ROM. Some authors have recommended surgical interventions, such as extensive releases or distraction with external fixation.
Device penetration into joint
The frequency of problems related to internal fixation devices (slip progression, pin breakage, and joint penetration by the pins) is decreasing with the use of fluoroscopic guidance and cannulated single-screw fixation. The risk of fracture through an unused pinhole can be avoided by using fluoroscopy to position the guide pin and by entering the bone proximal to the lesser trochanter.
Iatrogenic hip instability
A report by the International SFCE Study Group assessed the modified Dunn procedure in 406 patients with severe, chronic SFCE at eight institutions and found iatrogenic anterolateral hip instability to be a potentially devastating, albeit uncommon, complication. [100] The authors suggested that maintaining anterior hip precautions for several weeks postoperatively in an abduction brace or broomstick cast might help prevent this complication.
Consultations
The following consultations may be useful:
A consultation with a pediatric endocrinologist may be useful when an underlying endocrinopathy is suspected

A consultation with a pediatric nephrologist is useful for management of renal failure

A dietitian may be consulted for a graduated weight-loss program; at least 50% of patients are above the 95th percentile for weight
What would you like to print?