Presentation
History and Physical Examination
Upon admission, a detailed patient history must be obtained to determine the nature of the injury and to determine whether any other injuries are present.
Clinical examination starts with excluding life-threatening injuries and stabilizing all vital parameters. A comprehensive screening to rule out pelvic, abdominal, chest, and head injuries is necessary. Thereafter, attention should be given to the limb to immediately assess for limb-threatening vascular and neurologic injuries.
The patient should be assessed for compartment syndromes, closed soft-tissue injury, and open wounds (see the image below). The extent of injury is roughly classified, with the assessment being completed only intraoperatively. A bulky dressing and an above-knee splint are applied, and radiographs are ordered.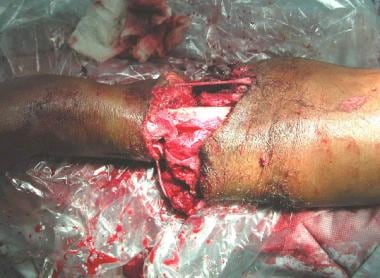 Diaphyseal tibial fracture. Compound grade 3C injury with extensive soft-tissue injury.
The diagnosis of a traumatic tibial shaft fracture is usually straightforward and is made on the basis of classic symptoms and signs. However, stress fractures can be missed by reason of the subacute or chronic nature of the presentation. [35] The possibility of serious infections (eg, necrotizing fasciitis [36] and gas gangrene [37] ) must be considered in open fractures with delayed presentation, as well as perioperatively in the presence of extensive injury.
What would you like to print?