Workup
Laboratory Studies
Imaging Studies
Radiographs of the affected limb should be obtained in at least two planes, including anteroposterior (AP) and lateral. Additional oblique views are also occasionally needed to determine the extent of the comminution and the fracture anatomy. Imaging the knee and the ankle as part of the radiographic survey is mandatory. Additional radiographs may be needed to assess for other injuries. (See the images below.)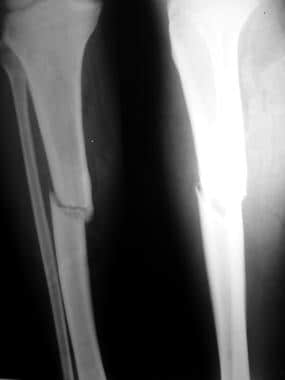 Diaphyseal tibial fracture. Isolated tibial fracture without fibular fracture.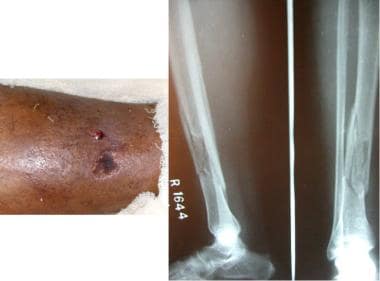 Diaphyseal tibial fracture. Clinical and radiographic findings of compound grade 2 injury.
Computed tomography (CT) or additional radiologic investigations have no role unless articular extension is present. [38]
Other Tests
When a fat embolism syndrome is suspected, it may be necessary to perform arterial blood gas (ABG) analysis, a platelet count, CT of the chest and/or brain, and Doppler ultrasonography (US) of the carotid. [1, 39, 40] The use of these investigations must be restricted to specific indications only.
Procedures
A swab is collected from the muscle in all open high-grade injuries. The authors culture the swab to specifically rule out spore bearers. In the authors' emergency departments, all patients with open wounds receive prophylactic immunization against tetanus and gas gangrene.
Staging
Numerous fracture classifications have been proposed over the past decades. Most of these tend to be descriptive in nature and are based on the following criteria:
Open versus closed injury

Involvement of the proximal, middle, or distal thirds

Number and position of fragments, such as comminution or butterfly fragments

Transverse, spiral, or oblique fractures

Varus, valgus, anterior, or posterior angulation

Displacement or the percentage of cortical contact

Rotation

Associated injuries
The Orthopedic Trauma Association (OTA) has divided fractures into three types, each of which has three subtypes, as follows:
Type A (simple) - A1, spiral; A2, oblique greater than 30°; A3, transverse less than 30°

Type B (wedge,butterfly fragment) - B1, spiral; B2, bending; B3, fragmented

Type C (complex or comminuted) - C1, spiral; C2, segmented; C3, irregular
Open fractures
Open fractures are commonly classified with the system that Gustilo and Anderson proposed in 1976 and modified in 1984. [41] In this system, the grades are defined as follows:
Grade 1 - The skin opening is 1 cm or less; this injury is most likely due to an inside-out mechanism; muscle contusion is minimal; the fracture pattern is transverse or short oblique

Grade 2 - The skin laceration is greater than 1 cm, with extensive soft-tissue damage, flaps, or avulsion; a minimal-to-moderate crushing component may be noted; the fracture pattern is simple transverse or short oblique, with minimal comminution

Grade 3 - Extensive soft-tissue damage includes the muscle, skin, and neurovascular structures; this is a high-velocity injury with a severe crushing component

Grade 3A - This involves extensive soft-tissue laceration (10 cm) but adequate bone coverage and includes segmental fractures and gunshot wounds

Grade 3B - This consists of extensive soft-tissue injury with periosteal stripping and bone exposure; it is typically associated with massive contamination and inadequate bone coverage; treatment requires flap advancement or a free flap

Grade 3C - This is a vascular injury requiring repair
Owing to its importance in determining the prognosis, the Gustilo-Anderson system has gained popular support. However, its main drawback has been the wide interobserver variation in its implementation in clinical settings. The higher grades have complication rates that are uniformly higher than those of the lower grades. (See the images below.)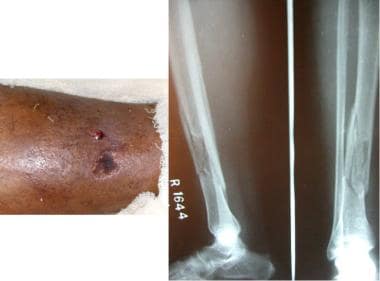 Diaphyseal tibial fracture. Clinical and radiographic findings of compound grade 2 injury.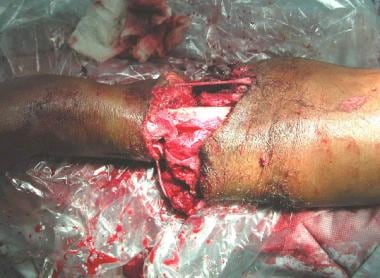 Diaphyseal tibial fracture. Compound grade 3C injury with extensive soft-tissue injury.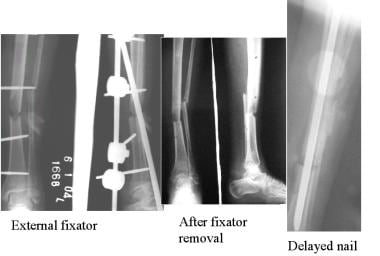 Diaphyseal tibial fracture. Management of grade 3 injury in external fixator followed by delayed nailing using a Küntscher-Herzog nail.
Subclassification of grade B injury with special reference to limb salvage
Rajasekharan reported that the Gustilo-Anderson classification of the grade 3 fracture was too generalized and was associated with high interobserver and intraobserver variability. [16] Type 3B fractures make up a wide spectrum of injuries, with major complications being common. Accordingly, the author proposed a trauma score for grade 3B open fractures, which was devised to assess injury to the following three components:
Covering tissues

Musculotendinous units

Bone
Severity in each category was assessed on a scale of 1-5. Seven comorbid factors known to influence the prognosis were each given a score of 2; these scores were then summed. Rajasekharan's preliminary results suggested that this system of classification of type 3B fractures is easy to apply and reliable in determining the prognosis after limb salvage and the outcome measures in severe, open injuries of the tibia.
Closed soft-tissue injuries associated with fractures
Tscherne and Oestern classified closed soft-tissue injuries associated with fractures as follows [42] :
Grade 0 - Soft-tissue damage is absent or negligible; the fracture is a result of indirect forces with a simple fracture pattern

Grade 1 - Superficial abrasion or contusion is caused by fragment pressure from within; the fracture configuration is more severe than that of grade 0

Grade 2 - Deep, contaminated abrasion is associated with localized skin or muscle contusion from direct

trauma

; impending compartment syndrome is part of this grade of injury, which is usually the result of direct violence

Grade 3 - This injury is characterized by extensively crushed, contused skin and severe muscle damage; other criteria are subcutaneous avulsions, decompensated compartment syndrome, and rupture of a major blood vessel; usually, patients have a severe, complex fracture pattern
Acceptability of reduction
Criteria for acceptability of reduction of tibial shaft fractures in adults are as follows:
Less than 5° varus/valgus angulation

Less than 10° anterior/posterior angulation

Less than 10° rotational deformity

Less than 1 cm of shortening

Greater than 50% cortical contact
More angulation along the AP axis and external rotation are both acceptable. Also, external rotation deformities are more easily tolerated than internal rotation deformities.
These traditional guidelines were not based on hard data. Merchant and Dietz assessed the amount of angulation that was compatible with good long-term function and the avoidance of osteoarthrosis by evaluating a group of patients an average of 29 years after a fracture of the tibia. [43] Clinical and radiographic outcomes were unaffected by the amount of anterior, posterior, varus, or valgus angulation. Their data suggested that angular deformities of less than 10-15° are well tolerated over the long term when the development of late osteoarthrosis is considered.
However, some data have indicated that as the level of deformity approaches the distal third of the tibia, even a minor degree of malalignment can affect the ankle joint. The malalignment alters the biomechanics of the ankle joint by decreasing the total area of contact pressure, which results in regions of increased load where the residual contact occurs, leading to increased shear stresses on the articular cartilage and premature osteoarthrosis of the joint.
Malrotation is a less well understood phenomenon in tibial injuries treated with intramedullary nailing. Research published in the Indian Journal of Orthopedics addressed this problem by analyzing the malrotation in 60 patients treated with reamed intramedullary nailing for diaphyseal fractures. A surprising 30% of patients had malrotation greater than 10°. [44]
What would you like to print?