Overview
Practice Essentials
Floating knee is a flail knee joint resulting from fractures of the shafts or adjacent metaphyses of the femur and ipsilateral tibia. [1, 2] Blake and McBryde initially described this injury, which is generally caused by high-energy trauma. [3] Local trauma to the soft tissues is often extensive, and life-threatening injuries to the head, chest, or abdomen may also be present. [4]
An initial evaluation to determine the extent of a patient's injuries is of critical importance. This evaluation should be followed by an appropriate sequence of emergency diagnostic and therapeutic measures.
Isolated fractures in stable patients can be treated acutely. (See Treatment.) By contrast, temporary stabilization of the fractures with external fixation is indicated for unstable patients or those in extremis. When the patient's physiologic state is stabilized, conversion to internal fixation is desirable. In adults, all floating knee injuries must be addressed with early anatomic reconstruction and stable surgical stabilization of both fractures. In children, especially those younger than 10 years, treatment of ipsilateral femoral and tibial fractures has been controversial.
Relatively little is recorded in the English-language literature on the subject of ipsilateral fracture of the femur and tibia. The complication rate associated with floating knee injuries remains high, regardless of the treatment regimen used. Infection, nonunion, malunion, and stiffness of the knee are all common. These complications can lead to functional impairment and frequently cause unsatisfactory results.
Pathophysiology
Floating knee injuries may include a combination of diaphyseal, metaphyseal, and intra-articular fractures (see the image below). [5] This combination of fractures is less common in the pediatric population than in adults. However, epiphyseal injury can adversely affect open growth plates, predisposing a child to limb-length discrepancy and angular deformities.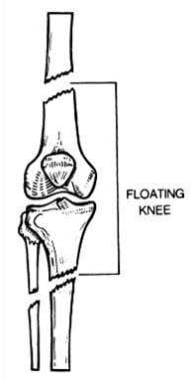 Floating knee injury.
Classification
Adults
Blake and McBryde used the terms true (or type I) injury and variant (or type II) injury to classify the floating-knee fracture pattern, as follows [3] :
Type I is a pure diaphyseal fracture of the femur and tibia
Fraser et al classified floating knee injuries in a similar way by analyzing knee involvement (see the image below) [7] :
Type I is the same as the true injury Blake and McBryde described, with extra-articular fractures of both bones

Type II is subdivided into three subtypes: type IIa, which involves femoral shaft and tibial plateau fractures; type IIb, which includes fractures of the distal femur and the shaft of the tibia; and type IIc, which indicates fractures of the distal femur and tibial plateau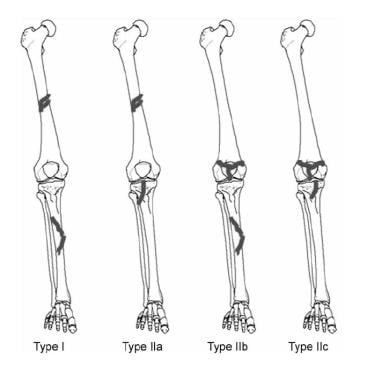 Fraser classification of floating knee injuries.
In both of these classification systems, type II fractures with intra-articular involvement have been linked with higher complication rates and poorer functional results than those observed with type I injuries.
Children
In children, floating knee injuries are classified according to the Bohn-Durbin or Letts classification systems.
In the Bohn-Durbin classification, floating knee injuries are described as follows:
Type I - Double-shaft pattern of fracture

Type II - Juxta-articular pattern

Type III - Epiphyseal
The Bohn-Durbin system does not account for open fractures and cannot be used to predict complications and prognoses.
Unacceptable findings are femoral union in a position of greater than 30° anterior angulation, 15° valgus angulation, and 5° posterior or varus angulation, or greater than 2 cm of shortening. Tibial malunion is defined as greater than 5° angulation in any plane or greater than 1 cm of shortening. Rotational malunion is defined as any internal rotational deformity exceeding findings on the unaffected side or greater than 20° external rotation of the extremity, as detected during walking or standing.
Letts et al designed a classification system in which they recognized diaphyseal, metaphyseal, or epiphyseal knee fractures (types A, B, C) and also open fractures (types D and E) (see the image below). The drawback of this system is that it does not indicate how to classify patients with epiphyseal separation in the distal femur and tibia or how to describe the location of open fractures in the epiphysis, metaphysis, or diaphysis. [8]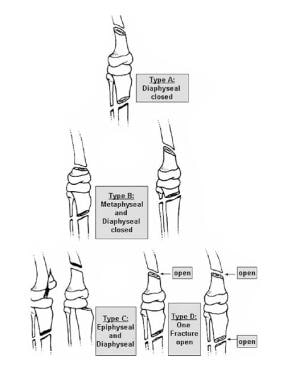 Letts and Vincent classification system for floating knee injuries in children.
Etiology
Road traffic accidents are the most common mechanisms of trauma, followed by gunshot wounds and falls from heights.
Epidemiology
This severe injury appears to be increasing in frequency. A male preponderance is observed, particularly in young adults 20-30 years of age.
Prognosis
The criteria Karlstrom and Olerud established are widely accepted for evaluating functional outcomes in adults. [9, 10] The following data are recorded and characterized as excellent, good, acceptable, or poor (see the image below):
Subjective symptoms from the thigh or leg

Subjective symptoms from the knee or ankle joint

Walking ability

Participation in work and sports

Angulation and/or rotational deformity

Shortening

Restricted mobility of the hip, knee, or ankle joint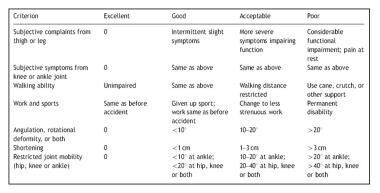 Karlstrom and Olerud's criteria for assessing functional outcomes after a floating knee injury.
Using the criteria of Karlstrom and Olerud, [9, 10, 11] most authors of published series have described excellent-to-good results in as many as 65% of surgically treated patients. After conservative treatment, success rates decrease to 29%. The complication rate is associated with fracture type (open fracture), Fraser type IIc, tibial plateau, and distal tibia. [12, 13, 14]
In children, subjective outcomes of floating knee injuries can be evaluated according to the criteria described by Yue et al, [15] as follows:
Excellent - No complaints or limitations secondary to the injury to the extremity

Good - Occasional minor pain in the extremity or a decreased ability to participate in athletic activities

Fair - Intermittent moderate pain in the extremity but with the ability to perform all activities of daily living (ADLs) and most recreational activities

Poor - Constant pain in the extremity and an inability to perform ADLs because of the injury to the extremity
Good-to-excellent results have been reported with both conservative and surgical methods in children. Fixation of one or two fractures in children aged 9 years or younger offers superior results and minimizes the incidence of long-term dysfunction of the extremity.
Regarding intra-articular (type II) injuries, good or excellent results have been reported in 24% of patients. The difficulty in obtaining satisfactory function after type II injuries may result from severe injuries to the soft tissue, damage to the knee joint, and/or the complexities of achieving stable reconstruction.
Apart from knee involvement and open type III femoral fractures, other significant factors that affect functional outcomes after floating knee injuries are the following [11] :
Involvement of the knee joint

Severity of soft-tissue injury in the tibia

Fixation time after injury in the tibia

AO fracture grade in the femur and tibia

Fixation time after injury in the femur and severity of open femoral fractures
What would you like to print?