Workup
Imaging Studies
Most patella fractures can be adequately visualized and classified by using standard anteroposterior (AP), lateral, and axial (Merchant or sunrise) radiographs of the knee (see the images below). The AP view helps in assessing the fracture pattern and the direction of displacement, whereas the lateral and Merchant views assist in evaluating the amount and location of comminution.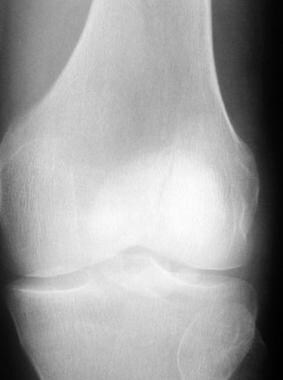 Preoperative anteroposterior radiograph of patella fracture.
Preoperative lateral radiograph of patella fracture.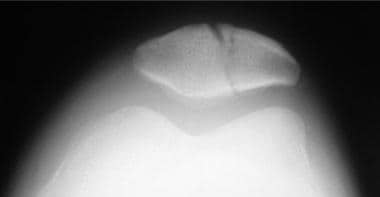 Preoperative sunrise radiograph of patella fracture. Note that vertical fracture is not appreciated on anteroposterior and lateral views.
Occasionally, oblique views or computed tomography (CT) may be indicated for assessment of osteochondral fractures and intra-articular fragments. If a stress fracture is suspected, bone scanning may be helpful for making the diagnosis.
Procedures
Aspiration of a hemarthrosis followed by instillation of intra-articular lidocaine may relieve the pain related to the fracture and permit a more thorough evaluation of extensor mechanism disruption. This measure is not usually necessary, but if it is, it must be performed under sterile conditions to minimize the risk of infection.
What would you like to print?