Presentation
History
In most instances, the history, the physical examination, and standard radiographs suffice for making a diagnosis of acute patellar tendon rupture.
Disruption of the patellar tendon is associated with immediate disabling pain. Acute rupture frequently results in an immediate "pop" or tearing sensation. The patient usually notes immediate swelling and difficulty with rising and weightbearing after the injury.
Physical Examination
On physical examination, diffuse swelling in the anterior knee with ecchymosis, hemarthrosis, and patella alta is observed. Tenderness exists along the anterior knee and retinacula, and a defect at the level of the rupture is usually palpable (see the image below), though significant swelling can make this difficult to appreciate initially. The patella may also feel proximally displaced as compared with the contralateral side.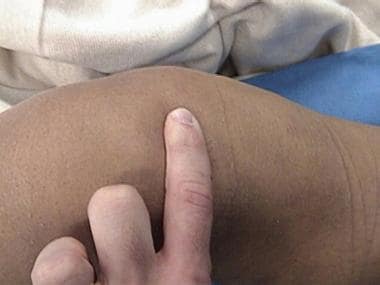 Patellar tendon rupture. This image depicts the defect within the patellar tendon at the inferior pole of the patella.
The patient is usually unable to bear weight, especially in a single-leg stance, and has a tense hemarthrosis. With a tendon rupture extending through the medial and lateral retinacula, active extension is completely lost, and the patient is unable to maintain the passively extended knee against gravity. If the rupture involves only the tendon and the retinacular fibers remain intact, some extension is possible, though an extensor lag is noted.
Occasionally, a deceleration injury can cause a disruption of the extensor mechanism. In this setting, it is also important to assess both the integrity of the meniscal cartilage with palpation of the joint line and the anterior cruciate ligament (ACL) with a Lachman test. [32]
If the diagnosis of tendon rupture is delayed, scar tissue may obliterate what previously had been a palpable defect. In this scenario, some degree of active extension may be possible, but with weakness and some degree of extensor lag. Quadriceps atrophy may also be noted, with considerable weakness, especially with weightbearing, stair climbing, and rising from a seated position. The weakness can exist to such a degree that the patient performs a forward thrusting motion of the limb in the swing phase of gait and complains of stance instability.
What would you like to print?