Workup
Laboratory Studies
When a previously healthy patient presents with a fractured tibia that is treated nonoperatively, laboratory studies are not necessarily required. If the patient is a surgical candidate, a complete blood count, chemistry panel, and a type and crossmatch should be performed, along with any other tests in the hospital protocol.
If the tibia was broken with minimal trauma, the physician should pay particular attention to the serum calcium and phosphorus levels; metabolic or endocrine causes may account for the decreased bone density related to the fracture.
Imaging Studies
Along with a complete history and physical examination, radiographs are invaluable in making a diagnosis and determining treatment. The standard protocol is to obtain anteroposterior (AP) and lateral radiographs of the injured leg (see the image below). The ipsilateral knee and ankle are also often radiographically imaged because concomitant injury to one or both of these joints is common.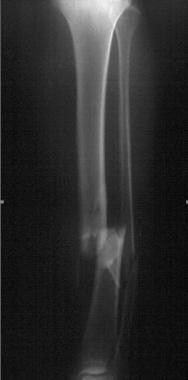 Radiograph demonstrating a displaced tibial shaft fracture with associated fibula fracture.
If further imaging is necessary to define the fracture pattern or associated soft-tissue injury, computed tomography (CT) and magnetic resonance imaging (MRI) may also be performed.
A bone scan can provide evidence of a stress fracture if the physical examination and radiographic findings are unclear. An arteriogram is useful if vascular compromise is suspected.
What would you like to print?