Presentation
Physical Examination
The physical examination reveals swelling and tenderness over the anterior tibia. A palpable bone fragment and hemarthrosis may be present. With severe displacement, a high-riding patella and loss of active knee extension are present. In the presence of extensive bleeding due to displacement, tension in compartments of the lower extremity may be appreciated.
Classification
Watson-Jones classified these fractures into three types on the basis of size and amount of displacement, [9] as follows (see the image below):
In type I injures, a small fragment is minimally displaced proximally

In type II injuries, the secondary center of ossification has coalesced with the proximal tibial epiphysis, with the fracture occurring at this junction; an intact superior contact is maintained between the avulsed portion of the tibial tubercle and the remaining portion of the tibial epiphysis, the articular surface remains intact

In type III injuries, the fracture extends through the articular surface; comminution and

meniscal disruption

may be present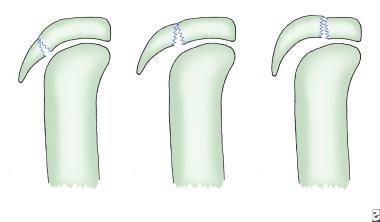 Diagrammatic view of tibial tubercle avulsion classification types I, II, and III.
Ogden further subdivided the Watson-Jones classifications into A and B categories to account for the degree of displacement (A) and comminution (B). [10, 11] In current usage, types I, II, and III can be divided into A, B, and C subtypes, with A indicating displacement, B indicating comminution, and C indicating associated patellar ligament avulsions.
To address more extensive injures, the original classification was expanded to include two more main types, as follows (see the image below) [3] :
Type IV injury is a fracture that involves the complete tibial epiphysis

Type V injury is an avulsion fracture that has complete epiphyseal involvement with interarticular involvement, or a combination of types IIIA and IV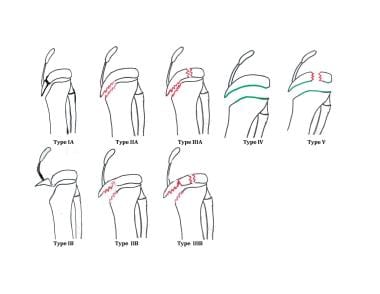 Extended classification system for tibial tubercle avulsion injury.
What would you like to print?