Technique
Total Knee Replacement
Total knee arthroplasty (TKA) should be performed in a laminar-flow operating theater with meticulous attention to detail in order to prevent contamination of the operative site.
A thigh tourniquet is generally used to aid surgical exposure, though it should be avoided in patients with a history of previous deep vein thrombosis (DVT) or significant vascular disease. There remains some debate regarding whether the use of a tourniquet provides significant net benefit.
In a meta-analysis by Jiang et al, the use of a tourniquet significantly reduced intraoperative blood loss, transfusion rate, and operating time (though not postoperative blood loss, measured or calculated total blood loss, transfusion volume, incidence of pulmonary embolism [PE], or length of hospital stay). [24] The authors concluded that the current evidence did not permit definite recommendations either way. In a Danish study, the use of a tourniquet in primary TKAs did not significantly increase the risk of VTE within 90 days. [25]
Antibiotics and antithrombotic prophylaxis are administered approximately 30 minutes before the incision is made. Mechanical antithromboembolic devices (eg, stockings, foot pumps) are used intraoperatively.
The knee joint is usually approached anteriorly through a medial parapatellar approach, though some surgeons use a lateral or subvastus approach. Osteophytes and intra-articular soft tissues are then cleared.
Bone cuts in the distal femur are made perpendicular to the mechanical axis, usually with the help of an intramedullary alignment system, which is then checked against the center of the hip. The proximal tibia is cut perpendicular to the mechanical axis of the tibia with the help of either intramedullary or extramedullary alignment rods. Restoration of mechanical alignment is important to allow optimum load sharing and prevent eccentric loading through the prosthesis.
Sufficient bone is removed so that the prosthesis recreates the level of the joint line. This allows the ligaments around the knee to be balanced accurately and prevents alteration in patella height, which can have a deleterious effect on patellofemoral mechanics.
Because of preoperative deformity, some ligaments around the knee are contracted. These are carefully released in a stepwise fashion to balance the soft tissues around the knee and allow optimum knee kinematics (see the image below).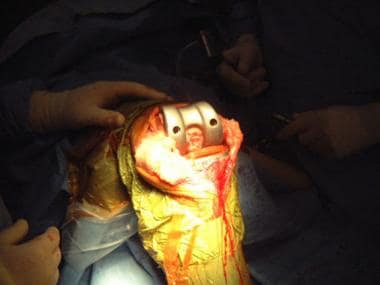 Total knee arthroplasty. Intraoperative photograph showing trial components with patella everted.
Patellofemoral tracking is assessed with trial components in situ and balanced if necessary with a lateral release or medial reefing procedure. If the patellofemoral joint is significantly diseased, it can be resurfaced with a polyethylene button. The original width of the patella must be recreated.
Once the definitive components have been selected, they are cemented into place with polymethyl methacrylate (PMMA) cement. If an uncemented system is being used (see the first image below), press-fit and bony ingrowth provide the short-term and long-term fixation of the component (see the second image below).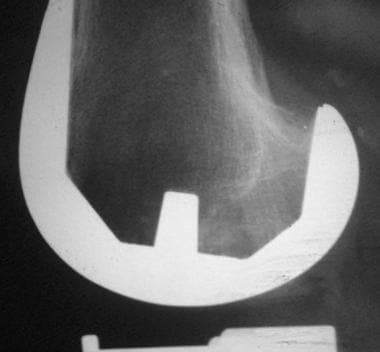 Total knee arthroplasty. Radiograph of uncemented hydroxyapatite-coated total knee replacement. No gaps are present in bone-prosthesis junction, indicating incorporation of bone onto prosthesis.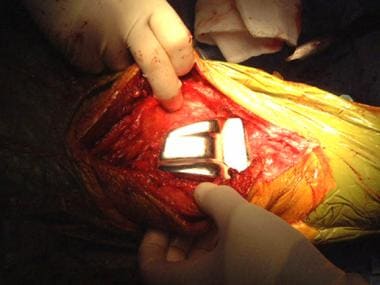 Total knee arthroplasty. Definitive components in situ.
The tourniquet should be deflated before closure to allow accurate hemostasis. The knee joint is usually drained and dressed in extension. There is some evidence in favor of performing surgical wound closure with the knee in flexion. [26, 27, 28] Foot pulses are checked at the end of the procedure.
In a double-blind study of 48 patients undergoing TKA, Essving et al reported that local infiltration analgesia, started during operation, yielded excellent postoperative pain relief. [29] Patients in the treatment group received a periarticular injection of 400 mg ropivacaine, 30 mg ketorolac, and 0.5 mg epinephrine during surgery and an intra-articular injection of 200 mg ropivacaine, 30 mg ketorolac, and 0.1 mg epinephrine 21 hours postoperatively. Patients in the placebo group received a postoperative injection of saline. Overall, the treatment group had less postoperative pain, used less morphine, fulfilled discharge criteria more quickly, and had higher patient satisfaction.
In a pair of retrospective analyses reported at the 2014 annual meeting of the American Academy of Orthopaedic Surgeons (AAOS), Emerson et al found that extended-release bupivacaine was as effective as femoral nerve block for relieving pain in patients who had undergone TKA. [30] Patients treated with bupivacaine extended-release liposome injection also used less narcotic rescue medication, had shorter hospital stays, and sustained fewer falls. A 2015 study by Barrington et al yielded similar findings. [31] Infiltration technique has been described by Connelly et al. [32]
In a trial comparing continuous catheter femoral nerve block (cFNB) with single-injection femoral nerve block (sFNB) for relief of pain after TKA, Dixit et al found that the two techniques were equivalent with regard to pain relief and that there were no significant differences in opioid consumption, length of hospital stay, outcomes of physical therapy, or associated side effects. [33]
A randomized controlled study by Singh et al found instillation of ropivacaine cocktail and tranexamic acid instillation to be useful and effective for reducing postoperative pain and blood loss after knee arthroplasty. [34]
Postoperative Care
After the procedure, the patient undergoes recovery and is usually observed for a 24-hour period in a high-dependency ward. Adequate hydration and analgesia are essential in this time of high physical stress. Analgesia is provided through continuation of the intraoperative epidural, patient-controlled intravenous (IV) analgesia, or oral analgesia. Cryotherapy is used to reduce postoperative swelling and pain.
At this early stage, the patient begins knee movement, sometimes using a continuous passive motion (CPM) machine and exercises. These are continued under the supervision of a physiotherapist until discharge. [1, 2] A randomized clinical trial by Labraca et al found that commencing early movement in the first 24 hours after surgery allowed early mobilization and quicker discharge from the hospital. [35]
Drains are usually removed within 24 hours, and the patient is encouraged to walk on postoperative day 2. Continual improvement is generally observed, and discharge occurs in 5-14 days.
Discharge is recommended only once wound healing is satisfactory, knee flexion of 90º has been achieved, the patient is considered to be safe and supported in the home environment, and no complications are present. Thromboembolism prophylaxis is often continued at home for a period of time. The first outpatient review generally is in 6 weeks to 3 months (see the image below).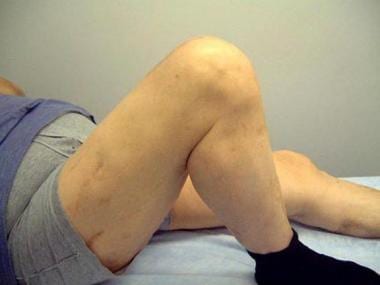 Total knee arthroplasty. Satisfactory knee flexion 6 weeks postoperatively.
Approximately 1 of every 30 patients undergoing total joint arthroplasty will require critical care services. In patients at increased risk for using critical care services, early postoperative care in a high-intensity nursing ward has been shown to be beneficial. [36]
Complications
Overall mortality with TKA is lower than 1%, but this figure increases with age, male sex, and the number of preexisting medical conditions. Identification and optimization of such conditions preoperatively is important for reducing perioperative complications. [6, 9, 10]
Complications of TKA include the following:
Thromboembolism

Infection

Patellofemoral complications

Neurovascular complications

Aseptic loosening

Arthrofibrosis
Thromboembolism
Thromboembolism includes DVT with subsequent life-threatening PE. Predisposing factors for increased risk of DVT include the following:
Age older than 40 years

Female sex

Smoking

Past history of DVT
The overall incidence of DVT following total knee replacement without any prophylaxis has been reported at 40-88%. Most of these are calf thromboses. The risk of fatal PE, however, is the important figure and is in the range of 0.1-1%.
Many current methods of DVT prophylaxis are available and are used, [37] including mechanical compression stockings or foot pumps and pharmaceutical agents (eg, low-dose warfarin, low-molecular-weight heparin [LMWH], rivaroxaban, and aspirin [38] ). Many studies show evidence of reduction of rates of DVT, but how this affects overall death rates from PE is unclear at this time, with many of the current studies concluding after only 10 days.
Using a multifactorial approach to prevent DVT is probably prudent. Elements of such an approach may include the following:
Intraoperative foot pumps

Epidural anesthesia

Pharmaceutical agents

Antithromboembolic stockings

Adequate hydration

Early mobilization

Regular postoperative surveillance
Infection
Prevention of infection in TKA begins in the preoperative examination to exclude intercurrent infection. In the operating room, personnel should be kept to the smallest number possible, and traffic in and out of the room should be kept to a minimum. Use of vertical laminar flow in operating theaters, prophylactic antibiotics, ultraviolet light, body exhaust systems to prevent bacterial shedding, and meticulous and expeditious surgery all help to reduce the occurrence of infections to fewer than 1% of operations performed.
The following factors are associated with a higher rate of infection after TKA:
Skin breakdown

Prolonged wound drainage (>6 days)

Previous knee surgery

Use of a hinged knee prosthesis

Obesity

Steroid use

Diabetes mellitus

Malignant disease
It has been suggested on theoretical grounds that the use of propofol for general anesthesia in TKA might increase the risk of postoperative periprosthetic infection, in that this agent has a lipid component that supports bacterial growth. However, a study by Kishimoto et al that compared propofol with sevoflurane in this setting did not find the choice of anesthetic agent to have a significant effect on the incidence of post-TKA periprosthetic joint infection. [39]
Treatment of the infected total knee prosthesis often is laborious and time-consuming and a disaster for the patient. The risk is minimized by a theater team obsessed with detail and supported by good nursing skills on the ward and vigilance by the surgeon in the postoperative period.
Negative-pressure wound therapy (NPWT) has been suggested as a potential means of reducing prosthetic joint infection after TKA and total hip arthroplasty (THA), but further study is required to determine its proper role in these settings. [40]
Patellofemoral complications
Patellofemoral complications [41] include patellofemoral instability (see the image below), patellar fracture, patellar component failure, patellar clunk syndrome, and extensor mechanism tendon rupture. All of these complications have been cited as common reasons for reoperation. These can be minimized by attention to detail, meticulous technique, and avoidance of component malposition.
Total knee arthroplasty. Skyline views of both knees showing lateral patella tilt and subluxation in both knees. This patient required patellofemoral resurfacing procedure and realignment because of persistent anterior knee pain in postoperative period.
Neurovascular complications
Arterial thrombosis following TKA is a rare (ie, 0.03-0.17%) but devastating complication, frequently resulting in amputation. Several authors have recommended performing TKA without the use of a tourniquet in patients with significant vascular disease. Such patients should undergo a vascular surgery consultation prior to knee replacement.
Peroneal nerve palsy is the most commonly reported nerve palsy after TKA. It usually occurs in the correction of combined fixed valgus and flexion deformities often observed in patients with rheumatoid arthritis. Approximately half of these patients undergo spontaneous recovery, and 50% undergo partial recovery with conservative treatment. Some good results have been obtained with surgical decompression.
Periprosthetic fractures
Supracondylar fractures of the femur are not common after TKA (ie, 0.2-1%). These fractures are observed if the anterior femoral cortex is notched and weakened during surgery and in patients with osteoporosis, rheumatoid arthritis, poor flexion, revision arthroplasty, and neurologic disorders. Treatment is with internal fixation or revision TKA. [42] Although tibial fractures may occur, they are uncommon.
Aseptic loosening
Loosening leads ultimately to failure of the prosthesis and occurs in approximately 5-10% of patients at 10-15 years. It may be complicated by bone loss or osteolysis, which can lead to catastrophic deterioration and make revision surgery difficult. The etiology of this problem is not entirely understood but is related to polyethylene debris causing cellular alterations that result in bone resorption. Once a component is loose, it becomes mechanically unstable with worsening osteolysis. Treatment consists of revision with bone grafting.
A meta-analysis by Mercurio et al found that whereas cemented and cementless fixation yielded comparable functional outcomes and reoperation rates in primary TKA, cemented TKA was associated with less blood loss but a higher rate of aseptic loosening. [8]
Arthrofibrosis
This is a condition of excessive scar tissue causing restriction of knee movement. The etiology is unknown. Athrofibrosis is more common in young patients and in patients taking warfarin. It occurs in fewer than 1% of patients. Conservative management includes anti-inflammatory medication, physiotherapy, and reassurance. More aggressive treatment includes manipulation under anesthetic with CPM therapy and excision of scar tissue.
What would you like to print?