Presentation
History and Physical Examination
The clinical presentation of Blount disease differs with early- and late-onset disease. Those with early-onset disease present at age 1-3 years. [22] Children with early-onset disease often walk earlier than their peers, although this is controversial. [6] They present with varus deformity of the tibia and internal tibial torsion. The presentation is more commonly bilateral but can be asymmetric. (See the images below.)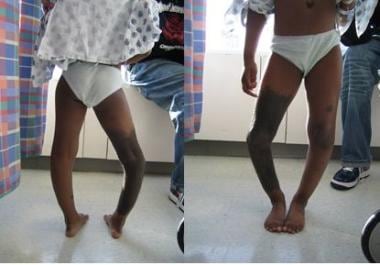 A 5-year-old girl with Blount disease. Courtesy of Austin T. Fragomen, MD.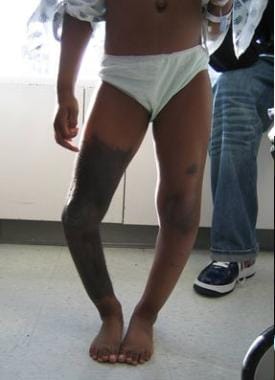 Clinical picture of a child with infantile Blount disease prior to surgery. Courtesy of Austin T. Fragomen, MD.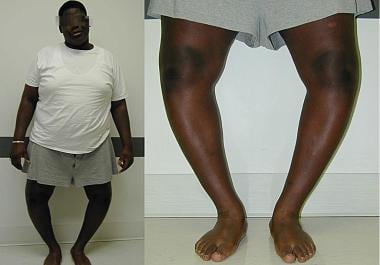 A 10-year-old boy with Blount disease. Marked obesity and bilateral genu varum is present. Courtesy of S. Standard, MD.
The early stage of Blount disease can be difficult to distinguish from physiologic bowing. Genu varum is a normal finding in children younger than 2 years. After age 2 years, alignment migrates back to valgus, with peak valgus at around age 3 years. Physiologic bowing resolves, whereas Blount disease must be treated, with nonoperative management playing a role in the early stages of disease.
The infantile form is generally more prevalent in African Americans and may be associated with obesity. Children generally do not report pain, though they can present with a significant deformity. The metaphyseal prominence, or beak, may be palpable over the medial aspect of the proximal tibial condyle.
In contrast, patients with adolescent Blount disease usually present in late childhood or early adolescence. Patients often report pain at the medial aspect of the knee. These patients are typically overweight or obese. In contrast to the early-onset form of the disease, involvement is more commonly unilateral, and patients also often have abnormalities of the distal femur.
What would you like to print?