Workup
Imaging Studies
Standard anteroposterior (AP) and lateral radiographs can be obtained to detect a knee dislocation (see the image below). [16] After reduction, repeat AP and lateral radiographs are obtained to confirm reduction. Oblique views after reduction may delineate small avulsion or rim fractures and osteochondral fractures. [17]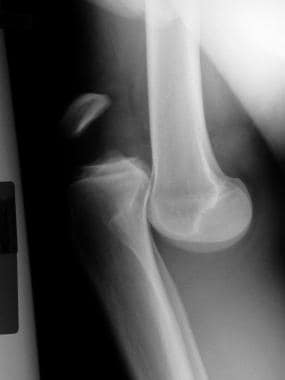 Knee dislocations. Lateral radiograph of anterior knee dislocation.
With technological advances in Doppler imaging, the need for arteriography in postreduction limbs that have normal vascular examination findings is controversial. [18] Some argue that unremarkable findings on Doppler obviate the need for arteriography, which is more expensive and is associated with a low but real risk of complications. [19] The authors had a patient who was discharged home 2 days after initial unremarkable findings on arterial Doppler study and returned the next day with an acute occlusion of the popliteal artery from an intimal flap. The authors continue to strongly recommend routine arteriography in these cases.
For ligament injuries of the knee, magnetic resonance imaging (MRI) can be used to assess the extent and location of ligament disruption, meniscal tears, and subtle injuries to the bone, as well as to determine which tears are repairable. [20, 21]
What would you like to print?