Presentation
History and Physical Examination
Tibial bowing is often obvious and is present at birth. The foot is usually dorsiflexed to such a degree that it makes contact with the anterior aspect of the distal tibia. The posterior bow of the tibia is less obvious but can be easily palpated. A dimple may be present in the skin posterior to the apex of the bow. [19]
The Galeazzi test (see the image below), typically used to assess hip dislocation, can also be used to assess any congenital disorder that results in a significant limb-length inequality. The examination is performed with the patient supine and the hips and knees flexed. The result is considered positive if knee height is asymmetric. It is also helpful to assess whether the limb-length inequality is primarily from the femur or from the tibia and to assess limb length in someone with knee or hip flexion contractures.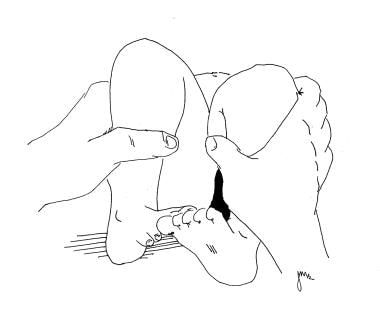 Posteromedial tibial bowing. The Galeazzi test. Note the difference in the height of the flexed knees.
Differential diagnoses include the other types of tibial bowing, such as anterolateral and anteromedial bowing. Intrauterine fracture or osteogenesis imperfecta may also result in tibial bowing. [20, 21] These are often easily differentiated on the basis of physical examination findings in which the direction of the tibial bowing and the associated foot deformity are noted.
Anteromedial bowing is often associated with congenital loss of the lateral rays of the foot and fibular deficiency. Anterolateral bowing is associated with a pseudarthrosis of the tibia that may be obvious radiographically at birth or may develop with growth. Approximately 50% of children with anterolateral bowing are eventually diagnosed with neurofibromatosis.
What would you like to print?