Workup
Imaging Studies
Plain radiographs of the hip are obtained to rule out hip dysplasia. Erect-leg full-length radiographs are important for measuring leg lengths, and anteroposterior (AP) and lateral views are important for measuring the distal femoral and proximal and distal tibial angles. (See the image below.)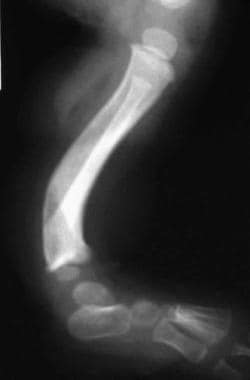 Lateral radiograph of 1-year-old child with posteromedial tibial bowing.
Computed tomography (CT) is the criterion standard. [23] Axial sections should be obtained through the hips and femoral necks, the femoral transcondylar axis, and the transmalleolar axis. [24] Fluoroscopy and biplane radiography (BPR) are alternatives.
Rosskopf et al conducted a study to evaluate the interchangeability and reliability of femoral and tibial torsion measurements in children using three-dimensional (3D) models based on BPR in comparison with CT measurements. [25] They found that femoral and tibial torsion measurements in children using 3D models based on BPR were comparable with results with CT and that torsion measurements in children on BPR were as reliable as those on CT images, despite skeletal immaturity.
In children and adolescents, some prefer magnetic resonance imaging (MRI) so as to avoid exposing the patient to radiation. [26] Basaran et al assessed the use of MRI to measure tibial torsion in 34 limbs in 17 children (mean age, 7.3 years; range, 3-12 years) and concluded that the most useful parameters for this purpose were the anterior talus angle and the posterior malleolar angle. [27]
Rosskopf et al also compared tibial torsion measurements in children obtained by means of MRI with those from 3D models based on low-dose BPR. [28] ​ They found that tibial torsion measurements differed between the two modalities but that these differences were comparable to measurement variations between CT and BPR. [25]
Yan et al prospectively compared EOS imaging (a BPR system) and 3D CT reconstruction for measurement of tibial and femoral torsion in 18 adults (36 lower extremities) aged 24 ± 2 years. [29] ​ They found good agreement between the two techniques in measuring femoral, tibial and femorotibial torsion, and they found EOS to have good reliability and reproducibility for this application.
What would you like to print?