Workup
Imaging Studies
Judicious use of appropriate imaging studies is necessary for full evaluation and appropriate treatment of postaxial hypoplasia of the lower extremity (fibular hemimelia). Some of the more pertinent radiographic studies are listed below.
A long-leg standing series shows the overall picture of the affected lower extremity and permits use of the contralateral side as a control. Limb-length discrepancies and alignment can be measured. Abnormalities in specific parts of the lower extremity can be seen and, if necessary, imaged further with specific views.
A pelvis and/or hip series is useful in evaluating acetabular dysplasia, proximal femoral focal deficiency (PFFD), and the location and amount of any varus deformity. Changing the rotation of the femur can sometimes show version and varus/valgus deformity more clearly.
A knee series is useful for evaluating distal femur valgus, hypoplasia of the lateral femoral condyle, and flattening of the tibial eminence. [17] The patella may be small and/or high riding, and the femoral sulcus may be shallow.
A tibia/fibula series provides information about the tibia. In several studies, a small percentage of patients showed anteromedial bowing of the tibia. This imaging series is also useful for classifying the disorder. The Achterman and Kalamchi classification system is based on fibular morphology as follows [3] :
Type IA - The proximal fibular epiphysis is distal to the level of the tibial growth plate with the distal fibular epiphysis proximal to the talar dome (see the first image below)

Type IB - The proximal fibula is absent for 30-50% of its length; the distal fibula is present but does not adequately support the ankle (see the second and third images below)

Type II - The fibula is completely absent (see the fourth and fifth images below)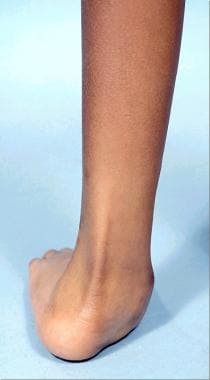 Type IA fibular hemimelia in 8-year-old boy. Significant valgus hindfoot is due to shortened fibula. Image courtesy of Dennis P Grogan, MD.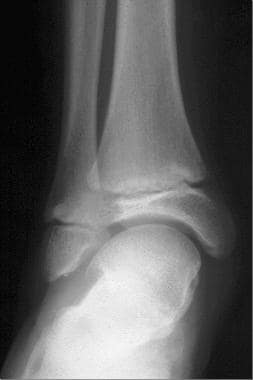 Type IB fibular hemimelia in 3-year-old boy. Fibula is short relative to tibia, and tibia is shorter on affected side. Note that tibia is also mildly bowed. Image courtesy of Dennis P Grogan, MD.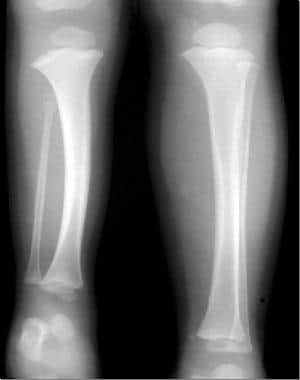 Type IB fibular hemimelia in same patient as in preceding image. By age 5 years, limb-length discrepancy is progressive and significant. Image courtesy of Dennis P Grogan, MD.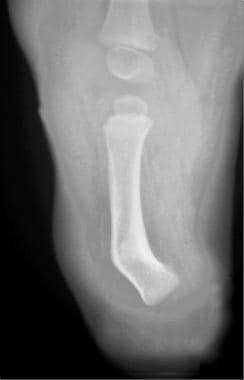 Type II fibular hemimelia and significant anterior bowing of tibia in 9-month-old boy. Image courtesy of Dennis P Grogan, MD.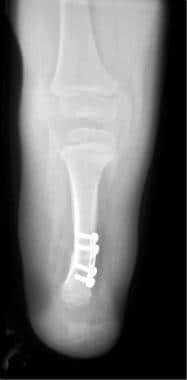 Fibular hemimelia in same patient as in preceding image. Because tibial bowing caused prosthetic fitting problems, corrective osteotomy was performed. Image courtesy of Dennis P Grogan, MD.
An ankle/foot series is useful for determining ankle morphology, the fibular contribution to the mortise, distal tibial epiphyseal morphology, the presence of tibiotalar valgus, the presence of a ball-and-socket ankle, the presence of a tarsal coalition, and the number of rays. [18]
These factors can be used to classify the fibular hemimelia by employing the system introduced by Stanitski and Stanitski, [19] in which a pattern type is constructed to describe the condition. This system includes the following components:
Fibula - I (nearly normal fibula), II (small or miniature fibula, regardless of its position in the limb), or III (complete absence of the fibula)

Tibiotalar joint and distal tibial epiphyseal morphology - H (horizontal), V (valgus; triangular distal tibial epiphysis), or S (spherical; ball-and-socket ankle)

Presence of a tarsal coalition - Denoted with a lowercase c

Number of foot rays, medial to lateral - Denoted numerically, from 1 to 5
Thus, for example, a patient with a hypoplastic fibula, a horizontal ankle, tarsal coalition, and a five-ray foot would be classified as having a type IIHc5 fibular hemimelia.
Magnetic resonance imaging (MRI) has been used to assess bone and soft-tissue abnormalities of the knee joint in patients with fibular hemimelia. [20] Routine ultrasonography (US) can detect congenital femoral deficiency and fibular hemimelia prenatally, and many mothers may prefer antenatal diagnosis of such conditions because it enables antenatal counseling. [21]
What would you like to print?