Lateral Compartment Degeneration
Degenerative joint disease can affect any or all of the compartments of the knee joint. This article addresses arthrosis that is localized to the lateral compartment of the knee. Degenerative changes in the knee most commonly affect the medial joint compartment of the knee, followed successively in frequency by arthrosis in the patellofemoral and lateral compartments. [1, 2, 3]
The surgical options currently available to treat degenerative disease of the lateral compartment of the knee include corrective osteotomy, total knee replacement, and unicompartmental knee arthroplasty (See Surgical Options, Corrective Osteotomy, Total Knee Replacement, and Unicompartmental Knee Arthroplasty, below).
During normal gait, adduction places force predominantly on the medial compartment. [4, 5, 6, 7, 8, 9, 10] For weight-bearing stresses to be shifted to the lateral tibial plateau of the knee requires the development of a valgus deformity.
The anatomic axis of the lower extremity is defined by the femorotibial angle, which averages 5° of valgus; the mechanical axis of the lower extremity is defined by a plumb line connecting the center of the femoral head to the mid ankle on a standing anteroposterior (AP) weight-bearing radiograph. The mechanical axis averages 1.2° of varus, and it is more accurate than the anatomic axis in demonstrating load transmission across the knee joint, especially if femoral or tibial deformities contribute to limb malalignment. [11, 12, 13]
A study by Khan et al in patients with early symptomatic knee osteoarthritis showed a clear relationship between local knee alignment — as determined from short fluoroscopically-guided standing anteroposterior knee radiographs — and the compartmental pattern and severity of knee osteoarthritis. In this study, each degree of increase in the local varus angle was associated with a significantly increased risk of having predominantly medial compartment osteoarthritis, and a similar association was found between the valgus angulation and lateral compartment osteoarthritis in 47 knees. [14]
Moen et al show microscopic and histologic osteoarthritis in the lateral compartment of knees with isolated medial and patellofemoral osteoarthritis as seen on radiographs, with no lateral compartment osteoarthritis on preoperative radiographs. [15] This study helps to understand the progression of osteoarthritis in compartments thought to be unaffected by osteoarthritis based on standard radiograph.
For complete information on Osteoarthritis, please go to the main article by clicking here.
For patient education see the Arthritis Center, as well as Knee Pain and Knee Joint Replacement.
Genu valgum deformity
Usually, a genu valgum deformity is the result of a dysplastic lateral femoral condyle that contributes to pathologic loading of the lateral compartment of the knee and subsequent bone and cartilage destruction. In such cases, genu valgum results from a valgus orientation of the distal part of the femur relative to its long axis. An experimental model has demonstrated that the mechanical overloading of a single compartment of the knee leads to degenerative change in that compartment. [16, 17, 18, 19, 20]
Discoid lateral meniscus
A discoid lateral meniscus reportedly is present in 1.4-15.5% of the population, with a wide variation in its prevalence among various races. Complete arthroscopic resection of a discoid meniscus in children can lead to the subsequent development of degenerative changes in the lateral compartment. Removal of the lateral meniscus has been shown to lead to the development of lateral compartment arthritis in an animal model. [19, 21, 22, 23, 24, 25]
Osteonecrosis
Lateral compartment degenerative disease may be the ultimate complication of spontaneous osteonecrosis of the lateral femoral condyle. [26, 27, 28] This clinical entity typically occurs in women older than 55 years, and it presents as acute onset of pain. A review of 11 patients with this rare condition by Ohdera et al found that the average alignment of affected limbs on standing was 5.9° valgus (range, 0 to 11°). [29]
Trauma
The etiology of lateral compartment arthritis can also include degenerative changes caused by trauma, such as a lateral tibial plateau fracture.
Manifestations of Disease
Patients with lateral compartment arthritis of the knee joint typically have pain and grinding that are localized to the lateral aspect of the knee. Patellofemoral symptoms may or may not be present, depending on the degree of degenerative change at this articulation. With advanced disease and deformity, patients notice a valgus orientation of the knee joint.
For complete information on Osteoarthritis, please go to the main article by clicking ">here.
Abnormal gait patterns may result in a limp, back pain, and foot pain. The history may reveal contributing factors to lateral compartment gonarthrosis, such as previous trauma to the knee or a lateral meniscectomy.
Arthritic destruction of the lateral compartment of the knee manifests as a genu valgum deformity. A valgus deformity is defined as a malalignment that exceeds the normal 7-10° femorotibial valgus angulation. [19, 30, 31]
To reproduce symptoms during physical examination, apply a valgus stress to the knee joint and take the knee through a range of motion. Crepitation can usually be palpated along the lateral joint line during movement and may be associated with swelling and laxity of the joint, which can be detected by application of a varus stress. [32] Careful palpation of the patellofemoral joint can be used to isolate tenderness at this location. If arthritis is localized to the lateral compartment, the knee should have a smooth arc of motion when a varus stress is applied to it.
Examination of the other joints in the lower extremities (ie, hips, ankles, contralateral knee) and assessment of the neurovascular status of the limb contribute information that is useful in making the diagnosis of lateral compartment arthritis of the knee joint and formulating treatment options.
With progressive valgus malalignment, the medial soft tissues of the knee joint stretch, whereas the lateral soft-tissue structures of the knee, including the lateral collateral ligament, iliotibial band, and lateral capsule, contract. Over time, these deformities become fixed, as depicted in the image below. [33]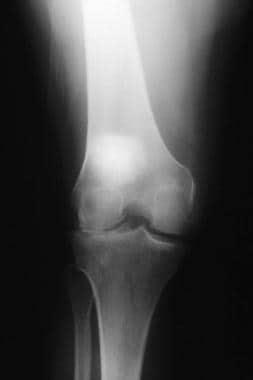 Lateral compartment degeneration in an active and heavy 39-year-old patient.
Diagnosis of Disease
A patient with pain following a previous surgical procedure in a knee with lateral gonarthrosis should have a workup for possible occult infection. If systemic arthritis is suspected based on history and clinical examination findings in a patient with early changes in the lateral knee, a rheumatologic evaluation and screening may be warranted.
Radiography
Evaluation of the valgus arthritic knee should include, at minimum, standing radiographs of the knee in the anteroposterior (AP) projection, as well as lateral and patellofemoral views. The typical radiographic signs associated with degenerative joint disease consist of the following [1, 2] :
Narrowing of the joint space

Subchondral cyst formation

Bone sclerosis

Hypertrophic osteophytic spurring
Early in the disease process, a weight-bearing radiograph in the posteroanterior projection with the knee flexed at 45° can demonstrate lateral joint-space narrowing from erosion of the posterior femoral condyle that may not be apparent on the routine anteroposterior films. [33] With advanced disease, cartilage and bone erosion that lead to joint-space narrowing in the lateral compartment is observed on the weight-bearing AP radiographs as well. [33]
With progressive valgus malalignment, the medial soft tissues of the knee joint stretch, whereas the lateral soft-tissue structures of the knee— including the lateral collateral ligament, iliotibial band, and lateral capsule—contract. Over time, these deformities become fixed, as depicted in the image below. [33]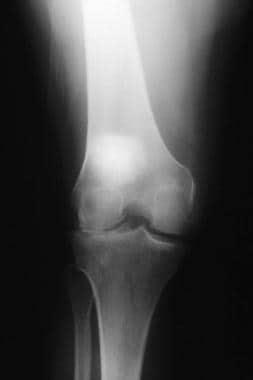 Lateral compartment degeneration in an active and heavy 39-year-old patient.
Preoperative assessment of possible candidates for unicompartmental arthroplasty includes an AP radiograph of the knee with a varus stress applied to the extremity. If this radiograph demonstrates normal alignment of the extremity and opening of the arthritic lateral joint space, a lateral unicompartmental knee arthroplasty is indicated.
Computed tomography and magnetic resonance imaging
When a patient has existing deformity from previous trauma to the lateral knee, a CT scan may be useful in evaluating the osseus anatomy of the knee and in planning surgery. MRI may be indicated in difficult cases to assess the status of other compartments of the knee joint and the cruciate ligaments. If the patient complains of predominantly mechanical symptoms, such as painful catching in the lateral part of the knee joint, and if evidence exists of intra-articular pathology, such as a torn lateral meniscus that is visualized on an MRI, arthroscopy of the knee is undertaken.
Arthroscopy
Arthroscopic removal of the torn portion of the meniscus can relieve mechanical symptoms and allow assessment of the degree of arthritic change in the lateral compartment of the knee and elsewhere. The integrity of the cruciate ligaments and the degree of inflammatory changes in the knee can be evaluated during arthroscopy, and this information is of value in planning future surgical treatment. However, routine performance of knee arthroscopy during corrective osteotomy for genu valgum is of questionable clinical value.
For complete information on Osteoarthritis, please go to the main article by clicking here.
Nonoperative Treatment
Valgus deformities of the knee are better tolerated than varus deformities, and arthritic changes develop later in the lateral compartment than in the medial compartment. Consequently, nonoperative treatment may suffice to control symptoms early in the course of the disease, although there are no controlled studies to verify the efficacy of this approach [34, 35, 36, 37] The following measures may be beneficial for patients with mild deformities [38] :
Oral analgesics

Aerobic conditioning of the lower extremity muscles

Unloader bracing

Shoe modification

Activity modification

Weight reduction

Use of a cane during ambulation
Even in patients who will be receiving surgical therapy, nonoperative treatment can be useful as a temporizing measure, giving the physician time to educate the patient about the disease, to understand the patient's needs, and to evaluate the patient's compliance with a treatment program. The knowledge gained can be valuable in planning surgical interventions.
The use of an unloader brace in the flexible genu valgum deformity can be helpful in patients awaiting definitive surgical treatment. Pain relief with bracing suggests that a corrective osteotomy or unicompartmental knee replacement would be effective.
For complete information on treatment of osteoarthritis, please go to the main article by clicking here.
Surgical Options
The surgical interventions available to treat lateral compartment degenerative disease of the knee are corrective osteotomy, hemiarthroplasty of the knee, and total knee replacement (TKR).
Knowledge of the condition that led to lateral arthritis of the knee, careful physical examination, and evaluation of imaging studies will alert the surgeon to the anatomic changes that can be expected during surgery for lateral compartment arthritis of the knee. This may affect intraoperative strategy, or even the choice of procedure.
For example, in a patient with a history of a lateral tibial plateau fracture, the surgeon can expect to find deformity and deficiency of the lateral tibia. Unicompartmental knee arthroplasty or TKR in such a knee joint may require augmentation of the deficient plateau with allograft or build-up of the prosthesis. During TKR, a hypoplastic femoral condyle may require augmentation with metal blocks on the femoral prosthesis.
Contracted lateral soft tissues mandate sequential release during arthroplasty and may preclude corrective osteotomy. Abnormal patella biomechanics may be manifested by lateral patella tracking and degenerative changes along the lateral facet of the patella from a long-standing valgus deformity of the knee.
Corrective Osteotomy
The rationale of corrective osteotomy is to unload the diseased lateral compartment by overcorrecting the pathologic malalignment of the lower extremity and to facilitate the reparative capacity of the knee joint once it is mechanically unloaded. Repeat arthroscopy in knees that were overcorrected by an osteotomy has demonstrated the regeneration of articular cartilage and proliferation of fibrocartilage compared with previous arthroscopic findings. [39, 40, 41, 42, 43, 44, 45, 46]
General selection criteria for osteotomy for genu valgum include the following [34, 47] :
Age younger than 65 years

Isolated Ahlback grade I or II lateral compartmental arthrosis

Minimal ligamentous laxity

90° or greater arc of motion of the knee

Flexion contracture of less than 15-20°
Knee extension loss greater than 15° and flexion less than 90° are contraindications to a distal femoral corrective osteotomy. Severe ligamentous instability is another contraindication to osteotomy because there are no dynamic restraints to medial laxity, which will persist even if the alignment is correct. Poor results with femoral osteotomy have been reported in patients with preoperative recurvatum of the knee, which may indicate that the knee is at an advanced stage in the arthritic evolution, with TKR being the appropriate option.
A specific pattern of posterolateral arthritis has been described in young patients with a history of trauma and a previous lateral meniscectomy. Bone-on-bone contact can be observed in such cases with a posteroanterior flexion weight-bearing view but is not observed with standing radiographs in extension weight bearing, reflecting a rotatory problem that may not respond well to valgus osteotomy. [42, 48, 49, 50, 51]
Valgus malalignment of the knee joint is often corrected by a distal femoral osteotomy, with a medial closing wedge fixed internally (see the image below). An opening wedge osteotomy of the distal femur with the apex of the wedge at the medial femoral cortex, supported by a tricorticalautograft wedge and lateral plate fixation, also has been described. This approach has been shown to be safe and effective in correcting deformity and slowing progression of knee arthritis. To bring the knee joint line parallel to the floor by osteotomy, the deformity usually has to be corrected in the deformed distal femur itself. [16, 42, 49, 52, 53, 54, 55, 56, 57, 58, 59, 60]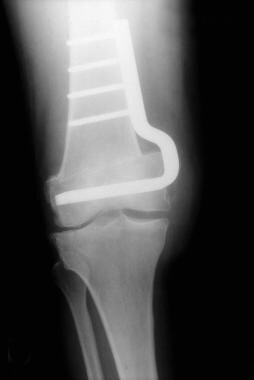 Same knee as above, treated with a closing wedge osteotomy of the distal femur.
Rarely, a laterally sloping tibial plateau may result in a valgus deformity. In such cases, provided that the deformity is mild and the needed correction is less than 10°, a varus-producing tibial osteotomy can be successful. However, if major correction of a valgus deformity is attempted by a tibial osteotomy, the joint line obliquity is exaggerated by bone wedge removal, because most valgus knees have inherent superolateral obliquity of the joint line. Clinical failure occurs in such cases because of medial subluxation of the femur along the tilted joint line. [7, 40, 41, 42, 49, 54, 58, 61, 62, 63, 64, 65]
Distal femoral osteotomy
A distal femoral osteotomy is the author's preferred option for the young, active, and heavy individual, with the goal of correcting the alignment to neutral. An opening wedge osteotomy is preferred, because this can be performed with a smaller incision, and the hardware can be placed on the biomechanically favorable lateral aspect of the femur. The operation is performed through a midline incision to facilitate later TKR.
In the older patient who presents with isolated lateral compartment symptoms and radiographic-evident disease, a unicompartmental knee arthroplasty is preferred. Preoperative selection criteria for this procedure include normal alignment of the extremity and opening of the arthritic lateral joint space on an AP radiograph of the knee joint taken with a varus stress applied to the lower extremity.
For patients who have diffuse symptoms in the knee, a history of inflammatory arthritis, obesity, fixed lateral contractures, and evidence of degenerative disease in the medial or patellofemoral compartments of the knee, a TKR will provide more predictable results.
Arthroscopy during osteotomy
Arthroscopy of the knee joint is indicated in the valgus knee if mechanical symptoms are suggestive of intra-articular pathology, such as an incarcerated lateral meniscus. However, routinely performing knee arthroscopy during corrective osteotomy for genu valgum is of questionable clinical value. Clinical outcomes of osteotomy with simultaneous arthroscopic debridement of the lateral compartment are not different from the outcomes in patients who undergo osteotomy alone.
Furthermore, the prognostic value of knee arthroscopy has not been demonstrated when the knee joint is visualized to evaluate the extent of degenerative disease before corrective osteotomy. Patellofemoral arthritis may be present in knees with an angular deformity, and the specific observation of moderate or severe patellofemoral arthritis has not been demonstrated to affect the clinical results following corrective osteotomy of the knee. [45, 66, 67, 68]
Clinical outcome with corrective osteotomy
The reported results of corrective osteotomy of the distal femur for genu valgum are variable, reflecting uncontrolled factors such as patient selection, surgical techniques, postoperative alignment, and follow-up time. Of these factors, the influence of postoperative alignment of the extremity upon the clinical outcome is well documented. [3, 16, 39, 49, 53, 54, 56, 57, 59, 62, 69, 70]
In a report of knees corrected to neutral or varus, the success rate was 77%, as compared to a 60% success rate in those knees that had some residual valgus. Although no prospective clinical trials are available to guide the exact postoperative alignment following distal femoral osteotomy, a neutral alignment of the leg with the tibiofemoral angle of 0° is generally accepted as the desired postoperative correction. The reasoning is that in the valgus knee that has been corrected to neutral, most of the weight-bearing load is transmitted through the medial compartment, and therefore, no need exists to overcorrect into varus. [4, 8, 13, 49, 53, 71]
Complications of osteotomy
In addition to the usual risks expected of a major reconstructive procedure, joint stiffness and nonunion occur more frequently with supracondylar femoral osteotomy than with proximal tibial valgus-producing osteotomy.
Joint stiffness is more frequent following a supracondylar osteotomy and can complicate surgical exposure during subsequent TKR. Avoiding entry into the knee joint may reduce the rate of this complication. [3, 53, 56, 69, 72, 73, 74]
Reported risks of nonunion following an osteotomy of the distal femur range from 4.2-19%. Nonunion and hardware failure can be associated with medial placement of the fixation plate. [57] The treatment of delayed union or nonunion consists of bone grafting of the site with application of a lateral T-plate. [49, 53, 56, 57, 69, 75, 76, 77]
Unicompartmental Knee Arthroplasty
In selected patients, a unicompartmental knee arthroplasty (UKA) may be the optimal option for pain relief from isolated lateral compartment arthritis. [78, 79, 80, 81, 82] See the images below. Compared with osteotomy, UKA has a higher initial success rate and fewer early complications.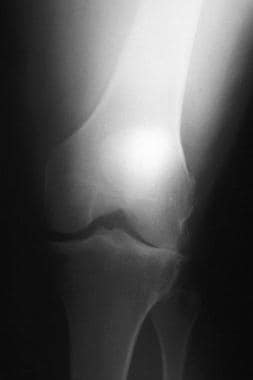 Lateral compartment degeneration with localized knee pain in a 59-year-old patient.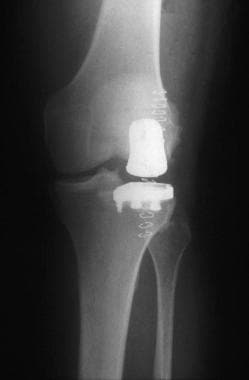 Same knee as above, treated with a lateral unicompartmental knee arthroplasty.
In addition, when compared with a tricompartmental knee replacement, unicompartmental replacement preserves both cruciate ligaments and, therefore, almost-normal knee kinematics [78, 81, 83] ; the surgery can be performed through a smaller incision, with reduced blood loss, expense, and morbidity. Bone stock is preserved in the opposite compartment and in the patellofemoral joint, making revision surgery easier to perform (at least in theory).
Indications and contraindications
Traditional indications for lateral UKA include predominantly isolated lateral compartment osteoarthritis, axial deviation less than 10°-20° from neutral mechanical axis, and body weight < 80 kg. [84, 85, 86] However, more recent studies have expanded the age range and body mass index for candidates for lateral UKA, and added primary osteonecrosis and posttraumatic osteoarthritis as indications. [86] For example, in a retrospective review by Lustig et al of lateral UKA in 13 patients with isolated lateral compartment posttraumatic osteoarthritis, only one patient required revision, for progression of medial compartment arthritis on long-term follow-up, and none required revisions for fracture, subsidence of implants, infection, or loosening. [87]
Contraindications to UKA include symptomatic arthrosis of another compartment, instability, fixed valgus deformity, and a significant inflammatory arthritis. In these situations, a total knee replacement is the preferred option. [78, 79, 81, 82]
Medial arthrotomy
In a study by Sah and Scott of lateral UKA through a medial arthrotomy in 38 knees with primary osteoarthritis and in 10 knees with posttraumatic arthritis secondary to a tibial plateau fracture, the average Knee Society knee and function scores improved from 39 and 45 points, respectively, to 89 and 80 points at an average of 5.2 years. The mean postoperative knee and function scores were significantly better for patients with primary osteoarthritis (95 and 86 points, respectively) than they were for those with posttraumatic arthritis (74 and 65 points). Knee alignment was corrected from an average of 10° valgus to an average of 6.2° valgus, and there were no revisions and no notable soft-tissue complications. [88]
Lateral arthrotomy
Berend et al showed that the lateral parapatellar approach is also a viable option for lateral UKA. This was accomplished with 100 knees in 91 patients, with only 3 revisions in short-term follow-up and no revisions for approach-related complications. [89]
Medial versus lateral unicompartmental knee arthroplasty
Medial UKA has been well tested and confirmed as very successful and safe. [90, 91, 92] Studies have shown that lateral UKA is as successful and safe as medial UKA. [89, 93] A systematic review and meta-analysis by Han et al found that medial and lateral UKAs have similar, substantial rates of short- to mid-term and long-term survival, with no significant difference in pain relief or functional improvement between medial and lateral UKA. [94]
Burger et al reported similar revision rates in lateral UKA and medial UKA (12.9% and 9.3%, respectively). Progression of osteoarthritis was the main reason for revision with both medial and lateral UKA. With lateral UKA, mobile-bearing prostheses had higher failure rates. [95] A systematic review of 25 studies (23 cohort studies and 2 registry-based studies) found that the most common reasons for failure in lateral UKA were progression of osteoarthritis (29%), aseptic loosening (23%), and bearing dislocation (10%). [96]
In a review of lateral UKA, Buzin and colleagues attributed improved reported outcomes, including increased survivorship and decreased revision rates, to better patient selection criteria, improved surgical techniques and implant design. [86]
For complete information see Unicompartmental Knee Arthroplasty.
Total Knee Replacement
If stringent patient selection criteria are used, few patients qualify for a corrective osteotomy to treat a genu valgum deformity. Because lateral compartment arthritis occurs later in life and because the deformity is generally well tolerated, most patients qualify for a total knee replacement (TKR) instead. [97] For complete information, see Total Knee Arthroplasty.
Three clinical series have reported that conversion of a supracondylar femoral osteotomy of the knee to a TKR does not compromise the ultimate result of arthroplasty. [52, 73, 98] Some authors have found conversion of a previous varus osteotomy to TKR more technically demanding, whereas others report increased difficulty when TKR is performed after supracondylar varus osteotomy.
Krackow classification
The classification proposed by Krackow et al can serve as a guide to the deformities that are encountered while performing a TKR in the valgus knee. [99] Krackow classified valgus deformities of the knee into the following 3 distinct types:
Type I involves lateral femoral bone loss, lateral soft-tissue contractures, and intact medial soft tissues

Type II adds lengthened medial soft tissues

Type III is a severe valgus deformity with malpositioning of the proximal tibial joint line
Complications of TKR
Because of the contracted lateral soft tissues, ligamentous balancing during TKR in the valgus knee may require extensive releases on the lateral side of the joint. Correction of valgus deformity in TKR has been associated with an increased risk of patellofemoral instability and peroneal palsy. The incidence of posterolateral instability has been reported to be as high as 4% in such knees. [100]
The incidence of peroneal palsy after routine TKR has been estimated to be less than 1%, with the incidence in valgus knees reported to be 3-4%. [19, 99] A technique of graduated intra-articular release of the posterolateral capsule and the iliotibial band and preserving the popliteus may reduce the risk of posterolateral instability and peroneal palsy following TKR in the valgus knee. [30]
Primary constrained implants
The correction of severe angular deformities may require both soft tissue release on the lateral side and ligament tightening on the medial side. [76, 101] Severe bone loss and dysplasia of the lateral femoral condyle may necessitate the use of bone grafts or metal blocks to augment the femoral component. A reasonable option in the elderly patient with a severe valgus deformity may be the use of primary constrained implants. The images below illustrate a severe valgus deformity treated with a primary constrained TKR.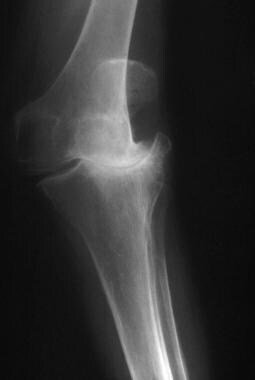 Severe valgus deformity in a 68-year-old patient. The deformity is not passively correctable.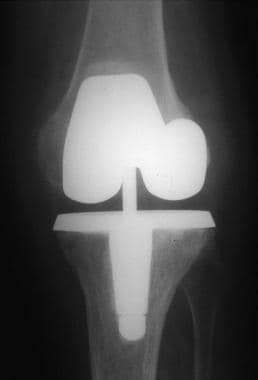 Same knee as above, treated with a constrained primary total knee replacement.
What would you like to print?