Presentation
History
The spectrum and diversity of symptoms can make plica syndrome difficult to pinpoint. Often, symptoms resemble or overlap with those of other pathologic conditions. [27, 28]
Reported symptoms include the following:
Anterior or anteromedial knee pain

Intermittent or episodic pain

Clicking

High-pitched snapping

Occasional giving way

Locking (really pseudolocking) and catching

Aggravation of symptoms by activity, by stair climbing, or by prolonged standing, squatting, or sitting
Meniscal tears, patellar tendinitis, Osgood-Schlatter disease, Sinding-Larsen-Johansson disease, and patellar instability are the most commonly found concomitant conditions.
Physical Examination
On physical examination, the patient typically has tender points along the medial and inferior aspect of the patella (see the first image below); in some instances, a painful, hypertrophied membrane is palpable. The inferomedial quadrant (see the second image below) is the most consistently painful region. Occasionally, a medial apprehension test of the patella elicits a positive response, but careful evaluation reveals that it is due to direct tenderness to palpation in the region of the plica and is not true patellar instability.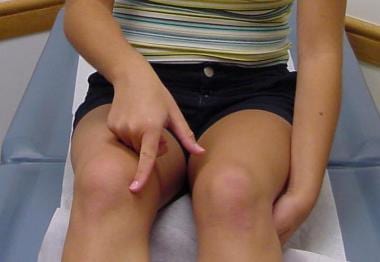 Plica syndrome. Patient pointing to the painful area of her knee.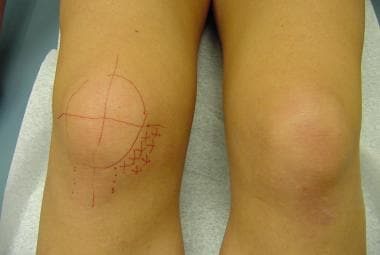 Plica syndrome. The inferomedial quadrant is usually the most painful region by physical examination. This area is highlighted by several X's in this figure. A painful taut band of tissue that emanates from the central portion of the medial patella may often be palpated (3 o'clock position on the figure).
Rovere et al stated that a palpably tender plica in the absence of an intra-articular effusion conclusively establishes a diagnosis of plica syndrome, provided that other causes of knee pain are ruled out. [29] A taut articular band that reproduces the patient's pain upon palpation of the medial peripatellar region is virtually pathognomonic for plica syndrome. This may be referred to as a positive TARP sign, in which TARP stands for the following:
T - Taut

A - Articular band

R - Reproduces

P - Pain
What would you like to print?