Workup
Approach Considerations
The most critical step in the workup is to review the patient's prior history carefully, through evaluation of previous records, imaging studies, and discussion with the patient and previous treating physicians. Most often, the nonunion has occurred despite appropriate care, and rushing into treatment without a good understanding of why the nonunion occurred and how treatment will overcome these obstacles is a mistake.
Laboratory Studies
The role of the diagnostic workup is threefold, as follows:
To determine whether the patient is able to undergo successful surgery

To evaluate the patient for any signs of infection

To assess the fracture deformity (see Imaging Studies)
Evaluation of suitability for surgery obviously implies a routine preoperative assessment, but more specific laboratory tests may be indicated to determine whether any systemic factors are contributing to the failure of union. Laboratory assessment to determine the patient's nutritional status may be indicated. The total lymphocyte count and Rainey-MacDonald nutritional index may be helpful in identifying patients who may (or may not) develop infections after long-bone fractures. [17, 18]
In looking for signs of infection, evaluation with a routine complete blood count (CBC), erythrocyte sedimentation rate (ESR), and C-reactive protein (CRP) may be helpful. The CRP is the most accurate indicator of infection, but it is not necessarily specific for infection. [19] Cultures may be helpful, but findings are often negative, especially if the patient has been treated with antibiotics.
Imaging Studies
For assessing fracture deformity, plain radiography is typically the most helpful tool. The deformity must be assessed in both anteroposterior (AP) and lateral planes, with resolution of the plane and degree of maximum deformity (see the images below).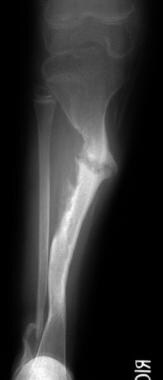 Tibial nonunions. Anteroposterior radiograph of pseudarthrosis with nonunion.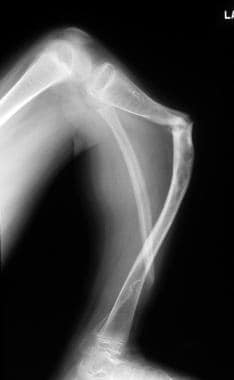 Tibial nonunions. Lateral radiograph of pseudarthrosis with nonunion.
Any rotational component must be assessed either clinically or with computed tomography (CT). Leg-length equality should be determined clinically or, more accurately, with scanography. Finally, fracture stability must be determined. Often, the fracture nonunion is difficult to assess on plain radiography; fluoroscopy, CT, or tomography may be helpful. Assessment of the fibula is important to determine whether it is preventing tibial union.
Magnetic resonance imaging (MRI) is probably the most sensitive and specific study for osteomyelitis, with an accuracy greater than 90%. [20] It also provides additional information regarding the anatomy and location of infected bone, sinus tracks, and sequestrums. Unfortunately, MRI is less effective if residual hardware is present, and other studies may be more appropriate.
Technetium-99m diphosphonate bone scanning has been used in an attempt to identify infections, but it is not specific for infection. However, combining this scan with indium-111–labeled leukocyte imaging increases the accuracy to 82%. [21]
Other Tests
Vascular studies may be indicated if prior injury is a concern or if a free soft-tissue transfer is indicated. Consultation with a plastic surgeon may be warranted. Careful assessment and documentation of skin integrity and motor and sensory function are critical for surgical planning.
Histologic Findings
A histologic assessment may be helpful and has been shown to have a high sensitivity (87%) and specificity (100%) in assessing nonunion for the possibility of infection, especially when microbiologic findings are inconclusive. [22]
What would you like to print?