Presentation
History and Physical Examination
Clinical presentation of anterior cruciate ligament (ACL) injury occurs either as an acute injury or as a more chronic problem of recurrent instability.
Acute injury
Patients with acute injury present after an instability episode. More than 50% of these patients state that they felt a pop as the injury occurred. Up to 80% of these patients develop a rapid hemarthrosis (see the image below) over the subsequent 4 hours. Some studies demonstrate that ACL injury may occur with as many as 70% of all hemarthroses and must be excluded in such injuries.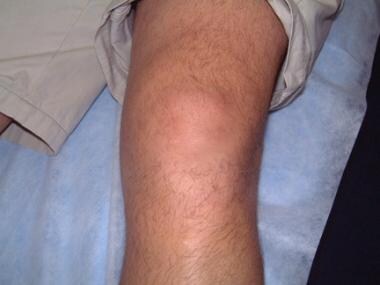 Hemarthrosis of the knee occurs early following injury to the anterior cruciate ligament.
Associated injury is common. Meniscal tears occur in approximately 50% of cases, with a slightly higher incidence of lateral meniscal tears than of medial meniscal injury. Other pathology includes bone bruising in up to 70% of cases (mostly of the lateral femoral condyle), medial collateral ligament injury, and true fractures of the tibial plateaus or femoral condyles.
Clinical signs in the acute phase include a large hemarthrosis, limited range of motion (ROM), and joint-line tenderness. Various special tests can aid in making the diagnosis.
A positive Lachman test (see the first image below), dynamic extension test (see the second and third images below), and anterior draw test (see the fourth image below) assess anterior tibial translation. KT1000 assessment with more than 3 mm of translation as compared with the other knee can quantify the degree of instability.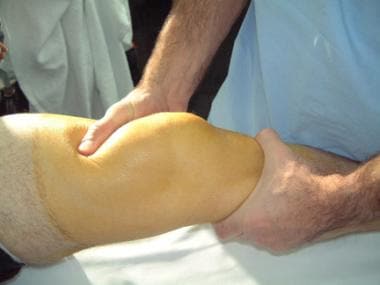 The Lachman test is a sensitive test for examining the cruciate-deficient knee.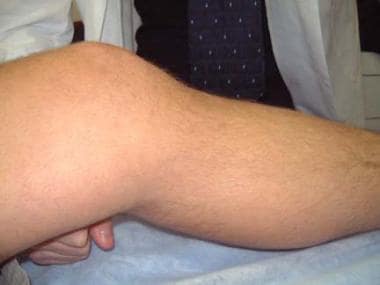 Dynamic extension test produces anterior tibial translation in the cruciate-deficient knee.
This image demonstrates the anterior tibial translation compared to that seen in the image above.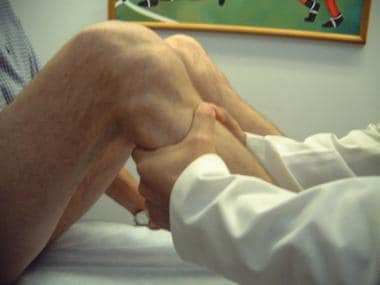 The anterior draw test commonly is performed to diagnose anterior cruciate ligament injury.
Pivot-shift and jerk tests (see the image below) assess rotational instability but are difficult to perform, particularly in early postinjury stages. The anterior draw test may be negative in as many as 50% of cases because the posterior horn of the medial meniscus can directly block translation (a feature well described by DeHaven).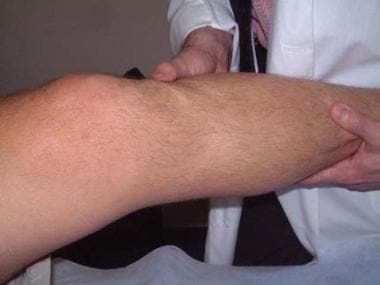 The pivot-jerk test is a sensitive test for examining anterior cruciate ligament integrity.
Chronic ACL instability
Chronic presentations tend to involve repeated instability episodes, particularly when the cutting maneuver is attempted. Presentation also may be associated with mechanical pain related to meniscal tears or early osteoarthrosis. Recurrent effusions and a history of locking also are important points in assessing associated injury.
In chronic presentations, a similar assessment is made. Meniscal pathology should be sought with joint-line palpation and the McMurray maneuver. Pivot-shift and jerk tests are performed more easily and can provide a better indication of the degree of rotatory instability. The Lachman test can be negative in chronic cases. The ACL can scar to the posterior cruciate ligament (PCL), thus limiting anterior translation of the tibia. Because the scarring is nonanatomic, the pivot-shift phenomena persists, as does symptomatic instability. This should be kept in mind in chronic cases.
What would you like to print?