Workup
Laboratory Studies
Routine laboratory studies are not required. However, infection, crystal arthropathy, and inflammatory arthropathy must be excluded in routine fashion when suspected.
Imaging Studies
Radiography
Radiologic examination should be undertaken in all cases. Radiographs are needed to exclude fracture, tumor, chondrocalcinosis, crystalline arthropathy, and osteoarthrosis. Routine series should include an anteroposterior (AP) view, a lateral view at 30°, notch view, a patellofemoral view, and a weightbearing posteroanterior (PA) view in extension and 45° in chronic cases or in older individuals who may be at risk of osteoarthritis.
Computed tomography
In cases associated with fracture or avulsions of the cruciates, computed tomography (CT) can add valuable information. The location and origin of bony loose bodies can be identified well with this modality.
MRI
Magnetic resonance imaging (MRI; see the image below) is a useful tool when the diagnosis is unclear or when nonoperative management of the anterior cruciate ligament (ACL) tear is being considered. [7, 8] Cruciate integrity is well visualized in T1- and T2-weighted images. In the acute phase, when pain and apprehension can cloud clinical signs, an accurate diagnosis can be made in 98% of cases.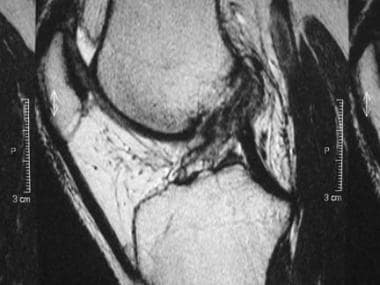 MRI is used as an aid to diagnose anterior cruciate ligament injury. MRI has a sensitivity of 95%.
Meniscal pathology also can be identified. With more than 50% of cases having a meniscal tear, some surgeons find this information of use in choosing a management plan. Bone bruising commonly is seen, particularly of the lateral femoral condyle. The long-term influence this may have on the outcome is not yet known.
Radionuclide scanning
Radionuclide scanning is not used routinely. Its major uses in the setting of ACL injury are to identify and quantify degeneration in chronic cases. Radionuclide scanning also is used to help make the diagnosis in cases of suspected postoperative infection.
Other Tests
A number of mechanical devices (eg, KT1000) are available on the market that are used in some centers to assist in diagnosis. Most centers do not use these devices on a routine basis in acute assessment. They are widely used in research to help quantify the degree of tibial translation.
Strength assessment using specific muscle testing units is a tool commonly involved in research. Muscle testing also can be used in the rehabilitation phase to compare strength in opposite legs. This can aid some practitioners in deciding when return to play is possible.
Procedures
In the postinjury workup, few procedures are used.
Aspiration and drainage of a large hemarthrosis can aid diagnosis and assist in providing pain relief. If crystal arthropathy is suspected, assessment can be made to exclude this. Fracture creates fatty deposits in the hemarthrosis. Therefore, aspiration can aid in making a diagnosis in these cases. The authors do not recommend this as a routine measure.
Some practitioners use arthroscopy to assist in making a diagnosis. If the diagnosis is unclear after other testing, accurate assessment can be made by means of arthroscopy. Meniscal pathology and cruciate stump impingement also can be dealt with at the time of arthroscopy. This may be the only requirement for patients who are not planning to undergo early reconstruction. Results of meniscal repair are improved if the procedure is combined with cruciate reconstruction. Therefore, the authors recommend a single procedure if reconstruction is planned.
What would you like to print?