Workup
Approach Considerations
One distinguishing feature of Riedel thyroiditis (RT) is the absence of associated cervical adenopathy. However, accurate diagnosis of RT requires open biopsy. [12]
Imaging studies may suggest a diagnosis of RT, but findings can be nonspecific. The laboratory findings in RT are also nonspecific. The erythrocyte sedimentation rate (ESR) is generally elevated. Most patients remain euthyroid, but approximately 30% of patients become hypothyroid. Rarely, patients are hyperthyroid. [3]
Although clinical features of RT closely resemble those of anaplastic carcinoma of the thyroid, RT and anaplastic carcinoma can be distinguished from each other by immunohistochemistry.
In one review, antithyroid antibody levels (TG-Ab and TPO-Ab) were found to be elevated in 67% of 178 cases of Riedel thyroiditis. [3] However, it is not certain whether such autoantibodies are pathogenic or whether their presence merely reflects exposure of the immune system to sequestered antigens released by the fibrotic destruction of normal thyroid parenchyma. [13]
IgG4 levels can be measured in the serum and are elevated in over 95% of cases. The levels can be as high as 25 times the upper limit of normal. [14, 15] However, levels can occasionally be normal, and evaluating IgG4/IgG ratios or immunohistochemical examinations can be helpful. The results of a study by Yu et al suggest that a cut-off of 10 IgG4-positive plasma cells per high-power field and an IgG4+/IgG ratio of 20% are useful diagnostic criteria for RT in IgG4-related disease. [16] As noted previously, the disorder is characterized by lymphoplasmacytic infiltrates containing IgG4-positive plasma cells.
Imaging Studies
CT scanning and MRI
Enlargement of the affected thyroid gland and compression or invasion of adjacent structures, such as the strap muscles, trachea, esophagus, or carotids, may be observed on computed tomography (CT) or magnetic resonance imaging (MRI) scans. However, these studies cannot reliably distinguish between Riedel thyroiditis (RT) and invasive thyroid malignancy.
CT scanning shows affected areas of the thyroid to be hypodense. The area is usually isodense with the neck muscles. The use of iodinated contrast has occasionally been reported as causing increased enhancement, but usually it is decreased, especially if extensive fibrosis is present.
On MRI scans, the affected thyroid gland is typically hypointense on T1- and T2-weighted images. Decreased enhancement has usually been reported with gadolinium contrast use, but occasionally, increased enhancement has been reported.
Nuclear scanning
Nuclear thyroid scans generally demonstrate a cold area of uptake at the site of the affected thyroid gland.
Ultrasonography
Thyroid ultrasonography has been reported to be homogeneously hypoechoic, with loss of clear demarcation of the gland when fibrotic invasion of adjacent anatomic structures exists.
PET scanning
The role of positron emission tomography (PET) scanning in the diagnosis of RT, although promising, has not yet been established. Fluorodeoxyglucose (FDG) labeled with the radioactive tracer isotope fluorine-18 (18 F) is concentrated in areas of increased glucose metabolism. In RT, such increased glucose metabolism results from stimulated inflammatory cells.
Drieskens and colleagues, [17] as well as Kotilainen and coauthors, [18] showed in a patient with RT an increased uptake of FDG in the involved thyroid and a decrease in activity in response to successful corticosteroid therapy.
Additionally, whole-body FDG-PET can be used to identify other sites involved by multifocal sclerosis, such as retroperitoneal fibrosis. However, increased uptake of FDG on PET is not specific to RT.
Biopsy
Fine-needle biopsy in patients with Riedel thyroiditis (RT) demonstrates fibrotic changes in the thyroid gland; however, these cannot be reliably distinguished from the fibrotic changes that are often associated with anaplastic thyroid carcinoma. The fibrotic changes and the paucity of thyroid follicular cells usually result in an inadequate fine-needle aspiration biopsy.
For this reason, histologic confirmation via an open surgical biopsy is essential for establishing the correct diagnosis. The biopsy is most often performed in the course of a wedge resection of the thyroid isthmus designed to simultaneously alleviate compressive symptoms.
Histologic Findings
The involved portion of the thyroid gland in patients with Riedel thyroiditis (RT) is typically described as stony or woody. Involvement is most often unilateral but may also be bilateral. The thyroid mass is generally well circumscribed but not encapsulated.
Extension of the fibrotic process to adjacent structures of the neck results in fixation of the thyroid mass and loss of tissue planes. Fibrosis may invade the strap muscles, trachea, esophagus, carotids, parathyroid glands, and laryngeal nerves. When incised, the involved tissue is relatively avascular, "cuts like cartilage," and is often white or pale gray. RT cannot be distinguished from anaplastic carcinoma based on gross pathologic findings.
In 1957, Beahrs and colleagues established the microscopic criteria for the diagnosis of RT. These criteria, since modified, include the following [19] :
A fibroinflammatory process that involves all or a portion of the thyroid gland

The presence of gross or microscopic extension of the fibrosis beyond the thyroid capsule into adjacent anatomic structures

Infiltrates of inflammatory cells without giant cells, lymphoid follicles, oncocytes, or granulomas

Evidence of occlusive vasculitis
Collagen-laden fibrous bands infiltrate the involved portion of the thyroid gland. Ultimately, the thyroid acini are reduced or obliterated. A cellular infiltrate of lymphocytes, plasma cells, and eosinophils accompanies the fibrosis. Inflammatory cells within the walls of small arteries and veins may produce a local vasculitis. Invasion of the fibroinflammatory process beyond the thyroid capsule erases normal anatomic planes. (See the images below.)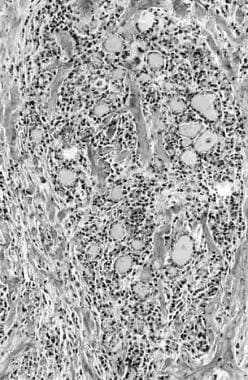 Riedel thyroiditis. The atrophic thyroid follicles are surrounded by a dense, inflammatory infiltrate composed of lymphocytes, plasma cells, and eosinophils and accompanied by dense fibrosis. The wide bands of keloid-type collagen located between the individual follicles and surrounding clusters are a common feature of this condition.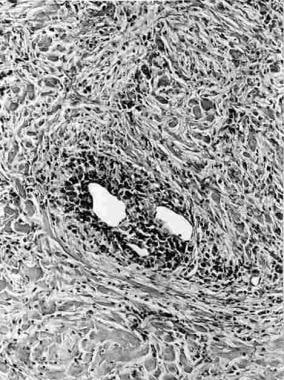 Riedel thyroiditis. This vein shows infiltration of its wall by a heavy, inflammatory infiltrate.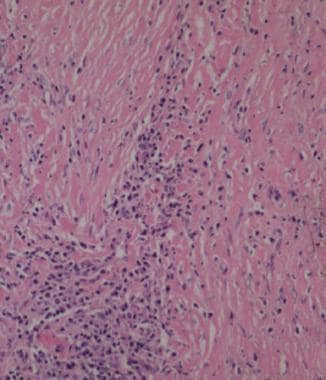 Riedel thyroiditis. The inflammatory infiltrate and dense, pink bands of fibrosis can obliterate thyroid follicles. Image courtesy of SL Lee.
What would you like to print?