Treatment
Medical Therapy
Nonoperative and operative treatment options are available for osteonecrosis of the knee. Spontaneous osteonecrosis of the knee (SPONK) and secondary osteonecrosis can be treated nonoperatively when the patient is asymptomatic. However, once a patient becomes symptomatic, treatment options for the two entities differ.
Spontaneous osteonecrosis of the knee
Nonoperative treatment has been shown to produce good results in symptomatic patients with SPONK. Treatment encompasses a conservative regimen of protected weightbearing with crutches, analgesics, nonsteroidal anti-inflammatory medications, and physical therapy focused on strengthening the quadriceps and hamstring muscles. Lotke et al reported on 87 knees with SPONK: 36 of these knees were treated nonoperatively, with only one progressing to arthroplasty; the 35 remaining knees did well. [25, 26, 27]
Observational studies have suggested beneficial effects of bisphosphonates in SPONK. However, a double-blind, placebo-controlled study in 30 patients with SPONK found that the bisphosphonate ibandronate has no beneficial effect on clinical and radiological outcome over and above anti-inflammatory medication. [28]
Secondary osteonecrosis
Outcomes of nonoperative treatment in symptomatic secondary osteonecrosis are relatively poor. In one study of secondary osteonecrosis treated nonoperatively, 31 of 51 knees eventually required arthroplasty. Therefore, operative therapy usually is recommended once the patient is symptomatic.
Pharmacotherapy aimed at the putative pathophysiology of the disease has had mixed results. Medications that have been used include nifedipine and lipid-lowering agents such as gemfibrozil (Lopid).
Surgical Therapy
A systematic review of the literature on procedures to preserve the joint in patients with osteonecrosis of the knee found that core decompression prevented additional surgical treatment in pre-collapse knees with a failure rate of 10.4%. Autogenous and osteochondral grafts decreased the need for additional surgery in both pre-collapse (0%) and post-collapse knees (10.5%). [29]
Arthroscopy
Arthroscopic debridement for the treatment of osteonecrosis of the knee has had mixed results. Arthroscopy may not alter the natural course of the disease. Patients with SPONK may have degenerative tears of the menisci. Debridement of these tears does not improve osteonecrosis of the bone. In addition, partial meniscectomy has been hypothesized to cause further degeneration of the knee joint. Thus, arthroscopy is controversial, with questions arising on the possibility of increased interosseous pressure.
Osteochondral grafts
Studies of osteochondral allografts have yielded mixed results. Bayne et al used fresh allografts in six knees with spontaneous osteonecrosis of the knee (SPONK), with only one good result. [30] The authors suspect that these results were due to the poor compliance of elderly patients, resulting in allograft fragmentation. Three knees with steroid-induced secondary osteonecrosis also failed the grafting procedure. This may be due to continued use of corticosteroids, which may lead to poor vascularization of the graft and subsequent subsidence.
In contrast, Tirico et al reported excellent results with fresh osteochondral allografts in seven patients with SPONK lesions on the medial femoral condyle. On median follow-up of 7.1 years (range, 4.5-14.1 years), none of the patients had required additional surgery and none of the grafts had failed. All the patients expressed extreme satisfaction with the results. [31]
Some surgeons have focused on using osteochondral autografts. This procedure, commonly referred to as OATS (osteochondral autologous transfer system), was first introduced by Matsusue in 1993. [32] Using this procedure, Hangody et al reported a 2-5 year follow-up with good or excellent results in up to 90% of cases. [33] Other grafting methods may improve results, but further studies are required. [34]
High tibial osteotomy
High tibial osteotomy (HTO) has been used in patients with SPONK, with encouraging results. [35, 36] Aglietti et al described 31 patients treated with high tibial osteotomy, with 21 of these knees having ancillary bone grafting. [17] Of the 31 knees, 87% had excellent to good results at a mean follow-up of 6.2 years, and only two knees progressed to arthroplasty. Use of high tibial osteotomy in secondary osteonecrosis is limited because most of these patients have bicondylar femoral involvement and also may have tibial involvement.
Core decompression
The principle behind core decompression is reduction of interosseous pressure, thereby restoring adequate circulation. This procedure has been used with some success in the earlier stages of osteonecrosis. Core decompression is a lesser procedure than total knee arthroplasty and has been shown to delay the need for joint replacement.
Core decompression has been used with some success in SPONK. Forst et al reported successful outcomes in their study of 16 knees, in which core decompression of the femoral condyle was performed in precollapsed lesions. [37] Results have not been as encouraging in SPONK as in secondary osteonecrosis. Therefore, it should be reserved for refractory cases.
Mont et al reported on 79 knees that were treated for secondary osteonecrosis. [38] Forty-seven knees were treated with core decompression, and 32 were treated nonoperatively. For core decompression, clinical success was achieved in 73% (34 of 47) of knees (good to excellent Knee Society Scores) at a mean follow-up of 11 years (range of 4-16 y). Radiographically, 17 of the 47 (36%) knees progressed to Ficat and Arlet stage III or IV, as opposed to 24 of 32 knees (75%) treated nonoperatively.
Unicondylar (unicompartmental) knee arthroplasty
Unicondylar arthroplasty has been used with success in SPONK, as the disease usually is confined to one condyle, as in the image below. [39] This procedure is not, however, recommended for secondary osteonecrosis, as the disease can affect both condyles. [40] Marmor reported an 89% success rate in a study of 34 knees with medial femoral condyle osteonecrosis treated with unicondylar replacement. [41, 42, 43]
Two separate studies found that long-term survival after unicompartmental knee arthroplasty (UKA) was greater than 94% after 10 years. [44, 45]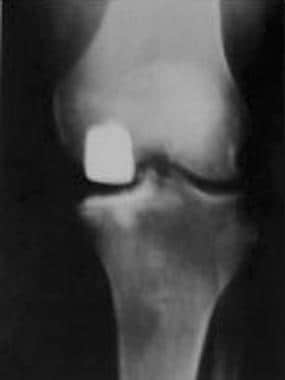 Knee osteonecrosis. Plain radiograph of a unicompartmental knee arthroplasty.
Total knee arthroplasty
Knee arthroplasty is indicated in the late stages of the disease, when patients have severe pain that does not respond to other treatments, as in the image below. Total knee arthroplasty is an appropriate intervention for late-stage secondary osteonecrosis with degenerative changes, for patients with severe pain, or for those with functional disability. It has had varying success with SPONK. Bergman and Rand reported that 87% of 38 knees treated with total knee arthroplasties had excellent or good results. [46] Of those knees, 27 had SPONK and nine had secondary osteonecrosis. These results were inferior to those of total knee replacements performed for other diagnoses.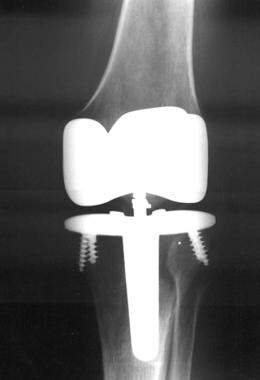 Plain radiograph of a total knee arthroplasty performed for osteonecrosis of the knee.
Ritter et al compared 32 knees with SPONK to 63 osteoarthritic knees. [47] The success rate was 82% in SPONK knees, with no statistical significance in success rates between the two groups. For secondary osteonecrosis, Mont et al reported on 31 knees treated with total knee arthroplasty; all of these patients had a history of corticosteroid use. [48] After 8.2 years of mean follow-up, results excellent to good in 55% of knees.
In a study of 3182 TKAs that were performed between 2005 and 2011, patients with knee osteonecrosis were associated with increased frequency of manipulation under anesthesia which is associated with poor postoperative ROM. Diabetes, high cholesterol levels, and tobacco smoking and preoperative knee ROM of less than 100° were also associated with increased frequency of MUA. The researchers concluded that patients with multiple risk factors may benefit from preoperative counseling to set realistic ROM expectations. [49]
Preoperative Details
Core decompression
Determining areas of pain on the tibia and/or femur is essential. The lesion should be delineated carefully on MRI examination to determine which areas need to be cored and to determine extent of involvement.
Intraoperative Details
Core decompression
Intraoperatively, when coring the knee, a tourniquet is applied but rarely is inflated. For femoral coring, a small incision is made on the lateral or medial side under fluoroscopic control, just above the flare of the condyle, as in the image below. Then, a 3- to 6-mm Michelle trephine is inserted through the metaphyseal flare into the lateral and medial condyles up to within a few millimeters of the subchondral plate.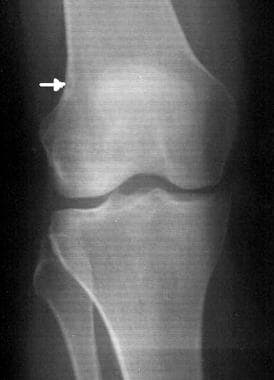 Knee osteonecrosis. Postoperative radiograph of a core decompression performed from the lateral side; the point of entry of the trephine, seen as a break in the cortex, is demarcated by the white arrow.
For tibial coring, the trephine is introduced through a small incision just medial to the tibial tubercle, being sure to avoid the medial saphenous nerve. The trephine then is guided into the medial and lateral plateaus. It is helpful to turn the trocar while advancing it within the bone to clear the teeth and obtain the best biopsy possible.
Postoperative Details
Core decompression
Fifty percent weightbearing with a cane or crutch for 6 weeks is advised, after which the patient may return to full weightbearing.
Follow-up
Complications
Core decompression
Complications are minimal when the surgeon is experienced. The operation causes minimal blood loss and is a quick procedure. Possible complications include infection, fracture, and failure of the procedure to alleviate symptoms.
Total knee arthroplasty
Although more extensive than core decompression, this is a relatively safe and effective procedure. Possible problems include, but are not limited to, reactions to anesthesia, deep venous thrombosis (DVT), injury to a nerve or blood vessel (peroneal nerve palsy), fracture, infection, swelling, and dislocation of the patella.
Outcome and Prognosis
Studies have shown the prognosis of spontaneous osteonecrosis of the knee (SPONK) to be related directly to the size of the lesion. [50] Aglietti et al reported that lesions greater than 5 cm2 had a worse prognosis than lesions with areas less than 3.5 cm2. Juréus et al reported that six of seven patients with lesions greater than 40% of the anteroposterior radiographic view of the condyle at the time of diagnosis underwent major knee surgery, whereas none of 10 patients with a lesion of less than 20% ever underwent surgery. [51]
Prognosis of secondary osteonecrosis is dependent on 2 factors, stage and location. In 1 study, stage I lesions had successful outcomes in 83% of lesions, whereas only 33% of stage IV lesions at presentation had successful outcomes. Lesions that involved the epiphysis of the distal femur fared better than lesions that affected the metaphyseal and/or diaphyseal region. As opposed to SPONK, size of the lesion has not been a valuable prognosticator. Knees with osteonecrosis in the distal femur and proximal tibia do not do worse than knees with lesions isolated to the distal femur or proximal tibia.
Future and Controversies
Atraumatic osteonecrosis is characterized by a poorly understood derangement of osseous circulation. There are no proven causes, only associated risk factors. Systemic corticosteroids and alcohol abuse continue to be the most commonly associated factors. Perhaps future treatment modalities will reverse the pathophysiology of the disease, rather than merely stopping progression or palliating symptoms.
The role of core decompression in atraumatic osteonecrosis has been questioned. However, many patients feel immediate relief after the procedure, and it also may halt the progression of disease. Core decompression is also a less invasive operative procedure than total knee arthroplasty. [52, 53]
What would you like to print?