Presentation
History
Giant cell tumors (GCTs) of the tendon sheath are usually painless masses that have been present for a long time. The reported duration of symptoms ranges from weeks to as long as 30 years. These tumors usually cause no symptoms, except for occasional distal numbness; however, mild disability may result from impaired function of the digit secondary to the size of the lesion.
Physical Examination
Typically, these masses occur along the volar aspect of the hand and fingers [28] and are most commonly adjacent to the distal interphalangeal (DIP) joint. [29, 30, 31] Two thirds of these masses are located along the volar aspect of the fingers (see the image below). The index and long fingers are most commonly involved. Despite the prevalence of volar lesions, a dorsal location is not uncommon. A slight predominance for the right hand exists. The second most common site is the toe. Less common sites include extra-articular areas around larger joints, such as the knees, wrists, and ankles. [32]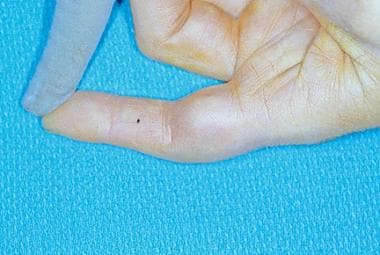 Image in a 44-year-old right hand–dominant man who presented with a mass on the volar radial aspect of his left index finger. The mass was painless and had been slowly growing for 1.5 years.
GCTs of the tendon sheath are firm, lobulated, nontender, slow-growing masses that are firmly fixed to the underlying structures. Usually, the overlying skin is freely mobile over proximal masses in the fingers. The skin is adherent to distal tumors. In digital lesions, mild numbness in the distal part of the involved fingertip is occasionally present. The lesion is not transilluminating. (Transillumination is more consistent with a cystic structure.)
The clinical differential diagnosis may include foreign body granuloma, necrobiotic granuloma, tendinous xanthoma, [33] fibroma of the tendon sheath, infection, ganglion cyst, rheumatoid nodule, epidermoid cyst, lipoma, and a knuckle pad, among other less common entities. Many of these entities can often be excluded with careful history taking and physical examination.
When the pressure of the mass causes cortical erosion or when the mass has intralesional calcification, the radiographic differential diagnosis includes synovial chondromatosis, calcific tendinitis, and periosteal chondroma. Other entities that cannot be excluded on the basis of clinical findings in many cases include fibrokeratoma, myxoid cyst, reticulohistiocytoma, metastasis, and soft-tissue sarcomas (particularly epithelioid sarcoma and synovial sarcoma); these entities can only be definitively distinguished by means of histologic review.
What would you like to print?