Workup
Laboratory Studies
Alkaline phosphatase levels may be increased, but laboratory studies are generally of no benefit in the workup of a patient with an aneurysmal bone cyst (ABC).
Imaging Studies
Radiography
Radiographic findings usually consist of an eccentric or, less commonly, a central or subperiosteal lesion that appears cystic or lytic. Images may show expansion of the surrounding bone with a blown-out, ballooned, or soap-bubble appearance. Some views may show an eggshell-appearing bony rim surrounding the lesion. One may see the cystic spaces and, rarely, partially ossified septa. [24] Unlike unicameral bone cysts (UBCs), ABCs tend to expand the bone wider than the adjacent physis (see the image below).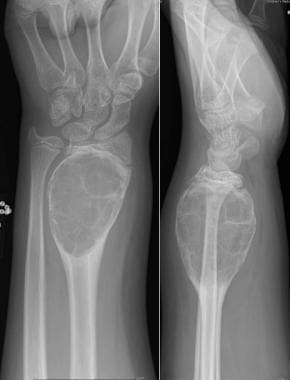 Aneurysmal bone cyst of distal radius in 11-year-old male. Note multiple septations, lytic cyst cavity, and extensive cortical thinning and expansion wider than adjacent distal radius physis in both anteroposterior and lateral planes.
Capanna et al described the following five morphologic types of ABC on the basis of radiographic findings [25] :
Type I – Central metaphyseal presentation; well contained within the bone, with the bone profile intact or with slight expansion

Type II – ABC that involves the entire segment of bone; an inflated appearance with cortical thinning

Type III – Eccentric metaphyseal location; no or minimal expansion of the cortex

Type IV – Subperiosteal extension; no or minimal cortical erosion; rare in the diaphysis

Type V – Metadiaphyseal location; inflation of periosteum toward the soft tissues; penetration of the cortex; extension into cancellous bone
Computed tomography
The same characteristics are demonstrated on computed tomography (CT) as on plain radiography; however, CT scans also show internal septation (ie, calcified rim, eggshell appearance), which may be completely or partially intact. Fluid-fluid levels can also be seen [26] ; these are most often found in the ABC, but they are not exclusive to it. The fluid-fluid levels are caused by the separation of cellular material and serum within the cystic spaces.
For optimal visualization of these levels, patients must remain in the position in which they are imaged for at least 10 minutes so that enough separation of the materials of different attenuation can be obtained. The CT views then must be acquired in a plane that is perpendicular to the fluid levels.
Magnetic resonance imaging
Findings from magnetic resonance imaging (MRI) are similar to those from CT, but MRI can more specifically reveal blood within the lesion, as well as expansion into the soft tissues. [24] (See the image below.)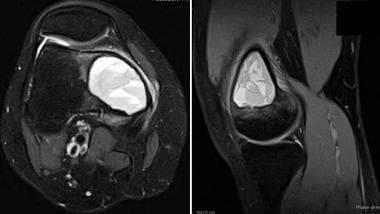 Axial and sagittal T2-weighted MRI of distal femoral aneurysmal bone cyst. Note multiple fluid-fluid levels throughout lesion consistent with multiple blood-filled cavities separated by small septa.
MRI can distinguish ABCs from telangiectatic osteosarcoma (TOS), in that TOS has thick, nodular enhancement of tissue surrounding the cystic spaces on gadolinium-enhanced contrast MRI, corresponding with sarcomatous tissue. TOS may also demonstrate necrosis, whereas ABC has no necrosis and a thin peripheral rim with septal enhancement without nodularity. [27]
A study by Gruenewald et al suggested that magnetic resonance angiography (MRA), by identifying abnormal vascularization, could improve clinicians' ability to distinguish ABCs from UBCs. [28]
Phases of progression
The appearance on imaging studies has been divided into four phases of progression: initial or incipient, growth, stable, and healing.
The initial or incipient phase is characterized as follows:
Small and usually eccentric lesion

No gross expansion

Little erosion or saucerlike appearance of the cortex
The growth phase is characterized as follows:
Rapid destructive growth pattern

Massive bone lysis and cortical destruction

Growth so rapid that periosteal bone cannot keep up

Little or no bony circumscription

Blown-out appearance
The stable phase is characterized as follows:
Classic ABC appearance

Expanded and distorted bone with a distinct bony shell

Bony shell surrounds numerous internal trabeculations
The healing phase is characterized as follows:
Progressive ossification of trabeculae

Forms irregular and coarse trabeculated mass
Bone scanning
On bone scans, increased uptake is observed around the lesion. Findings often demonstrate a halo or "donut" effect of increased radionuclide uptake surrounding an area of little uptake.
Angiography
In some cases, angiography reveals a hypervascular area around the ABC. An intense diffuse area of persistent contrast accumulation may be visualized without main afferent or efferent vessels observed. Angiography may be helpful in planning selective arterial embolization for primary treatment or as a preoperative method to help control intraoperative blood loss.
Biopsy
Some investigators believe that pathognomonic findings on radiography, CT, and MRI may be used to confirm a diagnosis of ABC. However, if any doubt exists, an open biopsy must be performed because of the high frequency of accompanying tumors. Other authors believe that a histologic diagnosis based on an open biopsy should be routinely determined because it is necessary to confirm the diagnosis of ABC and to ensure that another lesion (eg, a malignancy) does not coexist with the ABC.
When biopsy is performed, the sample should include material from the entire lesion; a limited biopsy could easily cause a coexisting lesion to be missed, leaving the patient with a morbid prognosis.
As with all orthopedic oncology-related diseases, biopsy is part of the treatment, not the workup. The surgeon performing the biopsy must be able to handle the definitive care for either a benign or a malignant diagnosis; therefore, the biopsy must occur in the surgical plane of definitive resection. A well-thought-out referral is preferred to a poorly planned biopsy.
Histologic Findings
The gross appearance of the ABC is that of a blood-soaked sponge. A thin subperiosteal shell of new bone surrounds the structure and contains cystic blood-filled cavities. The tissue within shows brownish intertwining septa. The stroma contains proliferative fibroblasts, spindle cells, areas of osteoid formation, and an uneven distribution of multinucleated giant cells that tend to surround the fluid-filled cavities in a "pigs at the trough" formation.
The tissue within the septations includes cavernous channels that do not contain a muscular or elastic layer in their walls. Areas of new and reactive bone formation can also be found in the ABC. Mitotic figures are common to ABCs, but no atypical figures should be evident. Finally, the entire lesion should be removed and examined completely to ensure that no other underlying lesions exist.
A solid variant of the ABC has also been described; the histologic findings are similar to those of the cystic lesions, but the solid variant has a solid gross appearance. [29]
Staging
The staging of benign musculoskeletal neoplasms was described by Enneking in 1986, who classified benign lesions into the following three broad categories [30, 25] :
Stage 1: Latent (inactive)

Stage 2: Active

Stage 3: Aggressive
This system was adopted by the Musculoskeletal Tumor Society (MSTS). Part of the Enneking classification contains the Lodwick radiographic grading system (see below). [31, 32, 33]
Latent or inactive musculoskeletal neoplasms
Latent (inactive) musculoskeletal neoplasms have the following characteristics:
Asymptomatic

Usually incidental findings

Rare to have a pathologic fracture or other dysfunction

May grow slowly, but almost always reach a steady state where they no longer grow

Remain intracompartmental

Do not deform the compartment

If palpable, are small, movable, and nontender

Radiography - Well marginated, with a mature shell of cortical-like reactive bone without deformation or expansion of the encasing bone; Lodwick 1A

Isotope scan – Little or no increased uptake

Angiography – No significant neoangiogenesis

CT – Homogeneous density, good margination, no cortical broaching or cross-facial extension

Histology - Low cell-to-matrix ratio; mature, well-differentiated matrices; benign cytologic characteristics; encapsulation by mature fibrous tissue or cortical bone; little or no reactive mesenchymal proliferation, inflammatory infiltrate, or neoangiogenesis about the lesions
Active musculoskeletal neoplasms
Active musculoskeletal neoplasms have the following characteristics:
Mildly symptomatic

Discovered because of patient discomfort or the presence of a pathologic fracture or mechanical dysfunction

Grow steadily, continue to enlarge during observation

Appear responsive to contact inhibition but not at normal levels

Can expand by deformation of the overlying cortical bone, articular cartilage, or fascial septa

Remain encapsulated

Only a thin layer of filmy areolar tissue separates the reactive zone between the lesions and the surrounding normal tissue.

If palpable, are small with moderate tenderness and movable (The increase in size can be felt on serial examinations.)

Radiography - Well-defined, yet irregular margination; a mature cancellous ring margin, rather than a cortical shell; irregular or corrugated inner aspect, resulting in a septated appearance; expansion, bulging, deformation, or the combination of overlying cortex/reactive bone is frequently observed; Lodwick 1B

Isotope scan – Increased isotope uptake only around the limits of the defect

Angiography – Often, a reactive angiogenesis is observed around the lesion, almost never within.

CT - Homogeneous density; irregular but intact reactive bone, expansion of the overlying cortex, and intracompartmental containment by bone or fascia

Histology - Relatively balanced cell-to-matrix ratio; well-defined matrices; benign cytologic characteristics; intact capsule of mature fibrous tissue and/or cancellous bone; narrow zone of mesenchymal, inflammatory, and vascular reactive tissue between the capsule and the surrounding normal tissue; resorption of the preexisting bone by osteoclasts, rather than by neoplastic cells, as the mechanism of expansion; may have areas of intermittent resorption that produce an irregular, serrated, and sometimes corrugated interface between the capsule and the adjacent reactive bone
Aggressive musculoskeletal neoplasms
Aggressive musculoskeletal neoplasms have the following characteristics:
Despite being benign, may act more like a low-grade malignancy

Often symptomatic

Discovered because of patient discomfort, a growing mass, or a pathologic fracture

If palpable, are often large and tender; may feel rapid enlargement on serial physical examinations; may feel more fixed

May have an inflammatory appearance

Little contact inhibition

Penetrate or permeate the natural barriers to tumor growth, which are cortical bone, fascial septa, and articular cartilage

Penetrate the capsule with fingerlike projections directly into the surrounding zone

Destroy or resorb the surrounding bone or fascia and permeate into adjacent tissues or compartments rather than expanding by concomitant endosteal resorption and subperiosteal apposition

In unrestrained areas, may expand rapidly and may be preceded by a pseudocapsule

Radiography - Ragged, permeative interface with adjacent bone; incomplete attempts at containment by reactive bone; cortical destruction; endosteal buttresses; periosteal Codman triangles; rapid soft-tissue expansion; Lodwick 1C

Isotope scan – Increased uptake in the early vascular phase and the late bone phase, often beyond radiographic limits

Angiography – Distinct reactive zone of neovasculature on the early arterial phase and an intralesional hypervascular blush on the late venous phase

CT - Nonhomogeneous, mottled, attenuating areas with defects in attempts at reactive containment; early extracompartmental extension from bone; indistinct margins in soft tissues; possible neurovascular bundle involvement

Histology - High cell-to-matrix ratio; clearly differentiated matrices of varying maturity; predominantly benign cytologic characteristics without anaplasia or pleomorphism, but with frequent hyperchromatic nuclei; mitosis occasionally encountered; possible vascular invasion; extensions are usually still continuous with the main mass but may have some satellite lesions; thick, succulent zone of reactive tissue between the penetrated capsule and the more peripheral normal tissue (zone or pseudocapsule encircles but does not inhibit growth of the aggressive tumor; however, it does inhibit tumor nodules from extending directly into normal tissue); destruction of surrounding bone via reactive osteoclasts, not by tumor cells; tumor fingers that may grow into the reactive bone
Lodwick radiographic grading with bone destruction
Lodwick grade IA is characterized as follows [31, 32, 33] :
Mandatory geographic destruction

Characteristic regular, lobulated, or multicentric edge

No or partial cortex penetration

Mandatory sclerotic rim

Expanded shell optional, 1 cm or less
Lodwick grade IB is characterized as follows:
Mandatory geographic destruction

Characteristic regular, lobulated, multicentric, or ragged or poorly defined edge

No or partial cortex penetration

Optional sclerotic rim

If sclerotic rim present, expanded shell must be larger than 1 cm
Lodwick grade IC is characterized as follows:
Mandatory geographic destruction

Edge characteristic is regular, lobulated, multicentric, ragged or poorly defined, or moth-eaten, 1 cm or smaller

Mandatory total penetration of the cortex

Optional sclerotic rim

Optional expanded shell
Lodwick grade II is characterized as follows:
Moth-eaten or geographic destruction - If geographic destruction, mandatory moth-eaten edge is larger than 1 cm

By definition, total penetration of cortex

Optional sclerotic rim, but unlikely

Optional expanded shell, but unlikely
Lodwick grade III is characterized as follows:
Mandatory permeated destruction

Any edge

By definition, total penetration of cortex

Optional sclerotic rim, but unlikely
What would you like to print?