Workup
Imaging Studies
On radiographic images, chondroblastoma is characterized by a well-defined osteolytic lesion involving an epiphysis or secondary ossification center (see the following image). [18] In 30-50% of cases, internal calcifications will be seen within the lesion. The tumor may make the bone seem somewhat expanded with a sclerotic margin. The average size of the tumor (along its longest diameter) is 4.5 cm.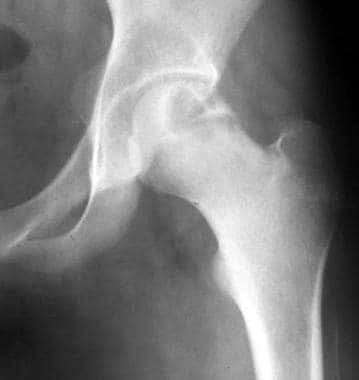 Plain film of the hip shows a femoral head with a lytic lesion with surrounding sclerosis in the epiphysis of the proximal femur. Internal matrix formation is not present, but that finding can be a feature of this tumor.
Adequate regional radiographs should be obtained in patients with suspected chondroblastoma. (See the images below.)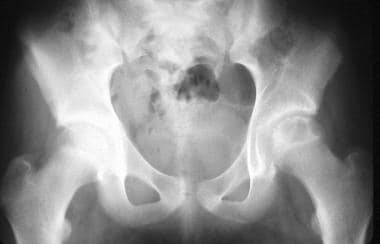 Radiograph of epiphyseal lesion (hip).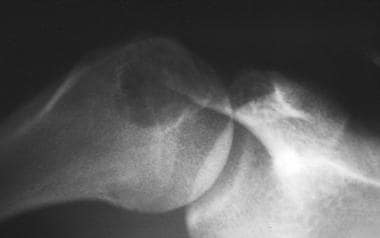 Radiograph demonstrating tumor on both sides of physis (humerus).
A bone scan (see the image below) may be helpful in assessing a lesion's biologic activity; it can also aid in locating other regions of disease involvement that may result from entities other than a chondroblastoma or from the rare occurrence of multifocal chondroblastomas.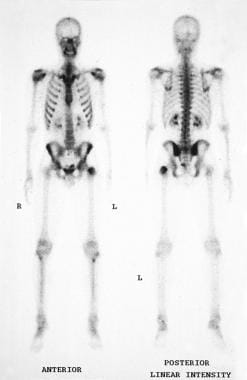 Bone scan.
Magnetic resonance imaging (MRI; see the image below) should be conducted if any question exists about the diagnosis or lesion boundaries, including perilesional soft-tissue extension or edema.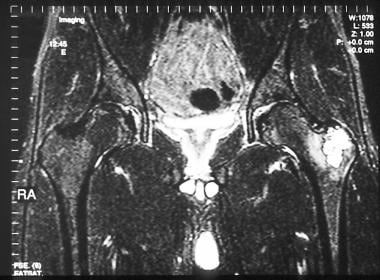 Magnetic resonance image of a hip showing lobular pattern of chondroblastoma.
On T1-weighted MRI, the tumor can show up as hypointense to intense (see the image below). [19] T2-weighted images show up as isointense to hyperintense. [20] On these images, the chondroblastoma may mimic aneurysmal bone cysts, which are also expansile and osteolytic. The observation of fluid levels and septations will distinguish the cyst.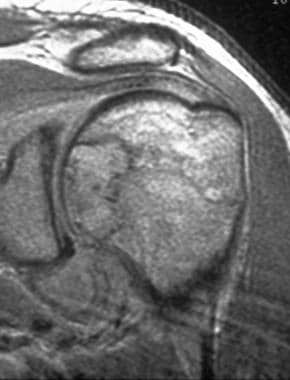 Coronal T1-weighted sequence shows a lesion of the epiphysis with medium signal intensity. Small islands of matrix are noted.
Computed tomography (CT) may be helpful in defining the extent of the lesion within the bone, especially if the bone is in a more anatomically complex area, such as the hand, foot, or spine.
Benign pulmonary metastases occasionally may occur with chondroblastoma; therefore, a chest radiograph should be obtained. A CT scan of the chest may be used to further evaluate any suspicious areas. These pulmonary lesions are resectable and curable.
Tissue Diagnosis
If malignancy is not suspected on the basis of clinical and radiographic features, tissue may be obtained for diagnosis at the time of surgical treatment of the lesion, and no preceding biopsy is needed. However, histologic confirmation by frozen section should be sought before definitive treatment is initiated. If the lesion appears atypical on appropriate imaging studies, a needle or incisional biopsy should be performed before definitive treatment is undertaken.
Gross findings
In rare instances, the sclerotic border of the chondroblastoma will be scalloped. Curettings are characteristically soft, friable, red to gray, or brown and resemble granulation tissue. [21] Flecks of gritty, calcific material may be observed. [22] When present, cysts usually comprise a small portion of the tumor. Rarely, the cysts are large, such that the tumor grossly resembles a simple cyst. [23]
Histologic Findings
Chondroblastomas are lobulated tumors that consist of grayish-pink soft tissue intermixed with bluish chondroid tissue and calcifications. The lesions may have many hemorrhagic cystic areas. [24]
The tumors are composed of sheets of neoplastic mononuclear chondroblasts with eosinophilic cytoplasm and grooved nuclei (see the image below). Interspersed among the mononuclear cells are osteoclastlike giant cells. The chondroid matrix typically is pink; on rare occasions, the basophilic matrix seen in hyaline cartilage is present. Some chondroblastomas may have a spindle-cell component, which represents either spindle-shaped mononuclear cells or reparative cells of fibroblastic origin.
One of the most characteristic findings in the histologic examination of chondroblastomas is linear deposition of calcification surrounding individual chondroblasts, creating a chicken-wire pattern (see the image below). Calcification may be so extensive that the chondrocytes in the area are not viable. In sections with well-preserved chondroblasts, mitoses may be seen, but atypical mitoses are not present in benign chondroblastoma.
Cystic changes within chondroblastomas are common. Some represent secondary aneurysmal bone cysts, which are found in 20-25% of all patients with chondroblastomas. Other cysts are filled with serous fluid and are divided into unilocular or multilocular spaces. When these other cysts are present, the tumors are termed cystic chondroblastomas. Initially, there was concern that cystic chondroblastomas had a much higher recurrence rate than typical chondroblastomas, but later reports did not confirm this theory.
Less frequently seen histologic findings are cellular atypia with enlargement and irregularity of chondroblast nuclei (occurring in 30% of cases); hemosiderin (in 25% of cases); surrounding cortical and soft-tissue permeation (in 5% of cases); myxoid areas (in 2% of cases); and vascular invasion (in 1% of cases).
Immunostaining occasionally can be helpful in confirming the diagnosis of chondroblastoma. [19] S-100 protein is strongly positive in the mononuclear cells, though it is absent in multinucleated giant cells and is present only focally in tumors with a large cystic component. Chondroblastomas are also positive for vimentin. Reticulin stain reveals a honeycomb pattern.
What would you like to print?